Introduction
The small form factor (SFF) HTPC market has been steadily growing over the last few years. As mobile processors become more and more powerful, it is becoming easier for users to be satisfied with their performance even in desktop configurations. The DIY HTPC crowd has a marked preference for mini-ITX motherboards and cases. However, the excessive TDP of desktop CPUs results in complicated thermal designs and noisy results. Thermal designs for systems with mobile CPUs (35W TDPs) are fairly straightforward and not very noisy. In fact, it is even possible to create systems which are fully passively cooled.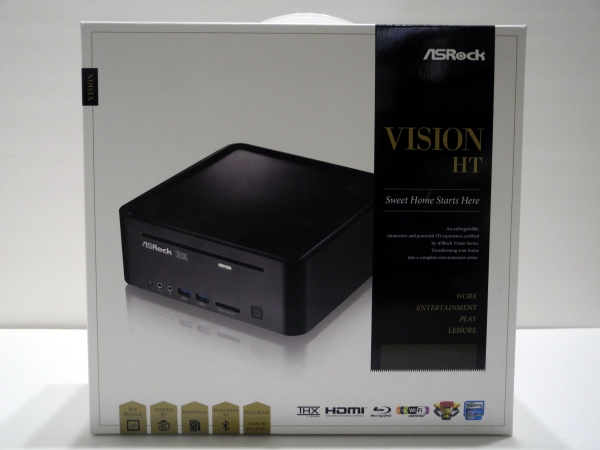 Before 2010, ION-based units with anaemic Atom CPUs were the only option for pre-built SFF HTPCs. ASRock was one of the first to buck the trend by introducing the Core 100 using an Arrandale CPU as a mid-range complementary offering to go with their low-end ION-based unit. Currently, ASRock has three HTPC families catering to the entry level, mid-range and high-end markets. While the ION based HTPCs form the entry level, the Core series used to serve the mid-range and the Vision series caters to the high-end. This year, ASRock revamped their SFF HTPC lineup by renaming the Core lineup as Vision HT and the Vision 3D lineup as VisionX. Today, we will be looking in detail at the Vision HT 321B, the third generation mid-range HTPC from ASRock.
First off, let us take a look at the configuration of the review unit sent to us by ASRock:
ASRock Vision HT 321B HTPC Specifications
Processor
Intel Ivy Bridge Core i5-3210M
(2 x 2.50 GHz (3.10 GHz Turbo), 22nm, 3MB L2, 35W)
Chipset
Intel HM77
Memory
2 x 2GB DDR3-1600
Graphics
Intel HD Graphics 4000
650 MHz / 1.1 GHz (Turbo)
Hard Drive(s)
750GB 5400RPM 2.5" HDD
(Seagate Momentus ST750LM022)
Optical Drive
Blu-ray/DVDRW Combo
Networking
Gigabit Ethernet
802.11b/g/n (5GHz/2.4GHz Dual-Band access) / Bluetooth 4.0 (2T2R Atheros AR5BWB222)
Audio
Microphone and headphone/speaker jacks
Capable of 5.1/7.1 digital output with HD audio bitstreaming (optical SPDIF/HDMI)
Operating System
Windows 7 Ultimate 64-bit (Retail unit is barebones)
Extras
THX TruStudio Pro Audio Certification
IR receiver and MCE remote
Pricing
$680
ASRock has two configurations of the Vision HT series available. The lower end model has the Core i3-3110M processor and has a DVD drive instead of the Blu-ray combo drive (Vision HT 311D).