Unboxing Impression
The ASRock Vision HT 321B package contained the following:
Main unit in a 2.5L chassis (195mm x 186mm x 70mm)
90W AC / DC adapter
Media Center remote with batteries
Support CD with drivers and miscellaneous software
DVI- VGA dongle
SATA and power cables / screws for user installation of second hard disk
Unlike the CoreHT 252B, the industrial design of the Vision HT traces its roots to the Vision 3D series. We have pleasing rounded edges, though the chassis doesn't have a unibody construction. ASRock deserves credit for bringing the industrial design of the high-end units to the mid-range segment this time around.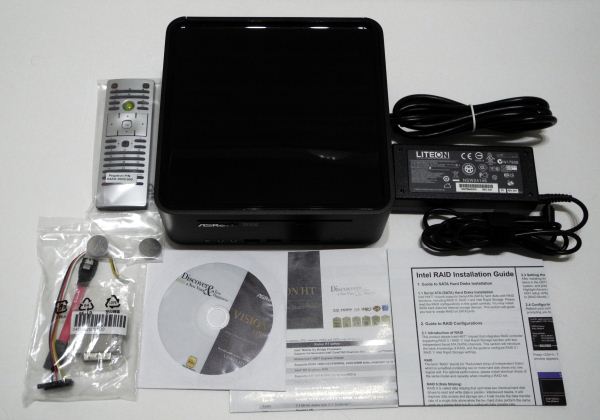 When compared to the Core HT from last year, we find that the two USB 3.0 ports and the microphone / headphone jack in the front panel are retained. However, the power button changes from a circular version to a square with rounded edges. A SD card reader also makes an appearance. There are no ventilation slots in the front panel this time around.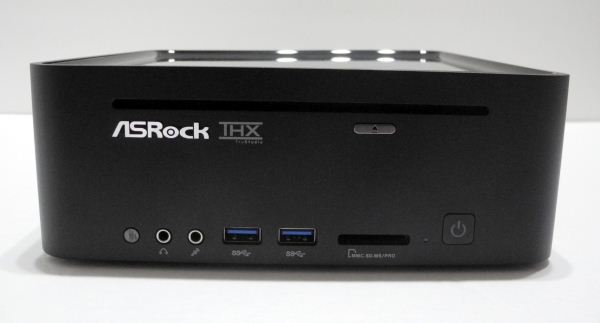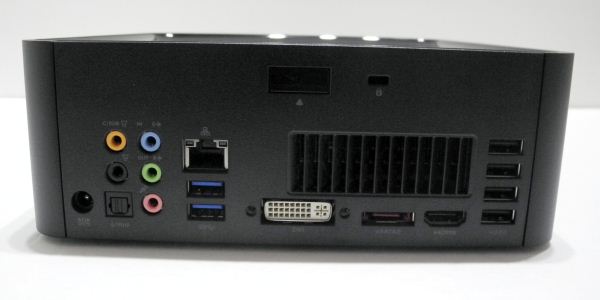 Just like a notebook, this unit also supports simultaneous display on two monitors. Testing was done mostly with the HDMI output connected to a Sony KDL46EX720 1080p 3D TV through a Pioneer Elite VSX-32 AV receiver. For non-media playing related testing, the HDMI port was connected to an Acer H243H 1080p monitor. Our review unit shipped with Windows 7 x64 Ultimate and a OEM version of Cyberlink PowerDVD for Blu-ray playback. However, the OEM version doesn't support 3D Blu-rays and is also crippled with respect to the number of audio channels that can be decoded / HD audio passthrough. To test these, we installed the full versions of both Cyberlink PowerDVD 12 as well as ArcSoft Total Media Theater 5.
We will conclude this section with a table to summarize the data and A/V connectivity options for the ASRock Vision HT 321B HTPC.
A/V Connectivity Options for the ASRock Vision HT 321B

| Option | Status |
| --- | --- |
| | |
| HDMI | Yes [v1.4a] |
| Component | No |
| Composite | No |
| VGA | Yes |
| SPDIF | Yes [Optical] |
| Stereo | Yes |
Data Connectivity Options for the ASRock Vision HT 321B

| Option | Status |
| --- | --- |
| | |
| Optical Disk Drive | Yes [Blu-Ray / DVD-RW] |
| USB | Yes [4 x v2.0, 4 x v3.0] |
| eSATA | Yes [1 x v3] |
| LAN | Yes [ 1000 Mbps GbE ] |
| Internal HDD | Yes [ 500 GB ] |
| WiFi | Yes [ 300 Mbps 2T2R 802.11n (Dual band)] |
| Bluetooth | Yes (v 4.0) |
| Card Reader | No |