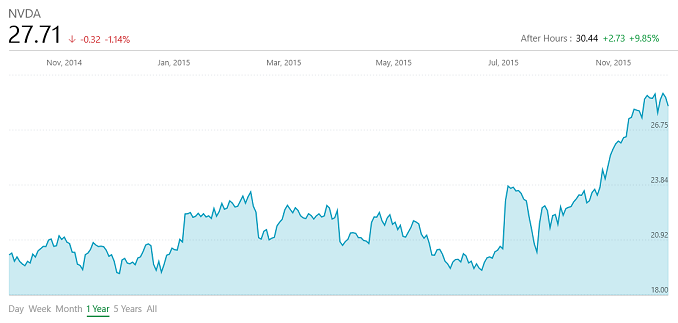 Today NVIDIA announced their earnings for the third quarter of their fiscal year 2016 (yes their fiscal year is almost a full year ahead of calendar) and the company posted record revenues for this quarter at $1.305 billion. This is up 7% from last year, and 13% from last quarter. Gross margin was 56.3%, with an operating income of $245 million and a net income of $246 million for the quarter. This resulted in diluted earnings per share of $0.44, which was up 42% year-over-year.
NVIDIA Q3 2016 Financial Results (GAAP)
Q3'2016
Q2'2016
Q3'2015
Q/Q
Y/Y
Revenue (in millions USD)
$1305
$1153
$1225
+13%
+7%
Gross Margin
56.3%
55.0%
55.2%
+1.3%
+1.1%
Operating Income (in millions USD)
$245
$76
$213
+222%
+15%
Net Income
$246
$26
$173
+846%
+42%
EPS
$0.44
$0.05
$0.31
+780%
+42%
NVIDIA also reports Non-GAAP figures, which excludes stock-based compensation and acquisition costs, restructuring, and warranty. Gross margin was slightly higher at 56.5% compared to GAAP results, with operating income at $308 million and net income of $255 million. Earnings per share on a Non-GAAP basis were $0.46. The Non-GAAP numbers are important this quarter because of the large write-down NVIDIA took last quarter on their Icera modem division.
NVIDIA Q3 2016 Financial Results (Non-GAAP)
Q3'2016
Q2'2016
Q3'2015
Q/Q
Y/Y
Revenue (in millions USD)
$1305
$1153
$1225
+13%
+7%
Gross Margin
56.5%
56.6%
55.5%
-0.1%
+1.0%
Operating Income (in millions USD)
$308
$231
$264
+33%
+17%
Net Income
$255
$190
$220
+34%
+16%
EPS
$0.46
$0.34
$0.39
+35%
+18%
NVIDIA saw great gains in GPU sales, which are the bulk of the company. GPU based revenue was up 12% year-over-year and up 16% over last quarter, with gaming GPU revenue up 40% over last year, and now sits at record levels. The Quadro side of the house did not fare so well, with revenues of $190 million, which is up 8% over last quarter, but down 8% compared to the same time last year. Tesla and GRID revenue was $80 million, growing since last quarter 13%, but down 8% year-over-year.
Tegra processors are still a mixed bag for NVIDIA. They have tried their hand in the mobile phone and tablet space, but with little success, but they have seen good performance from Tegra in automotive applications, and this continues to be the growth area for Tegra. For the quarter, Tegra revenue was $129 million, which is down 23% year-over-year. This decline is due to the tablet and smartphone space, because their automotive attributed revenue was $79 million, which is up 11% since last quarter and up more than 50% year-over-year. There is still hope for Tegra, but it appears to be less and less likely to be in the tablet space. NVIDIA did win the Google Pixel C tablet but it's unclear yet how it will fare in the difficult tablet market.
NVIDIA also still receives $66 million per quarter from Intel due to a patent license agreement.
NVIDIA Quarterly Revenue Comparison (GAAP)
In millions
Q3'2016
Q2'2016
Q3'2015
Q/Q
Y/Y
GPU
$1110
$959
$991
+16%
+12%
Tegra Processor
$129
$128
$168
+1%
-23%
Other
$66
$66
$66
flat
flat
During Q3 2016, NVIDIA paid back $53 million in dividends to shareholders and bought back 4.6 million shares. Their goal for FY 2016 is to repay $800 million, and through three quarters, they are now at $604 million. NVIDIA is planning on paying approximately $1.0 billion to shareholders for their next fiscal year.
Breaking down the numbers a bit more, NVIDIA has seen big growth in the gaming segment, with revenues increasing from $468 million since Q1 FY 2015 to $761 million this quarter. Year-over-year, the gaming market has grown 44%, at a time when the PC industry as a whole has contracted. PC gaming appears to be alive and well. This has covered the drop in NVIDIA's other segments, with the biggest drop being PC & Tegra OEM, which fell from $350 million in revenue last year to just $192 million this quarter, which is a drop of 45% year-over-year. Automotive is growing, but it is still some ways away from matching the Tablet market for sales.
Overall, any time you can set a record for a quarter it is clearly good news. Not all of NVIDIA's business is growing as quickly as they would like, but luckily for them, their largest segment is the one that is growing at a much quicker pace than the rest of the industry.
Looking ahead to next quarter, NVIDIA is expecting revenues of $1.30 billion, plus or minus 2%, with GAAP margins of 56.7%.
Source: NVIDIA Investor Relations