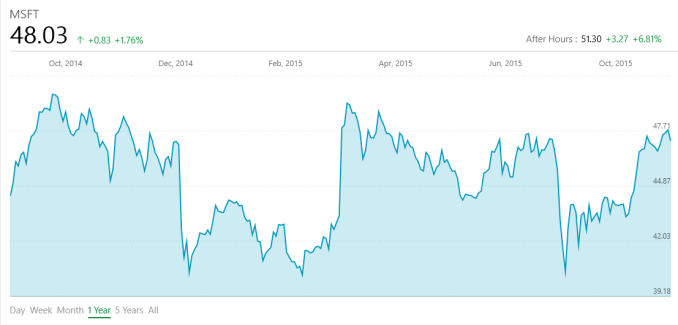 Today Microsoft released their earnings from the first quarter of fiscal year 2016. Revenue fell 12% year-over-year to $20.4 billion for the quarter, driven by a 17% decline in revenue from their More Personal Computing segment. Operating income for the quarter was $5.8 billion, with gross margin at 64.6%. Despite the revenue decline, net income rose 2% to $4.6 billion, with earnings per share beating expectations at $0.57.
Microsoft Q1 2016 Financial Results (GAAP)
Q1'2016
Q4'2015
Q1'2015
Revenue (in Billions USD)
$20.379
$22.180
$23.201
Operating Income (in Billions USD)
$5.793
-$2.053
$5.844
Gross Margin (in Billions USD)
$14.712
$14.712
$14.928
Margins
64.6%
66.3%
64.3%
Net Income (in Billions USD)
$4.620
-$3.195
$4.540
Basic Earnings per Share (in USD)
$0.57
-$0.40
$0.55
Microsoft is also offering Non-GAAP results which take into consideration the strong US dollar, which has affected their revenue. Based on constant currency, revenue declined just 2% to $21.7 billion, with operating income up 11% to $7.1 billion. Net income was also up 11% to $5.4 billion, and earnings per share rose 15% to $0.67.
Microsoft Q1 2016 Financial Results (Non-GAAP)
Q1'2016
Q1'2015
Revenue (in Billions USD)
$21.660
$23.201
Operating Income (in Billions USD)
$7.074
$6.984
Net Income (in Billions USD)
$5.380
$5.449
Basic Earnings per Share (in USD)
$0.67
$0.65
Microsoft has done a reorganization of their business lines, and while I don't love the new naming scheme, the groupings make a lot more sense. No longer does an Office 365 subscriber pull away sales from traditional Office, since they now fall under the "Productivity and Business Processes" group, which also tracks Dynamics CRM software. "Intelligent Cloud" covers Windows Server products as well as Azure, and "More Personal Computing" is Windows, Surface, phones, Xbox, and search. Previously the segments fell under consumer and commercial with sub-categories as well. Check out their last quarter if you would like to see the changes.
More Personal Computing had the biggest hit this quarter, down 17% year-over-year. Revenue came in at $9.38 billion for this segment, and operating income dropped 4% to $1.56 billion. A big chunk of this was a drop in devices revenue, down 45% using constant currency (CC) values, with a primary part of this being a 54% CC drop in phone revenue to $1.1 billion. Surface revenue also declined from $908 million in Q1 2015 to $672 million in Q1 2016. Microsoft attributes this to the lifecycle of the Surface Pro 3, which first launched in June 2014 and that makes sense since the Surface Pro 4 was just released. Windows OEM sales declined 7% for Pro, which was slightly better than the decline in the business PC sector itself, and Windows OEM non-Pro declined 4%, which actually outperformed the consumer PC market. Volume licensing sales for Windows grew 4% CC. Gaming revenue grew 6% CC, and Xbox Live gained 9 million active users year-over-year to 39 million, which is up 2 million from last quarter. Xbox hardware revenue was down primarily due to a lower number of Xbox 360 sales. Search showed good signs of growth, with nearly 20% of search revenue in September being from Windows 10 devices.
Productivity and Business Processes had revenues of $6.31 billion, down 3% year-over-year, but with constant currency values, it grew 4%. Operating income for the segment was $3.11 billion, down 7% year-over-year. Office was strong though, with a 5% CC growth in commercial and cloud Office services. Office 365 continues to gain traction, with revenues up almost 70%, and it the number of seats increased 66%. Traditional Office commercial software declined 8% year-over-year. On the consumer side, Office revenue fell 4% CC, and Office 365 subscription revenue more than offset the loss of revenue from traditional Office sales. Microsoft now has 18.2 million subscribers for Office 365 Home/Personal, which is growth of about 3 million since last quarter. Dynamics products and cloud services grew 12% CC.
The final segment is Intelligent Cloud, and Microsoft continues to see strong growth in their cloud offerings. Revenue was up 8% to $5.89 billion, which would be a 14% growth with constant currency. Operating income was $2.4 billion, up 14%. Microsoft saw strong grown in Azure and premium server products which was offset by exchange rates with foreign currency. Cloud platform offerings had gains of 13% CC, and Windows Server products grew 9% CC from double digit growth in premium versions of Windows Server, System Center, and SQL. Azure revenue was up 135% CC, and Microsoft doubled their Enterprise Mobility customers. Enterprise Services grew 16% CC primarily by growth in Premier Support Services.
Microsoft Q1 2016 Financial Results (GAAP)
Productivity and Business Processes
Intelligent Cloud
More Personal Computing
Revenue (in Billions USD)
$6.31
$5.89
$9.38
Operating Income (in Billions USD)
$3.11
$2.40
$1.56
Revenue Change YoY
-3%, +4% CC
+8%, +14% CC
-17%, -13% CC
Operating Income Change YoY
-7%
+14%
-4%
With a decline in the PC market, and the Windows 10 upgrade program, it's not too surprising to see a dip in revenues in that market. We won't really have numbers for the latest Surface Pro 4 and Surface Book on the Surface lineup until really Q3, since the Q2 values will be skewed by the release timeline, but we'll have to watch and see if sales can improve like they did over the Surface Pro 3's lifetime. The cloud has always been a strength of Microsoft, with them being the only company to offer the same products as either hosted solutions or on-premises solutions for many of their business products such as SQL, Exchange, and System Center.
What we are seeing right now is Microsoft in transition. Revenues from Windows 10 are being deferred over longer timeframes, and they have been moving to subscription models for many of their popular products. Only a few years ago, the idea of a subscription version of Office would have seemed like suicide, but the move to Office 365 has been strong so far.
Microsoft is in the midst of revamping its consumer lineup of hardware as well, so the new Surface Pro 4, Surface Book Band 2, and Lumia phones should start to factor in next quarter. I look forward to seeing how well they do in the market.
Source: Microsoft