At IFA 2015, Asus is announcing their first PC in the 'compute stick' form factor, the VivoStick PC. As a recap, the Compute Stick form factor is the x86 version of the popular ARM-based HDMI sticks. The first generation x86 Compute Stick came from Intel and used a Bay Trail-T SoC. Despite looking like an oversized thumb drive, the unit was actively cooled.
Asus's first foray into this form factor comes with the 14nm Cherry Trail platform. Unlike Intel's Compute Stick, the Asus VivoStick appears to have a good industrial design. The main differences between the Bay Trail-T Compute Stick that we have already reviewed and the VivoStick PC being announced today are:
Removal of microSD slot
Windows 10 Home instead of Windows 8.1 with Bing
eMCP (multi-chip package) integrating 2 GB of DDR3L and 32 GB of flash memory in a single package, thereby reducing the board area
1x USB 3.0 port
The other aspects include availability of a 802.11 b/g/n and BT 4.0 chip for communications. The 138mm x 15mm x 14mm package weighs 70g. The VivoStick also comes in multiple colours. Asus is yet to decide whether to actively cool the device or not.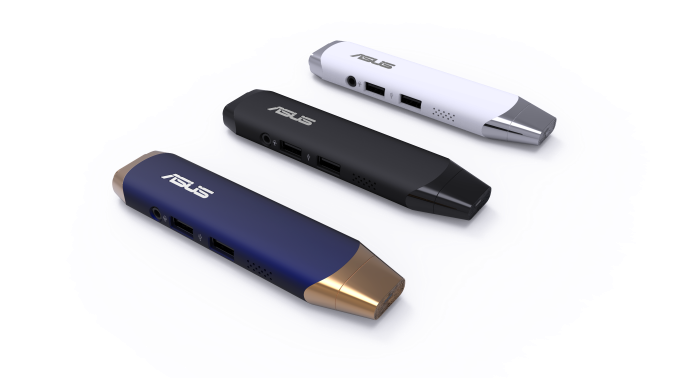 Asus did not announce any availability dates, but did indicate that the units are expected to have a MSRP of $129. As I have mentioned in multiple reviews, 32GB of primary storage is hardly enough after a couple of major updates. Due to this, the Compute Stick form factor is difficult to recommend as a general PC. However, its sleek and unobtrusive nature as well as low power requirements make it ideal for single purpose computers such as those used in kiosks and other such embedded / industrial applications.