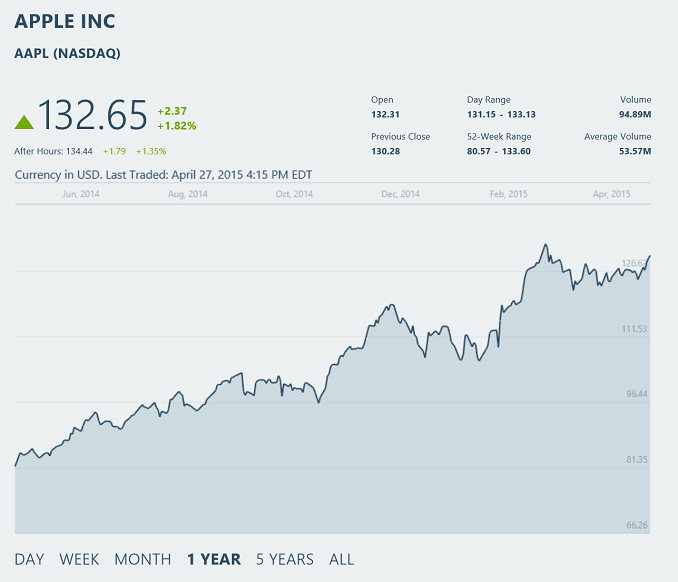 Today Apple announced their earnings for their second quarter for fiscal year 2015. Once again, iPhone dominated their revenue stream, with 40% more units sold and 55% more revenue than the same period last year. Total revenue for the quarter came in at $58 billion, which is up 27% year-over-year. Gross margin for the quarter was up too, coming in at 40.8% for this quarter. Net income was $13.6 billion, which works out to $2.33 per share.
Apple Q2 2015 Financial Results (GAAP)
Q2'2015
Q1'2015
Q2'2014
Revenue (in Billions USD)
$58.010
$74.599
$45.646
Operating Income (in Billions USD)
$18.278
$24.246
$13.593
Gross Margin (in Billions USD)
$23.656
$29.741
$17.947
Net Income (in Billions USD)
$13.569
$18.024
$10.223
Margins
40.8%
39.9%
39.3%
Earnings per Share (in USD)
$2.33
$3.08
$1.66
Almost 70% of Apple's revenue came from international sales, but China was the big market for Apple this quarter. Sales in Greater China were up 71% year-over-year, to $16.8 billion for this quarter. This is even a 4% rise over Q1, which was the launch quarter for the iPhone 6 series. China is now the second biggest market for Apple, closing in on the Americas where sales this quarter were $21.3 billion.
iPhone sales kept up their torrid pace. In Q1, Apple sold almost 75 million iPhones, and while there is traditionally a drop in the quarter succeeding the launch of the phone, they still managed to sell over 61 million iPhones for Q1. Year-over-year, this is a 40% increase in devices sold and even better for Apple's bottom line, revenue was up 55%. With Apple, there really is iPhone, and everything else. iPhone accounts for 69.4% of all of Apple's revenue. They are top heavy in this one product, but it seems to be a product that just keeps giving returns.
Mac sales were also up, with a 10% increase in units sold as compared to Q2 2014. Revenue for Mac also increased, but only 2%. Unit sales were 4.5 million devices, which accounted for $5.6 billion in revenue. This works out to an Average Selling Price of $1230.55 per Mac computer. Macs have once again surpassed iPad sales to become the number two device at Apple. For Q1, and the launch of the new iPad Air 2, iPad sales briefly retook the lead, but Mac sales have surpassed iPad again.
iPad sales have continued to struggle. What was once thought to be the next iPhone has certainly struggled to maintain the trajectory it first had. Sales for Q2 were 12.6 million units, which is down from the 21.4 million last quarter (when the new products were launched) and also down significantly year-over-year from the 16.35 million in Q2 2014. That is a 23% decline in sales, and it resulted in a 29% reduction in revenue, with iPad now coming in at $5.4 billion.
Apple Q4 2014 Device Sales (thousands)
Q2'2015
Q1'2015
Q2'2014
Seq Change
Year/Year Change
iPhone
61,170
74,468
43,719
-18%
+40%
iPad
12,623
21,419
16,350
-41%
-23%
Mac
4,563
5,519
4,136
-17%
+10%
Services however did not suffer such a fate, and at $4.996 billion in revenue, iTunes, the App Store, and other Apple services are now almost a $5 billion per quarter business. Revenue was up 4% since Q1 2015, and up 9% from a year ago.
The final segment Apple reports on is "Other Products" which include iPod, Apple TV, Beats, and accessories. Revenue for this segment was $1.69 billion, down from $1.88 billion a year ago, and $2.69 billion in Q1. This is a year-over-year decrease of 10%. Much of that would be iPod sales which only two quarters ago were still listed in their own category, but have been falling for several years now as they have been superseded by smartphones.
Apple Q2 2015 Revenue by Product (billions)
Q2'2015
Q1'2015
Q2'2014
Revenue for current quarter
iPhone
$40.282
$51.182
$26.064
69.4%
iPad
$5.428
$8.985
$7.610
9.4%
Mac
$5.615
$6.944
$5.519
9.7%
iTunes/Software/Services
$4.996
$4.799
$4.573
8.6%
Other Products
$1.689
$2.689
$1.880
2.9%
As part of their announcement, Apple is also expanding their capital return program. What was first going to be a $90 billion share repurchase program is now up to $140 billion. There is also going to be an 11% increase to the quarterly dividend, which will now be $0.52 per share, payable on May 14th to all shareholders of record as of May 11th. Since the creation of their capital return program, Apple has paid out over $112 billion to shareholders, with $80 billion of that being share repurchases.
For Q3, the forecast is revenue of $46 to 48 billion, with margins between 38.5% and 39.5%.
To a certain extent, we have become numb to the record breaking numbers every quarter, but really it is impressive that they have been able to sustain this for so long. For Q2, they once again set records for iPhone and Mac sales, and the App Store had an all-time record quarter. They have some new products in the market now with the MacBook and the Apple Watch, so it will be interesting to see the Q3 numbers.
Source: Apple Investor Relations