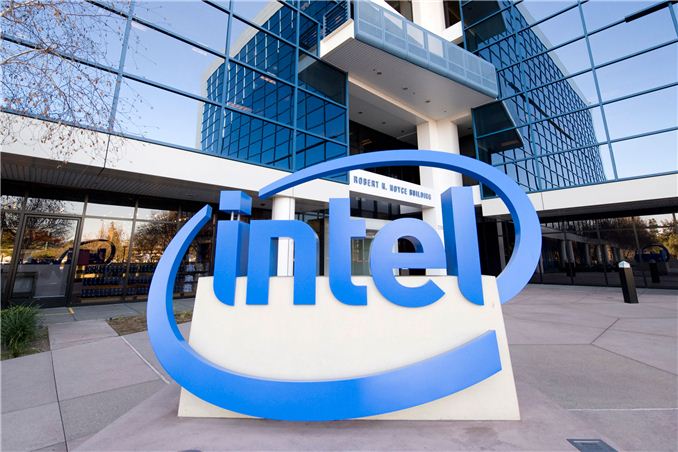 After day zero at Mobile World Congress already boasting some impressive releases, Intel tackles their platform on day one on several different fronts. As part of a pre-briefing, we were invited into the presentation where Intel discussed the current state of their mobile portfolio along with looking to the future. The pre-briefing was run by Aicha Evans, Corporate Vice President and General Manager of the Wireless Platform Research and Development Group, who you may remember was interviewed by Anand in a series of videos back in 2013. Ms. Evans' focus stems on the connectivity side of the equation, making sure that Intel's portfolio develops into a strong base for future platforms.
One of the big elements for Intel is the rebranding of their mobile Atom line of SoCs. Up until this point, all the SoCs were difficult to follow and very similar names such as Z3580 or Z3760. This is adjusted into three different segments as follows: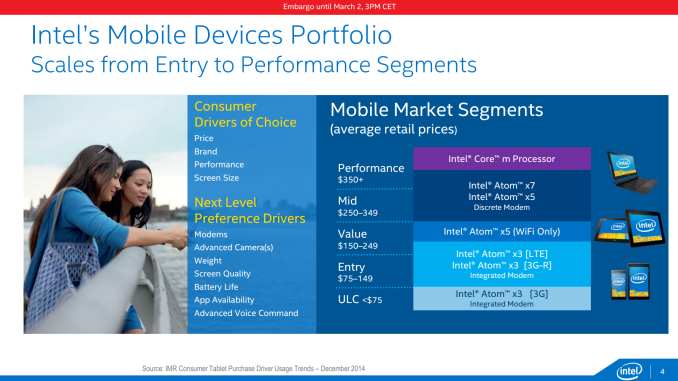 Similar to their personal computing processor line, the Intel Atom structure will take on x3/x5/x7 naming, similar to the i3/i5/i7 of the desktop and notebook space. This is not to be confused with Qualcomm's modem naming scheme, or anything by BMW.
The x3 sits at the bottom, and is comprised of Bay Trail based SoCs at the 28nm node all previously part of the SoFIA program aimed at emerging markets. There will be three x3 parts – a dual core x3, a quad core x3 from the Rockchip agreement, and a final quad core x3 with an integrated LTE modem.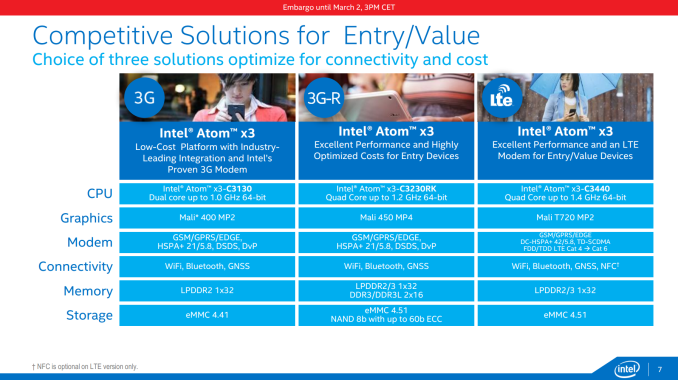 This set raises some interesting points to discuss. Firstly is the use of 28nm is the same node as previous Intel Atoms, and thus should be derived from a TSMC source. It is also poignant to note that for these SoCs Intel is using a Mali GPU rather than the Gen 8 graphics and their own IP. This is due to the SoFIA program being aimed at bringing costs down and functionality into the low price points in a competitive time-to-market.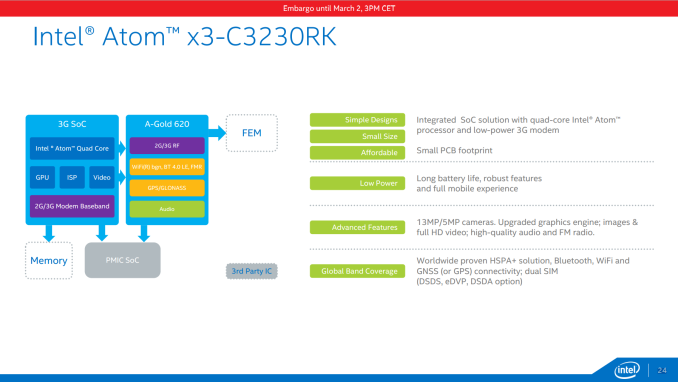 The Rockchip model, indicated by the 'RK' at the end of the name of the SoC, comes from the partnership with Rockchip we reported on back in May 2014. At the time Intel discussed the roadmap for producing a quad core SoC with 3G for the China market in the middle of 2015, which this provides.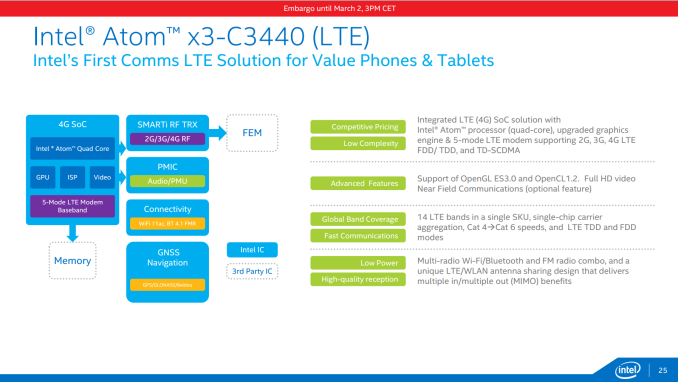 The final part of the x3 arrangement revolves combining a 5-mode LTE modem on the same die. Intel is going to support 14 LTE bands on a single SoC with PMIC, WiFi and geolocation technologies (GPS, GLONASS, BeiDou).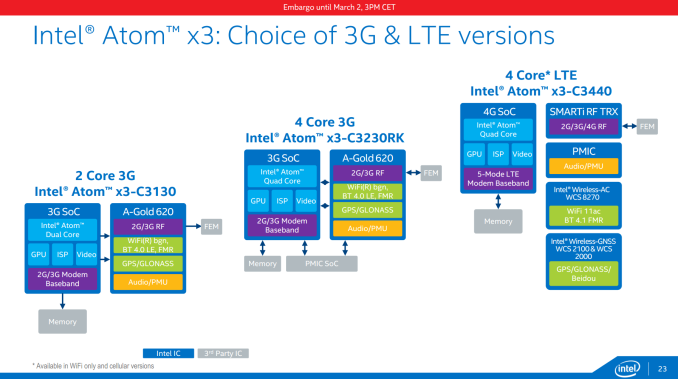 The Atom x5 and x7 SoCs represent the next step up, implementing Intel's 14nm process and bringing Cherry Trail to market. The x5 and x7 SoCs are aimed primarily at tablets, but can find their way into sub 10.1 inch tablets as well, providing an interesting counterbalance to the high price premium of Intel Core-M 4.5W products based on Broadwell-Y. While the x3 line will focus first on Android moving into Windows, x5 and x7 is designed to be targeting both, particularly with the bundled Gen 8 graphics and LTE with XMM276x supporting Cat-6 and carrier aggregation.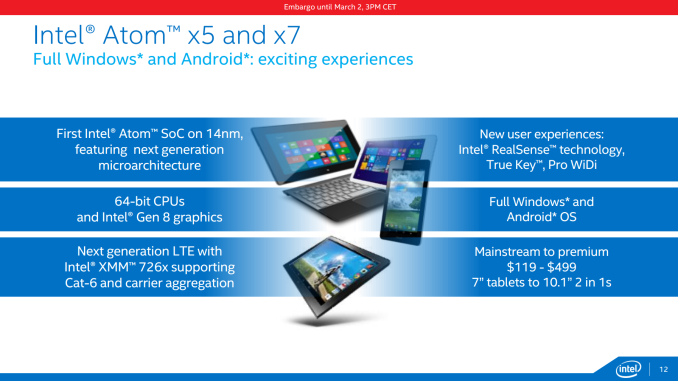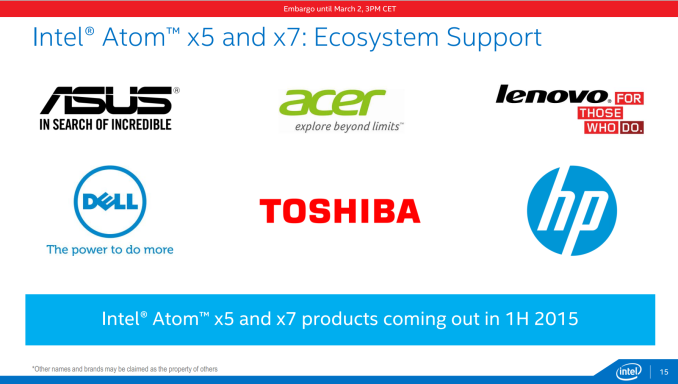 Not a lot of detail was provided about x5 and x7, suggesting that they are aimed more at late 1H/2H 2015 down the line. This coincides with the next generation of Intel's XMM 7360 modem, featuring up to 450 Mbps downlink and support for up to 29 LTE bands.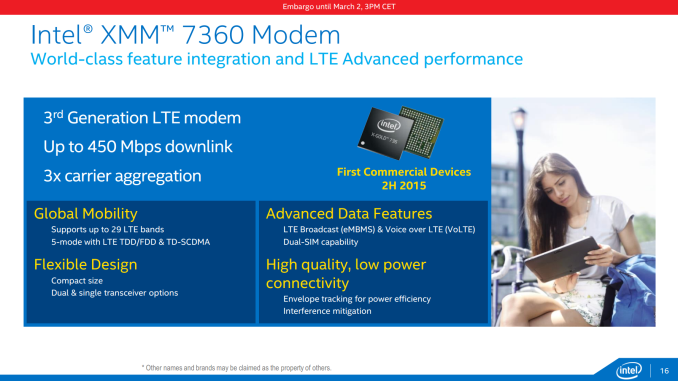 One interesting element in the x5/x7 scenario was the bundled platform block diagram provided by Intel, showing clearly the two dual-core Airmont CPUs each with 1MB of L2 cache, Gen 8 graphics, separate security processors and ISP, as well as USB 3.0 support.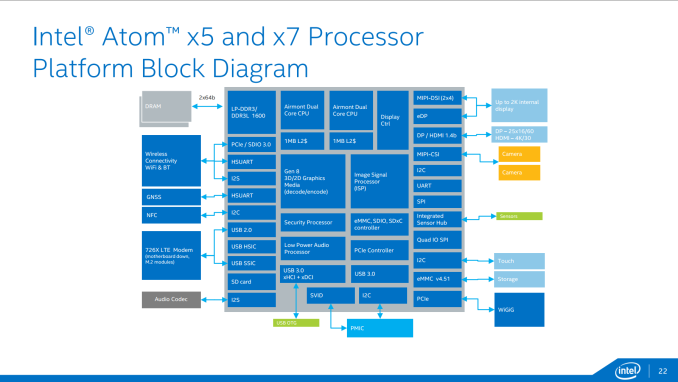 Finally, Intel addressed the obvious lack of a high-end mobile SoC that fits into the performance smartphone category. Intel is still working on development of such a SoC in the form of Braxton and we'll have more news on this piece in the future.
We are lining up a chance to interview Ms. Evans about Intel's Atom lineup later this week at MWC, so stay tuned for that.