Inside The Drives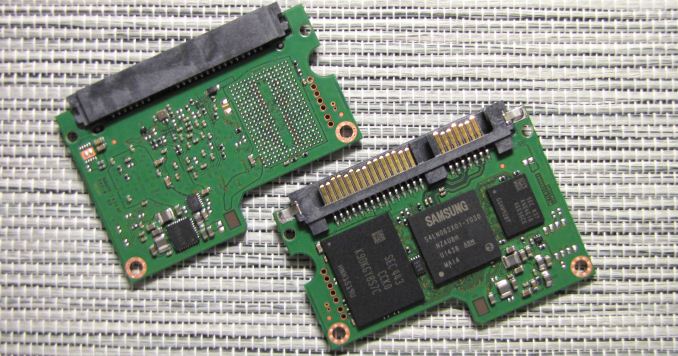 There are three different PCB designs in the 850 EVO lineup. The 120GB and 250GB models (above) use a tiny PCB with room for two NAND packages (one on each side). Interestingly enough, both use octal-die packages, meaning that the 120GB 850 EVO only has a single 128GB (8*16GB) NAND package. Decoding the part number reveals that the packages are equipped with eight chip enablers (CEs), so a single NAND package is viable since all eight dies can be accessed simultaneously.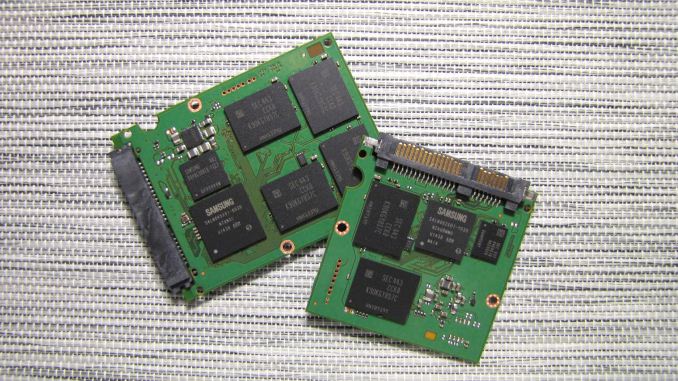 The use of octal-die packages is actually true for all capacities. It's an interesting choice nevertheless, but I suspect Samsung's packaging technology is advanced and mature enough that it's more cost efficient to use high die count packages and small PCBs instead of larger PCBs with more and less dense NAND packages.
Samsung SSD 850 EVO NAND Configurations
Capacity
120GB
250GB
500GB
1TB
# of NAND Packages
1
2
4
8
# of Die Per Package
8
8
8
8
Total # of Die
8
16
32
64
Die Capacity
128Gbit
128Gbit
128Gbit
128Gbit
Raw NAND Capacity
128GiB
256GiB
512GiB
1024GiB
Over-Provisioning
12.7%
9.1%
9.1%
9.1%
TurboWrite
TurboWrite is a feature that Samsung brought to the 840 EVO to increase write performance. The idea of running a small portion of the NAND in SLC mode was nothing new, but it was the first time it truly made sense because the 840 EVO used slower TLC NAND and hence the SLC buffer could provide significant improvements to write performance and user experience. Unsurprisingly, TurboWrite is also present in the 850 EVO.
Samsung SSD 850 EVO TurboWrite SLC Buffer Size
Capacity
120GB
250GB
500GB
1TB
TurboWrite Buffer Size
3GB
3GB
6GB
12GB
The buffer sizes and core architecture have remained unchanged. All writes hit the SLC buffer first, from which they then get moved to the TLC array during idle time. The only exception is a case of long, sustained period of writes that exceeds the buffer size, in which case the data will be written straight to the TLC portion.
Write Performance With and Without TurboWrite
With TurboWrite
Without TurboWrite
Sequential Write
4KB Random Write (QD32)
Sequential Write
4KB Random Write (QD32)
120GB
520MB/s
88K IOPS
150MB/s
38K IOPS
250GB
520MB/s
88K IOPS
300MB/s
70K IOPS
500GB
520MB/s
90K IOPS
500MB/s
80K IOPS
1TB
520MB/s
90K IOPS
520MB/s
80K IOPS
Samsung's reviewer's guide states that the 850 EVO features "enhanced TurboWrite technology" with a focus on random write performance, but I don't have any additional details as to how the TurboWrite implementation in the 850 EVO differs from the 840 EVO. TurboWrite was always designed to cache all writes regardless of the nature of the write (random vs sequential), so I'm not sure if anything has actually changed. Obviously the algorithms have been optimized for the new NAND and controller architecture and it's possible that the whole batch of algorithms has improved in the process, but I'll provide an update when I hear back from Samsung.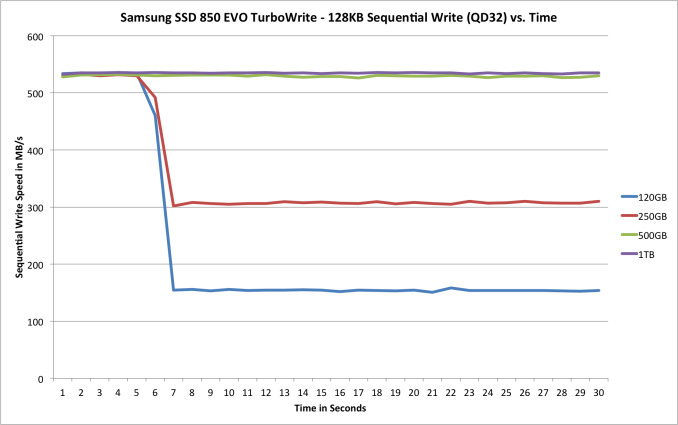 I ran a quick sequential write test to see how TurboWrite behaves in the 850 EVO. At smaller capacities it clearly provides a tremendous performance boost, but at 500GB and 1TB there is enough NAND to provide the parallelism that is needed to max out the SATA 6Gbps interface. That is a big improvement over the 840 EVO as its write performance maxed out at ~400MB/s when writing to the TLC array, so the performance benefits of 3D NAND technology are already evident.