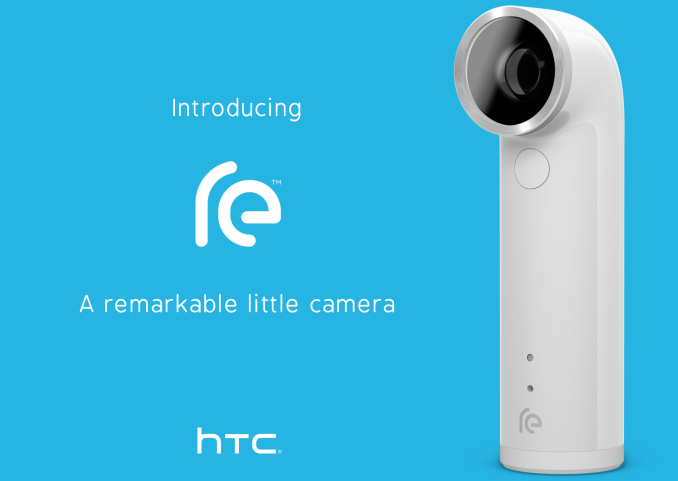 Today is HTC's camera-centric Double Exposure event in New York. In addition to announcing the new Desire EYE, HTC is announcing a new device that occupies it's own space in HTC's portfolio. It's a small camera called the RE. As far as cameras go, the RE is fairly unique. At first glance it looks like it could be something like a flashlight, but the large glass circle is really the cover for a 16MP camera housed inside. The device is shaped so it can be held and operated with a single hand. At 65.5 grams it's also very light. MicroSD is used exclusively for storage, with an 8GB card shipping by default and support for up to 128GB MicroSDXC. An 820 mAh (3.116Wh) battery provides up to 1200 captured photos or 100 minutes of continuous video recording.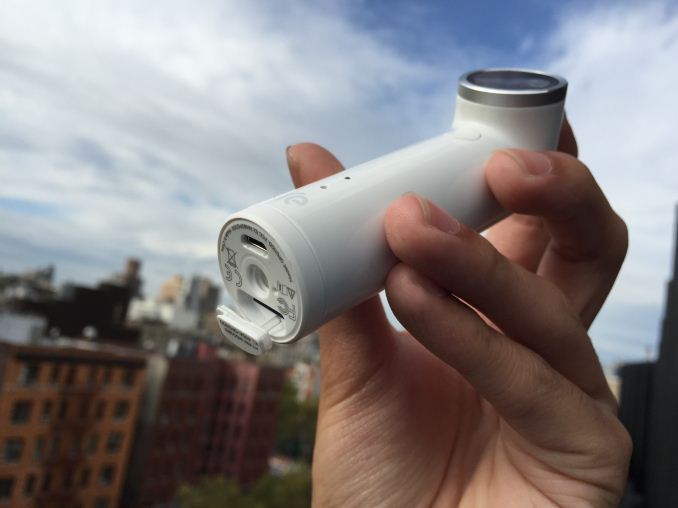 The RE is the opposite of what HTC has done with their cameras in the smartphone space. HTC is also keen to emphasize that this doesn't compete with GoPros. They were one of the first companies to start putting manual controls for white balance, ISO, and shutter speed in their camera application. With the RE, HTC is trying to create a highly automatic photography experience where all that's required is the press of a button. To do this, HTC has eliminated as many buttons, toggles, and controls as possible. The RE has no on/off button. Instead, it has a sensor in the grip which detects when it is being held and turns the camera on which uses an MCU which is likely to be a Cortex M solution. The only buttons are the shutter button on the back where the user's thumb is placed, and a slow-mo video toggle on the front underneath the lens where the user's index finger is placed. There are no dials, and no viewfinder or LCD.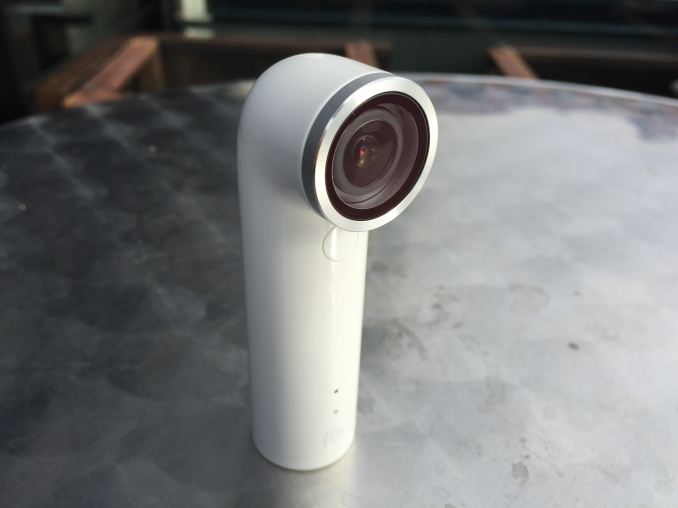 Composition is an essential part of photography. To allow users to take photos without any viewfinder, HTC has used a 16MP 1/2.3" CMOS sensor with an F/2.8 aperture and a very wide 146 degree field of view which is equivalent to 17mm. The camera's wide field of view means that as long as users have a rough idea of what is being captured by the camera and point in the direction of the subject, they can crop and align photos after they are taken without cutting off any essential details. In practice, the quality is passable, although hurt by the wide field of view which reduces peak resolution in addition to the half second or so of shutter lag. The gallery below has sample photos from the RE, although HTC cautioned that both the hardware and software were non-final and that there may be significant differences in the final product.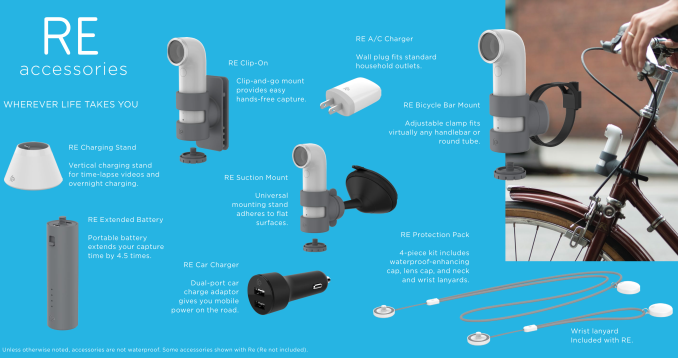 HTC has also announced a line of accessories for the RE, which are pictures above. The extended battery has a novel design, screwing into to the 1/4" tripod mount on the bottom of the RE and using a retractable micro USB plug. While the camera has an IP57 rating for dust resistance and immersion in 1 meter of water for 30 minutes, accessories like the extended battery do not. Users who plan on going deeper underwater should invest in the protection pack which includes a cap that improves water resistance to IP58 which allows for immersion in 3 meters of water for up to 2 hours.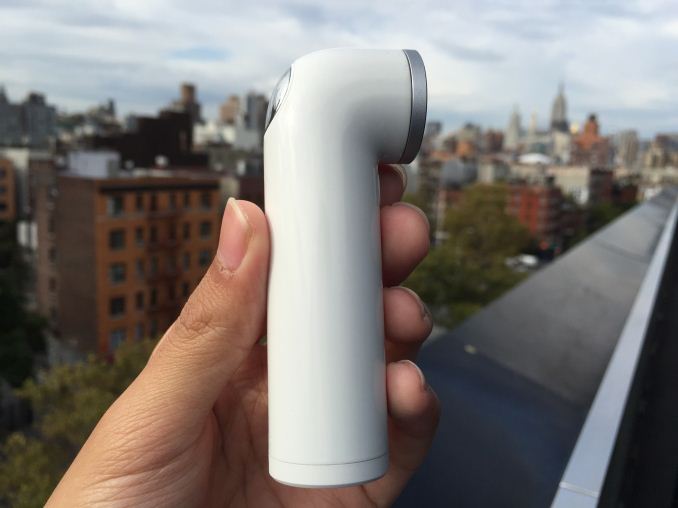 While the camera can function on its own, it also integrates with Android and iOS devices that support Bluetooth 4.0 LE. The RE app that will be launching with the camera will work as a photo and video manager, and a live viewfinder. Photos can be easily shared with social networks, and automatically backed up to Dropbox or Google Drive.
HTC plans to launch the RE in the United States by October, and will expand to other regions afterward. We expect pricing in the US to be around 199 USD at launch. While it remains to be seen whether the RE is the first of many new action cameras, HTC seems to be exploring new product categories instead of following prevailing industry trends.