Samsung SSD 845DC EVO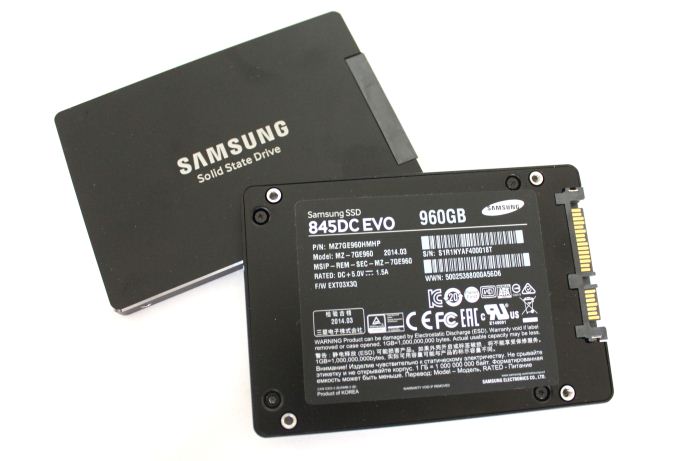 Samsung SSD 845DC EVO
Capacity
240GB
480GB
960GB
Controller
Samsung MEX
NAND
Samsung 19nm 128Gbit TLC
Sequential Read
530MB/s
530MB/s
530MB/s
Sequential Write
270MB/s
410MB/s
410MB/s
4KB Random Read
87K IOPS
87K IOPS
87K IOPS
4KB Random Write
12K IOPS
14K IOPS
14K IOPS
Idle Power
1.2W
1.2W
1.2W
Load Power (Read/Write)
2.7W / 3.8W
2.7W / 3.8W
2.7W / 3.8W
Endurance (TBW)
150TB
300TB
600TB
Endurance (DWPD)
0.35 Drive Writes per Day
Warranty
Five years
The 845DC EVO is based on the same MEX controller as the 840 EVO and 850 Pro are and it also uses the same 128Gbit 19nm TLC NAND as the EVO. While the SSD 840 was the first client TLC drive, the 845DC EVO is the first enterprise drive to utilize TLC NAND. We have covered TLC in detail multiple times by now, but in a nutshell TLC provides lower cost per gigabyte by storing three bits per cell instead of two like MLC does, but the increased density comes with a tradeoff in performance and endurance.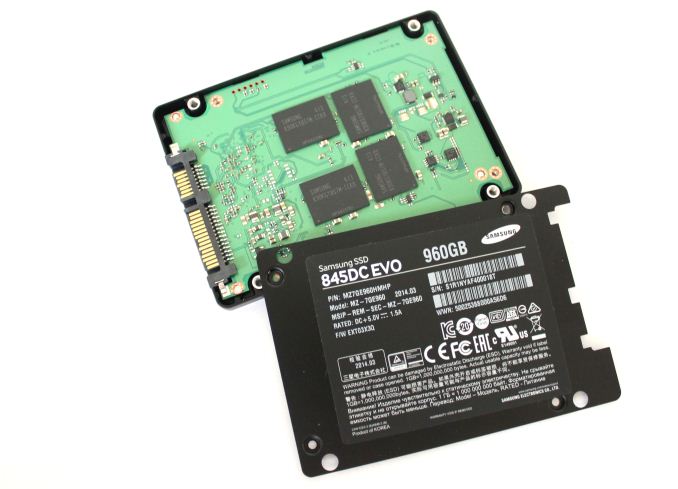 Based on our endurance testing, the TLC NAND in the SSD 840 and 840 EVO is good for 1,000 P/E cycles, which is about one third of what typical MLC is good for. I have not had the time to test the endurance of 845DC EVO yet, but based on tests run by others, the TLC NAND in the 845DC EVO is rated at 3,000 P/E cycles. I will confirm this in the full review, but assuming that the tests I've seen are accurate (they should be since the testing methology is essentially the same as what we do), Samsung has taken the endurance of TLC NAND to the next level.
I never believed that we would see 19nm TLC NAND with 3,000 P/E cycles because that is what MLC is typically rated at, but given the maturity of Samsung's 19nm process, it is plausible. Unfortunately I do not know if Samsung has done any special tricks to extend the endurance, but I would not be surprised if these were just super high binned dies. In the end, there are always better and worse dies in the wafer and with most TLC dies ending up in applications like USB flash drives and SD cards, the best of the best can be saved for the 845DC EVO.
Ultimately the 845DC EVO is still aimed mostly towards read-intensive workloads because 0.35 drive writes per day is not enough for anything write heavy in the enterprise sector. Interestingly, despite the use of TLC NAND the endurance of the EVO is actually slightly higher than what Intel's SSD DC S3500 offers (150TB vs 140TB at 240GB).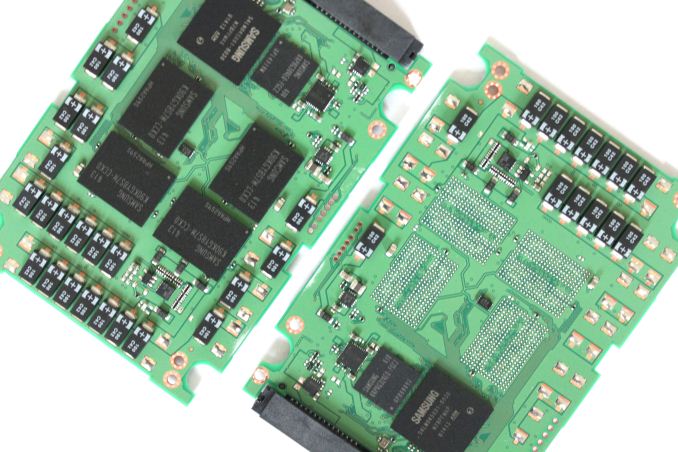 Like most enterprise drives, the 845DC EVO features capacitors to protect the drive against power losses. For client drives it is enough to flush the NAND mapping table from DRAM to NAND frequently enough to prevent corruption, but in the enterprise there is not much room for lost user data.