At MWC this year, Microsoft announced it was partnering with several new companies to bring additional Windows Phone devices to market. At BUILD, they announced an additional two companies – Micromax and Prestigio. Today, Microsoft used their Windows Phone Blog to announce some of the first of these new entrants with the Micromax Canvas Win W121 and Canvas Win W092.
Neither of these devices could be considered a flagship device in any market, but clearly that's not the push right now. With the (relative) success of the Lumia 520, Nokia showed that low prices are still important in a lot of markets and can allow for some respectable volumes of devices to be sold.
There were two major changes earlier this year which have led to Windows Phone going from basically three OEMs (Nokia, Samsung, and HTC) to double digit numbers of OEMs pledged to bring devices out based on Microsoft's smartphone platform. The first is the $0 licensing model for all Windows devices under 9" in screen size. This lets Windows Phone compete head on with Android - at least from a licensing perspective. In fact, with the patents being paid to Microsoft from basically all Android device makers, it's possible that going with Windows Phone is actually less costly on the licensing end. The other major change was that Microsoft released a Qualcomm reference design for Windows Phone, and both of the Micromax devices are utilizing that to save costs on engineering. This is a big change, and allows OEMs to bring devices to market faster and for much less money than having to design an entire phone themselves.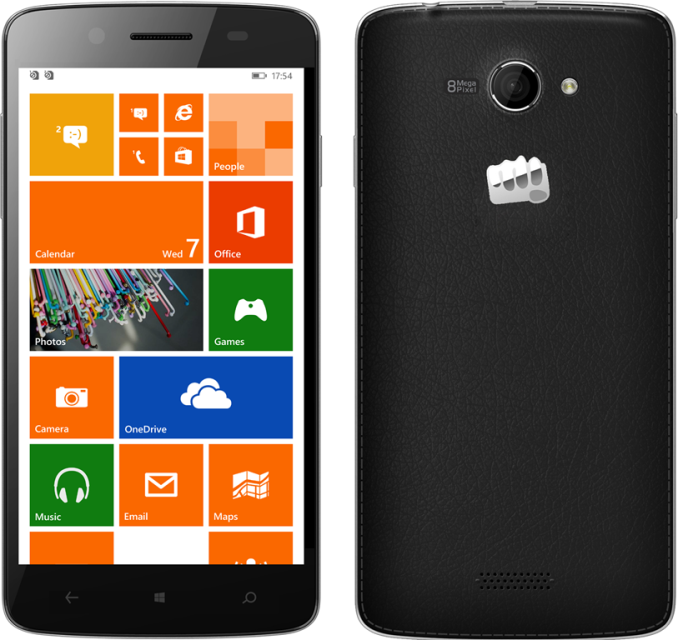 The Win W121 is the more upscale device of the two, with a 5" IPS display with a 720x1280 resolution for a reasonable 294 pixels per inch. Driving the display is the Qualcomm Snapdragon 200 quad-core 1.2 GHz which is likely the 8212 (Cortex A7, Adreno 302) version found in other Micromax devices and comes equipped with 1 GB of RAM which is much better than the low end Nokia phones. The battery is a 2000 mAh, and there is an 8 MP rear camera with LED flash and a 2 MP front facing camera. The W121 has dual SIMs, and the 8 GB of internal storage is expandable storage via microSD up to another 32 GB. The back is faux leather and removable, much like the Samsung Note 3.
The Win W092 is a 4" IPS version, but lowers a lot of the specifications to reach a lower price point. The screen is 480x800 resolution, but keeps the same quad-core Snapdragon 200, 1 GB of RAM, and 8 GB of storage. Once again, the storage is expandable with microSD adding up to an additional 32 GB more space. The battery is correspondingly smaller at 1500 mAh, and the rear camera is downgraded to a 5 MP but keeps the flash. The front facing camera is downgraded to 0.3 MP, but at least it has one.
Micromax Comparison
Micromax Canvas W121
Micromax Canvas W092
Nokia Lumia 520
Nokia Lumia 630
SoC
1.2 GHz Snapdragon 200 (Quad Core Cortex-A7)
1.2GHz Snapdragon 200 (Quad Core Cortex-A7)
1.0GHz Snapdragon S4 (Dual Core Krait)
1.2GHz Snapdragon 400 (Quad Core Cortex-A7)
RAM
1 GB
1 GB
512 MB
512 MB
NAND
8 GB NAND with microSD slot
8 GB NAND with microSD slot
8 GB NAND with microSD slot
8 GB NAND with microSD slot
Screen
5" 1280x720
4" 800x480
4" 800x480
4.5" 854x480
Rear Camera
8 MP w/LED Flash
5 MP w/LED Flash
5 MP
5 MP
Price
$158
$108
$121
$159
Neither of these devices are very exciting compared to the HTC Ones of the world, but they are going on sale in India in early July for Rs 9,500 ($158 USD) for the W121, and the lower spec W092 is only Rs 6,500 ($108 USD). For the price, they offer a lot of value and should compete well against the Lumia 520 and Moto E range devices.
Source: Windows Phone Blog