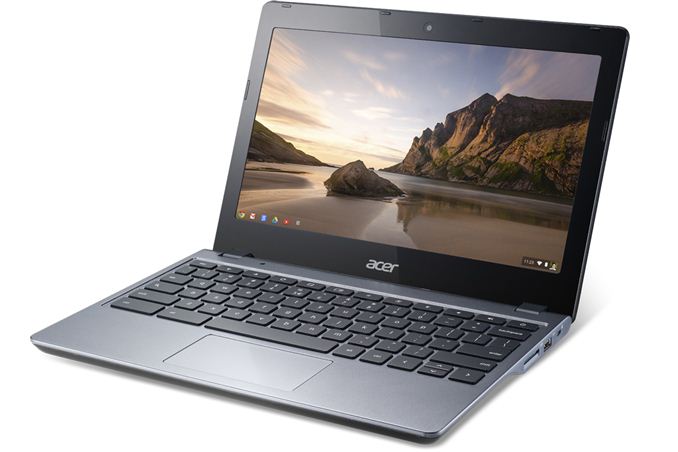 Last year, one of the hottest selling laptops was Acer's C710 Chromebook. Part of that of course was the fact that it was one of the least expensive laptops around, priced at $199 for the base model. There were drawbacks to that model of course: the display wasn't great, it had 2GB RAM, 16GB SSD, and battery life was rated at up to four hours with the 37Wh 4-cell battery. Today, Acer announced the updated C720, now sporting a Haswell CPU in place of the previous model's Sandy Bridge based Celeron 847. Here's the quick specifications overview.
Acer Chromebook C720-2800 Specifications
Processor
Intel Celeron 2955U
(Dual-core 1.4GHz, 2MB L3, 22nm, 15W)
Memory
4GB DDR3L
Graphics
Intel HD Graphics
(10 EUs at 200-1000MHz)
Display
11.6" Anti-glare
Storage
16GB SSD
Networking
802.11a/b/g/n WiFi
Battery/Power
4-cell (?), up to 8.5 hours
Pricing
MSRP: $249
$240 Pre-order at Amazon.com
There are a few major changes, starting of course with the Celeron 2955U processor. While that's going to be the slowest Haswell CPU around, the 1.4GHz clock ends up being at least 27% faster than the Celeron 847 based on clock speed alone, and architectural enhancements mean it's more likely to be in the 30-40% faster range. Acer states that the new C720 will boot up in less than seven seconds, allowing you to get straight to work (or fun). Along with the CPU upgrade, the iGPU will also be better/faster. Intel calls the base level graphics "HD Graphics" in all of their recent Celeron range, but where Sandy Bridge had 6 EUs with DX10 capability, Ivy Bridge added DX11 and Haswell increases the EUs to 10. It's not a performance powerhouse iGPU by any stretch, but it should be sufficient for most uses.
RAM also gets an upgrade to 4GB this round, with DDR3L memory reducing the power use. Perhaps more importantly, the display has been updated to have an anti-glare coating. It's still a 1366x768 panel, but the use of anti-glare instead of gloss means outdoor operation of the C720 will be far more tolerable. The chassis has also been refined, and Acer notes that the new model is 30% thinner, and the 2.76 lbs. weight is 11% less than the C710 weight of 3.1 pounds.
Wrapping up the changes and upgrades, the webcam is still present, and it's now an HD webcam (I'm pretty sure the previous model was not HD). There's also a USB 3.0 port along with a USB 2.0 port, allowing faster transfer of files from the appropriate hardware. Given the limited storage capacity of the 16GB SSD (most likely eMMC), which is one area that didn't get upgraded on the base model, I'm not sure how important USB 3.0 will prove to be, but it's certainly a welcome inclusion. HDMI output and the SD card reader continue to be present as well.
All of this results in not just better performance, but you get significantly better battery life. Acer rates the C720 at up to 8.5 hours, so more than double the battery life of the C710. It's not clear if the battery is still the same capacity or if that changed as part of the update, but we know that Haswell is capable of lower power states than Ivy Bridge, and significantly lower power states than Sandy Bridge, so the improved battery life is expected.
The Acer C720-2800 will be available later this month, with pre-orders supposedly going up today on BestBuy.com and Amazon.com. At present they do not appear to be on the respective websites, but I will update with the appropriate links. Pricing is higher than the previous generation C710, with an MSRP of $249, but with all the various upgrades I don't think the $50 increase is too much. The more pertinent question will be how the C720 stands up to its Chromebook competitors like the HP Chromebook 11, which has an IPS display and a 2.3 pound weight, but it uses an Exynos 5250 GAIA SoC with 2GB RAM and lacks USB 3.0 and the SD card reader. That's currently available for $279, and hopefully we can answer the question of how the various models compare in the coming months.