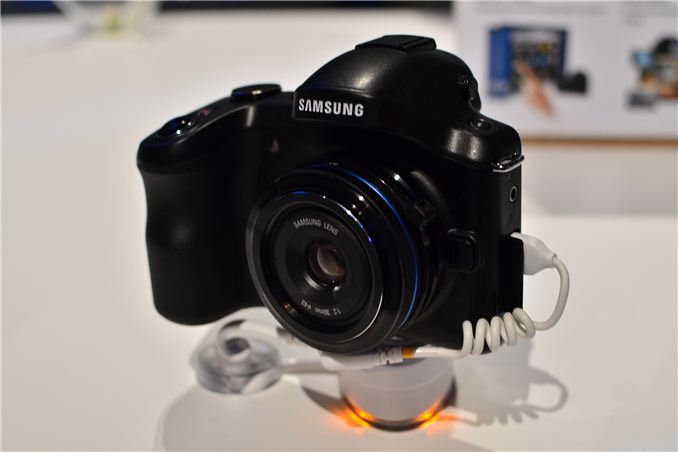 When Samsung launched the Galaxy Camera, I remember Brian telling me that it might not be the best point and shoot, but it's absolutely the directions cameras need to go in. After playing with the Galaxy Camera, I couldn't agree more. Cameras need to be connected, as sharing is such an important part of the whole point of taking photos. At tonight's Premiere 2013 event in London, Samsung unveiled its next flagship connected camera: the Galaxy NX Camera.
The Galaxy NX Camera is the first Android camera to support interchangeable lenses. As its name implies, the Galaxy NX Camera is fully compatible with all currently available Samsung NX lenses. The Galaxy NX Camera features a 20.3MP APS-C sensor (Update: Brian tracked down the exact sensor).
Internally there's a 1.6GHz quad-core SoC with a dedicated ISP. The platform runs Android 4.2.2 and supports LTE as well.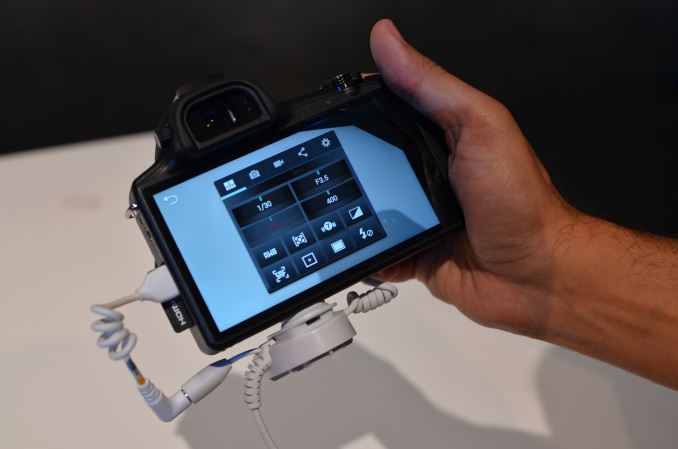 The big thing for me? We finally have an Android device that exposes full manual controls. Shutter speed, aperture and ISO are all adjustable just like on a traditional camera. While the layout took some getting used to, the frustrating lack of control from most camera experiences on Android just wasn't there. The combination of software flexibility and the ability to use good lenses will make this yet another step in the right direction.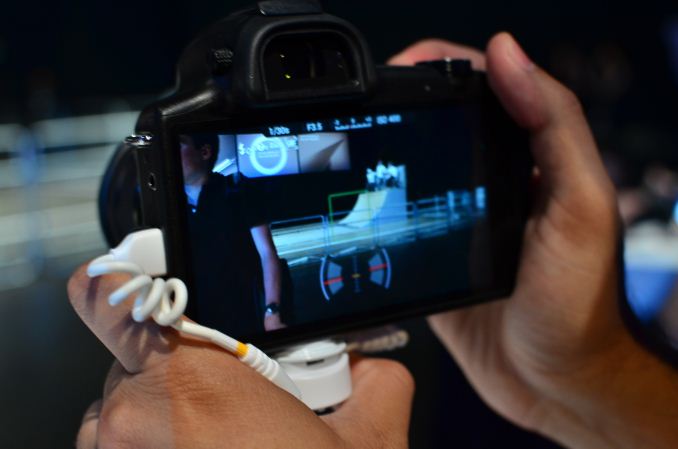 Taking photos was just as natural as on any other mirrorless camera. The 4.8" display looks good and there's even a live level indicator to help make sure your shots come out straight. Start-up/shutdown time are impacted by the simple fact that the whole thing runs Android. I can't wait to get one of these in Brian's hands to see what he thinks once review samples are available. Modern smartphones have done a tremendous job of pulling focus away from traditional PCs for mobile computing, it's very clear that the traditional camera market is set to be disrupted by these portable powerhouses even more going forward.
Camera Emphasized Smartphone Comparison
Samsung Galaxy Camera (EK-GC100)
Nikon Coolpix S800c
Nokia PureView 808
Samsung Galaxy S4 Zoom
Samsung Galaxy NX Camera
CMOS Resolution
16.3 MP
16.0 MP
41 MP
16.3 MP
20.3 MP
CMOS Format
1/2.3", 1.34µm pixels
1/2.3", 1.34µm pixels
1/1.2", 1.4µm pixels
1/2.3", 1.34µm pixels
APS-C, 4.25µm pixels
CMOS Size
6.17mm x 4.55mm
6.17mm x 4.55mm
10.67mm x 8.00mm
6.17mm x 4.55mm
23.5mm x 15.7mm
Lens Details
4.1 - 86mm (22 - 447 35mm equiv)
F/2.8-5.9
OIS
4.5 - 45.0mm (25-250 35mm equiv)
F/3.2-5.8
8.02mm (28mm 35mm equiv)
F/2.4
4.3 - 43mm (24-240 mm 35mm equiv)
F/3.1-F/6.3
OIS
NX Mount ILC, shown with 18-55mm F/3.5-5.6
Display
1280 x 720 (4.8" diagonal)
854 x 480 (3.5" diagonal)
640 x 360 (4.0" diagonal)
960 x 540 (4.3-inch)
1280 x 720 (4.8-inch) LCD
SoC
Exynos 4412 (Cortex-A9MP4 at 1.4 GHz with Mali-400 MP4)
ARM Cortex A5(?)
1.3 GHz ARM11
1.5 GHz Exynos 4212
1.6 GHz Quad Core (Exynos 4412?)
Storage
8 GB + microSDXC
1.7 GB + microSDHC
16 GB + microSDHC
8 GB + microSDHC
16 GB + microSDXC
Video Recording
1080p30, 480p120
1080p30
1080p30
1080p30
1080p25
OS
Android 4.1
Android 2.3.6
Symbian Belle
Android 4.2
Android 4.2.2
Connectivity

Quad band WCDMA 21.1, 4G, 802.11a/b/g/n with 40 MHz channels, BT 4.0, GNSS

No cellular, WiFi 802.11b/g/n(?), GPS
Pentaband WCDMA 14.4, 802.11b/g/n, BT 3.0, GPS
Quad band WCDMA 21.1, 4G LTE SKUs, 802.11a/b/g/n with 40 MHz channels, BT 4.0, GNSS
Quad band WCDMA 42
4G LTE SKUs,
802.11a/b/g/n,
BT 4.0, GNSS