Introducing the Rosewill Armor EVO
As NewEgg's house brand, Rosewill has been growing in very interesting ways. Being the house brand of a major electronics retailer means dipping your toe into a lot of different markets, and Rosewill has expanded dramatically, to the point where their products are starting to crop up on other vendors' sites. At the same time, those products are gaining attention in their own right. Rosewill's own Thor v2 may not be the best built enclosure, but it's a dynamite performer and can oftentimes be found at a bargain.
Rosewill has also been fairly aggressive about pursuing enthusiasts. It's not enough to simply have a product and offer it; you don't see Best Buy sending out Dynex or Insignia televisions to websites for review. There's also sweet money to be had in chasing mid-to-high end buyers, and that's where the Armor EVO comes in. The EVO is a fairly modestly sized tower capable of supporting E-ATX motherboards and promises healthy cooling performance. It also comes with an unusually optimistic MSRP: $119. Is it worth the money, or did Rosewill misfire?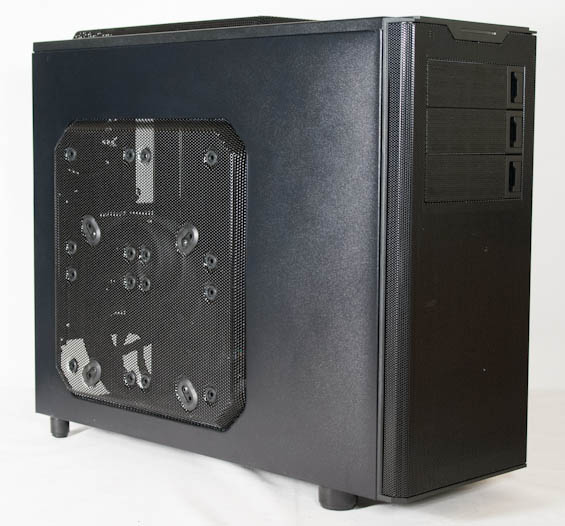 The company has made a habit of producing no frills products at competitive prices; their mechanical keyboards are absolutely killer deals for users who want a basic, comfortable keyboard but don't want to fork out the bread for a high end gaming keyboard. Their cases have been more hit and miss, though: the Thor v2 is fantastic, but the Ranger we reviewed left a lot to be desired. They're fairly young as a case manufacturer to be sure, and unfortunately with the Armor EVO, they may yet have a ways to go.
Rosewill Armor EVO Specifications
Motherboard Form Factor
Mini-ITX, Micro ATX, ATX, E-ATX
Drive Bays
External
3x 5.25" (includes 5.25"-to-3.5" adapter)
Internal
7x 2.5"/3.5"
Cooling
Front
2x 120mm intake fan (supports additional 2x 120mm behind drive cage)
Rear
1x 120mm exhaust fan
Top
2x 120mm exhaust fan (supports 2x 140mm)
Side
1x 230mm intake fan (supports 4x 120mm)
Bottom
1x 120mm/140mm fan mount
Expansion Slots
7
I/O Port
2x USB 3.0, 2x USB 2.0, 1x Headphone, 1x Mic
Power Supply Size
Standard ATX
Clearances
HSF
170mm
PSU
220mm
GPU
320mm
Dimensions
8.62" x 18.58" x 22.4"
219mm x 472mm x 569mm
Weight
21.6 lbs. / 9.8 kg
Special Features
USB 3.0 connectivity via internal headers
Toolless 5.25" drive bays and 3.5" drive sleds
Support for 240mm/280mm radiator in top of enclosure
Toggleable red LED lighting on front fans
Price
$114
What's important to note about the Armor EVO is what's specifically missing from the spec table: a fan controller. You can turn the LEDs on and off, but you can't actually control the multitude of included fans. This is not the EVO's biggest problem, but it is definitely a problem because as you'll see later, the EVO has a tremendous amount of thermal headroom.
One of the other things the EVO has to worry about is another case in Rosewill's own stable: the Thor v2. I don't have comparison results for it as the Thor v2 was reviewed on our old testbed, but on the spec table, the only thing the EVO can consistently beat the Thor v2 with is size.