A reader queried me on Twitter about what I brought to CES this year, specifically what bag I use to cart tons of mobile devices, cameras, and a notebook around. CES 2013 is quite literally a mobile battleground, and having the right equipment for the show can make or break the experience and or my ability to cover the event. I've gone through a few iterations of what ends up being my trade show kit, and feel pretty good about what I carry around now.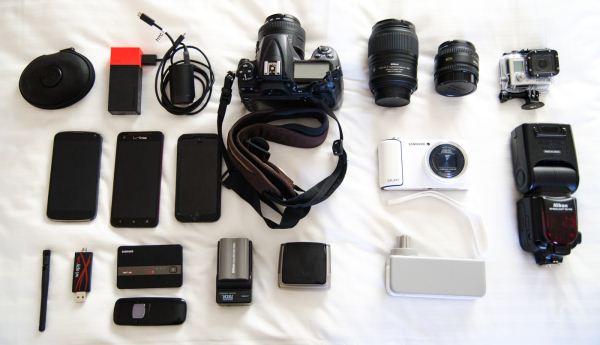 Bag: Crumpler Karachi Outpost (M)
I've gone through a few different bags, starting with just a backpack and camera bag, then the Crumpler 8 Million Dollar Home, and finally settled on the Crumpler Karachi Outpost (Medium) bag for most events. The 8 Million Dollar Home, while awesome, ended up being too big and heavy for me and oddly enough seems to have been discontinued.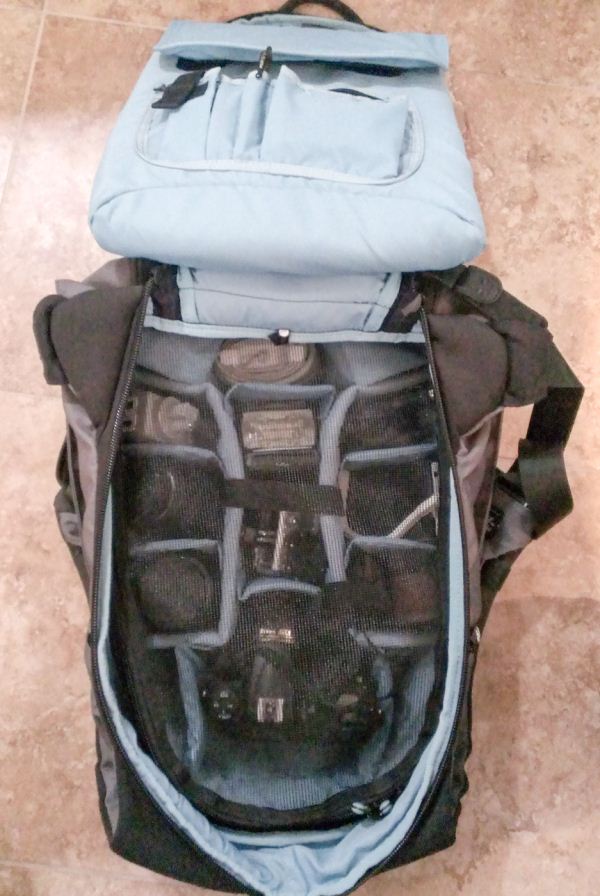 I'm a firm believer that after a certain amount of weight you really need two straps to distribute weight evenly or risk causing some serious back pain and mobility problems. For me that ideal platform just ended up being their camera backpack, which holds a 15" notebook, camera, lenses, and accessories. It's a bit uncoventional in needing to be laid flat, opening from the back, and having straps that fold around and clamp in the front when not being used, but I wouldn't go back to anything else now that I've used this.
Cameras: Nikon D300S, Samsung Galaxy Camera, GoPro Hero 3 Black
Getting photos of products, slides, and people is key for events like this, and I'm a stalwart about using my DSLR instead of something smaller for low light performance, image quality and lens flexibility. I've already got a bunch of Nikon lenses and refuse to give up the full size DSLR platform at this point, though I know a number of other ATers are avid fans of some of the mirrorless systems and I probably will cave in eventually. I use a Nikon D300S at the moment for basically everything. I stuck a Crumpler Industry Disgrace camera strap on my D300S after getting a very sore neck from a few prior trade shows, back then I packed on the battery grip as well which I've left at home lately.
For lenses I brought the Nikkor 35mm F/1.8G, which is superb for general hands on shots of devices in terrible trade show lighting (and ends up being around the field of view of a 50mm "standard" lens after the 1.5x crop on my D300S), the Nikkor 60mm F/2.8G which I use for almost all PCB shots and close up detail photos of devices, and my favorite, the venerable Tamron 17-50mm F/2.8 XR Di II (non-VC) which offers awesome sharpness and is unbeatable for the price. I like that one more than the newer one with VC (Tamron's branding for OIS) since it seems a bit sharper. I debated bringing the Nikkor 50mm F/1.4G and the Nikkor 18-200mm VR, the former of which I have a very love-hate relationship with.
I also bring along the Nikon SB900 since lighting is always terrible everywhere you want to take photos of demo devices. This has saved me a few times in horribly lit demo rooms, hotel rooms, show floors and so on. It's gigantic but totally worth it.
We're reviewing the Samsung Galaxy Camera, and on my prior few trips I carried it exclusively. I'm a big fan of the Galaxy Camera even if its still image performance isn't the most stellar. I will probably use Galaxy Camera for video content since the videos it produces are great combined with internal OIS (Optical Image Stabilization).
I bought a GoPro Hero 3 Black two weeks ago and felt like I needed to bring it to CES. Not pictured is the "Chesty" mount which straps the camera to your person. I'd like to give this a shot just to show some 1080p60 videos of the show floor while running in between meetings. The GoPro Hero 3's video quality is very impressive.
Smartphones: iPhone 5 (AT&T), Nexus 4 (T-Mobile), HTC Droid DNA (Verizon)
My primary SIM is in my iPhone 5 for CES partly because it has an excellent FieldTest.app onboard for seeing what's going on with crowded cellular networks at the show, and partly because my AT&T SGS3 is still hooked up to the base station emulator and acting a little weird. I forgot my second AT&T line which is currently in the HTC One X+. I also brought along the Nexus 4 since I want to see how T-Mobile fares at the show, and the HTC Droid DNA on Verizon which I'm still reviewing. This way I have a device in my pocket on all the major carriers operators save Sprint at the show.
Connectivity: LG VL600, Samsung SCH-LC11 (Verizon LTE)
I have a datacard SIM on Verizon I use interchangeably between two LTE devices just for data. The LG VL600 is the only Verizon LTE-enabled datacard I've found that works perfectly reliably with my 2011 MacBook Pro. Oddly enough it also was the first, isn't sold anymore, and has a rather unique LG LTE baseband (L2000) with on-package transceiver in conjunction with an older Qualcomm baseband for CDMA 1x/EVDO. I just keep the LG VL600 forced into LTE-only mode and find it works great.
I brought along the SCH-LC11 just in case for hotel use. That said bringing personal hotspots along to trade shows is always a horrible idea since they're all 2.4 GHz-only, and as we all know all 2.4 GHz spectrum is completely lit up at every show (leading to demo failure and failure to be able to connect to the internet to post anything). USB modems are the way to go and hence why the VL600 never leaves my backpack.
On that note, I regularly bring the Metageek WiSpy DBx with me to shows. I just love seeing 2.4 GHz get gobbled up instantly by everyone trying to use their MiFis and portable hotspots, and then the demos (also running on 2.4 GHz) struggling for the same reason.
Notebook: 15" 2011 MacBook Pro
I've already mentioned that for notebook I bring along my 15" 2011 MacBook Pro. I refuse to move to a MacBook Air or smaller than 15" device even for trade shows, I just need the display space. It's the 2.3 GHz Core i7 model with 16 GB of DDR3, 512 GB Vertex 4, 500 GB MomentusXT in an OptiBay (no optical drive), matte antiglare 1680x1050 display.
The Rest: Miscellany
Because the SD card slot on my 2011 MBP has never worked properly with most of my SD cards, I bring along a Lexar USB 3.0 SD/CF reader.
Having a power strip at all times is invaluable in airports and other crowded areas, and for that I turn to the very popular Belkin Travel Mini surge protector with USB charging. Unfortunately these USB ports don't conform to the USB BC1.x spec and instead just give 500mA, so I have an assortment of other power adapters, and the HTC Double Charge portable external battery charger.
Sometimes you need headphones to concentrate and focus, and for that I bring along my Shure SE535s as well.
Also not pictured is a generic USB hub I carry around, since that's the only way to get the LG VL600 and camera connected to the MacBook Pro over USB at the same time due to space constraints. In addition, an unspeakable quantity of Cliff protein bars for when there's no time to stop for food.
I think that wraps up what's in my bag, hopefully I didn't forget anything...