Feature Set and Options: Draft N Routers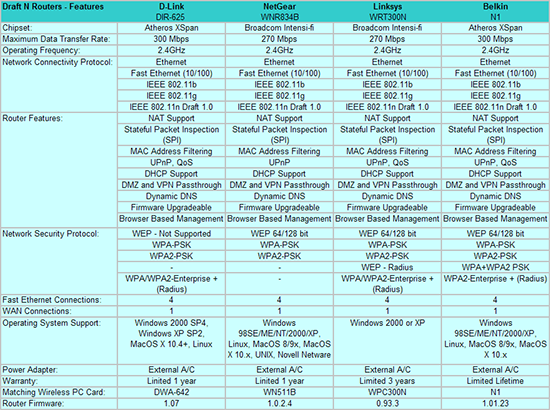 Click to enlarge
The D-Link DIR-625 product we are testing today is based on the Atheros XSpan chipset that is also found in the Belkin N1 router. Our Linksys and NetGear products are based on the competing Broadcom Intensi-fi chipset. We will be testing other Draft N routers in the near future including the NetGear RangeMax Next Gigabit Edition (WNR854T) that sports the Marvell TopDog chipset and D-Link's RangeBooster N 650 (DIR-635) router that carries the same Atheros XSpan chipset that is in the DIR-625.
In our initial testing results we found that our Draft-N equipment at times does not interoperate with each other at full speeds or fails to connect at all due to the differing chipsets utilized by the suppliers. While we will be fully exploring this issue in our next article it is disconcerting that you can purchase different Draft N chipsets from the same vendor. NetGear offers several different RangeMax Next Wireless Routers that feature both the Broadcom Intensi-fi and Marvell's TopDog chipset. To make matters worse the RangeMax Next Gigabit Edition PC Card (WN511T) is TopDog based and our RangeMax Next PC Card (WN511B) uses the Broadcom Intensi-fi chipset technology.
While all of the routers support the vast majority of connectivity and security protocols we did find one difference that will be important to the home user expecting to use their router for streaming media or VoIP operations. All products except the NetGear unit fully support QoS (Quality of Service) technology that helps to ensure consistent streaming media and clear VoIP transmissions by prioritizing multimedia packets on the network. NetGear plans to add this capability in future firmware upgrades, and it already fully supports UPnP which enables peer-to-peer connectivity of networked computers, external storage devices, and even game consoles.
Of noted interest, the D-Link DIR-625 does not support WEP security, a feature the other products fully support. WEP security protocols are not specifically addressed in the current Draft 1.0 protocol and as such D-Link believes they are adhering to the spirit of the standard. While we no longer recommend or even use the WEP security protocol there are numerous legacy products in the marketplace that utilize WEP. If your card or other device cannot be updated to WPA security then you will need to purchase a new device in order to utilize this router.