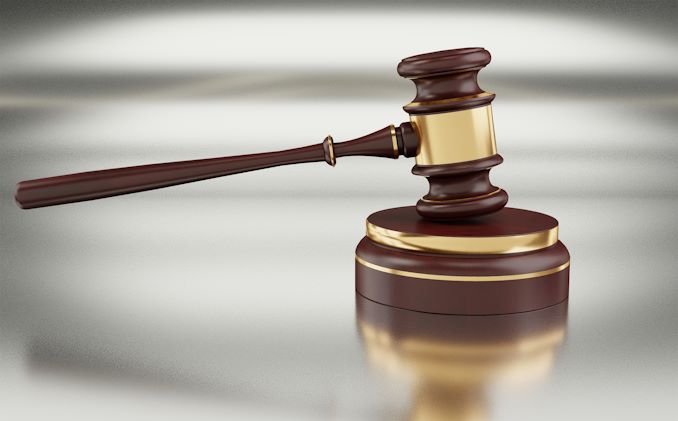 Apple and Intel this week filed a new lawsuit against Fortress Investment Group, a patent assertion entity controlled by SoftBank, in response to patent infringement lawsuits brought by the firm against the two technology giants in recent years. The companies are accusing Fortress of anticompetitive stockpiling of patents in a bid to enforce them, and have asked the court to 'remedy the harms that they had already suffered' from Fortress and unravel Fortress's operations.
Intel already filed a lawsuit against Fortress in the U.S. District Court for the Northern District of California back in October. In that lawsuit, Intel contested the legality of Fortress's massive patent aggregation business through a network of patent assertion entities (PAEs) in a bid to license them (usually in packages) to Intel and other high-tech companies. In particular, Intel said that it had to license patents originally owned by NXP Semiconductors after the latter were acquired by Fortress. That lawsuit has since been withdrawn, and replaced with the new lawsuit from Intel and Apple.
The new lawsuit filed by the two companies in the same court makes the same accusations, but mentions a different set of patents, which includes patents originally issued to companies like Philips, Huawei, Panasonic, Seven Networks, and Nokia. Apple claims that so far PAEs associated with Fortress have filed 25 lawsuits against the company demanding $2.6 – $5.1 billion in damages. Meanwhile, the plaintiffs note, just one of Fortress's PAEs — Uniloc — has been a plaintiff in more than 130 patent infringement cases since February 2013, so the scale of operations appears to be gargantuan.
Intel and Apple claim that Fortress's patent aggregation business violates Section 1 of the Sherman Antitrust Act, Section 7 of the Clayton Act (an antitrust law that prohibits mergers and acquisitions where the effect may reduce competition), and California Business Provision Code § 17200 (an unfair competition law). To that end, the plaintiffs ask the court to declare the business practices as unlawful, return royalties that Apple and Intel have paid to the defendant (and its entities), transfer all of the claimed patents back to the transferors, declare those patents unenforceable, and award to Intel and Apple their expenses associated with the lawsuit.
Teaming up with Apple against the patent trolls is a logical, yet a relatively unexpected move from Intel. Overall, the chip giant is leading a legal war against Fortress and the more allies it can get the better. Meanwhile, there are some hitches. Fortress is controlled by SoftBank, a Japanese conglomerate which owns Arm. Meanwhile, Intel competes against Arm, whereas Apple uses Arm's architecture in its SoCs, which makes the coalition look rather odd. On the other hand, the patents mentioned mainly cover telecommunication technologies, a sphere where Intel and Apple have interests, but not going to compete against each other.
Intel's and Apple's prayer for relief (for the Intel Corporation et al v. Fortress Investment Group LLC et al, case number 3:2019cv07651) reads as follows:
a) That Defendants' unlawful conduct be declared a violation of Section 1 of the Sherman Act, 15 U.S.C. § 1; Section 7 of the Clayton Act, 15 U.S.C. § 18; and Cal. Bus. Prov. Code § 17200, et seq.;

b) That Intel and Apple recover damages against Defendants in an amount to be determined and multiplied to the extent provided by law, including under Section 4 of the Clayton Act;

c) That all contracts or agreements Defendants entered into in violation of the Sherman Act, Clayton Act, or Cal. Bus. Prov. Code § 17200, et seq. be declared void and the patents covered by those transfer agreements be transferred back to the transferors;

d) That all patents transferred to Defendants in violation of the Sherman Act, Clayton Act, or Cal. Bus. Prov. Code § 17200, et seq. be declared unenforceable;

e) Award to Intel and Apple their costs and expenses associated with this case, together with interest; and

f) Grant such other and further relief as the Court may deem just and proper under the circumstances.
Related Reading:
Sources: Reuters, USCourts.gov
Image Source: Quince Media via Wikimedia Commons