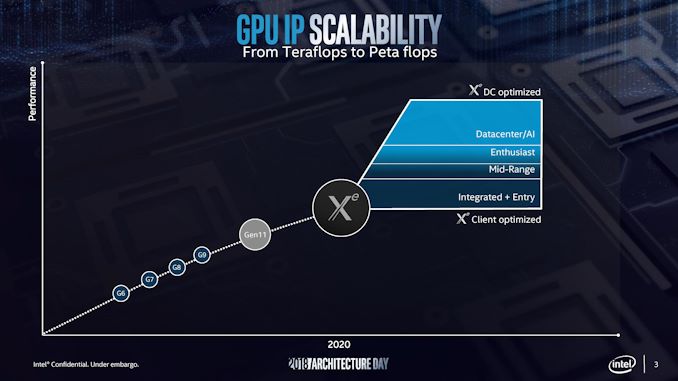 In a blink-and-you'll-miss-it moment, tucked inside of a larger blog post about announcements relating to this week's FMX graphics conference, Intel has made its first official comments about hardware ray tracing support for their upcoming Xe GPUs. In short, the company will be offering some form of hardware ray tracing acceleration – but this announcement only covers their data center GPUs.
The announcement itself is truly not much longer, so rather than lead into it I'll just repost it verbatim.
"I'm pleased to share today that the Intel® Xe architecture roadmap for data center optimized rendering includes ray tracing hardware acceleration support for the Intel® Rendering Framework family of API's and libraries."
Past that, there's little concrete to be said, especially given the high-level nature of the announcement. It doesn't specify whether ray tracing hardware support will be coming to the first generation of data center Xe GPUs, or if being on the road map means it will be coming in a future generation. Nor does Intel state which much clarity just what hardware acceleration entails. But since it's specifically "hardware acceleration" instead of merely "support", I would expect actual hardware for testing ray casting, especially in a high-end product like a data center GPU.
Overall, Intel's blog post notes that the company will be taking a "holistic platform" approach on ray tracing, tapping both CPUs and GPUs for the task. So while GPUs will be a big part of Intel's efforts to grow their ray tracing performance, the company will be looking to leverage both those and their traditional CPUs for future ray tracing endeavors. Intel will of course be the new kid on the block as far as GPUs go, so it's not surprising to see that the company is looking to see how the use of these (and other new processor technologies) can be synergized with CPUs.
Source: Intel