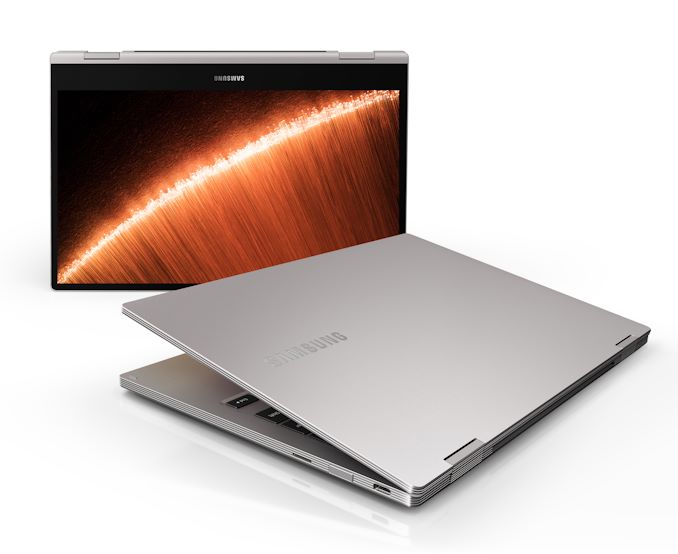 Samsung announced several products at its press conference today at CES, including a couple of very nice looking notebooks, aimed clearly at opposite ends of the market. The Samsung Notebook 9 Pro is a premium Ultrabook, and the Notebook Flash is a budget device with some nice features for the price range.
Samsung Notebook 9 Pro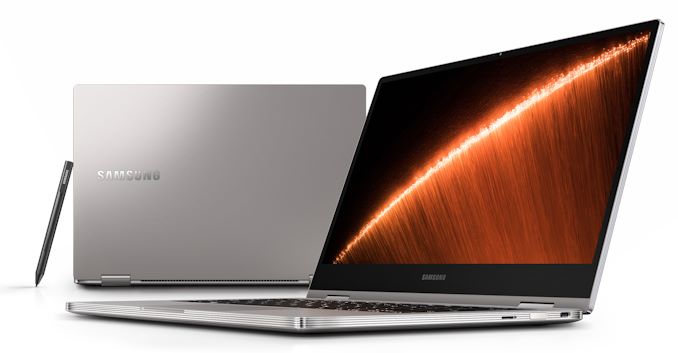 Samsung's latest entrant in the Ultrabook range is the Notebook 9 Pro, featuring a diamond-cut aluminum chassis, and thin 6.7 mm bezels surrounding the 13.3-inch 1920x1080 display. The Notebook 9 Pro is powered by the latest Whiskey Lake processors, specifically the Intel Core i7-8565U with a base frequency of 1.8 GHz, and a boost frequency of 4.6 GHz. This is paired with Intel's UHD 620 graphics.
The laptop is listed as 8 GB of LPDDR3 RAM and a 256 GB NVMe drive. As this model isn't available yet, we're unsure if there will be upgradable SKUs for this as well but it is very likely there will be. The laptop features a 55 Wh battery, and Samsung rates it as up to 14 hours of battery life. The wireless is listed as 802.11ac 2x2 Giga, meaning it's likely the Intel 9265 network adapter. A premium Ultrabook should offer Thunderbolt 3, and the Notebook 9 Pro offers two TB3 ports, along with USB-C and microSD.
The laptop is thin and light, although not class leading. At 14 mm (0.55-inches) thick, and coupled with the 2.84 lb weight, it should be easy to transport. The laptop also comes with an active pen, which is a nice feature. Pricing is not yet announced, but the laptop will be available in early 2019.
Samsung Notebook Flash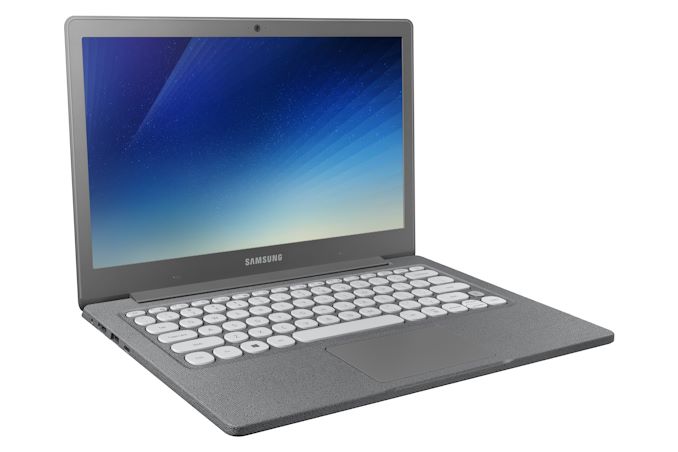 Buyers have their pick of plenty of great Ultrabooks these days, but those looking for a laptop on the other end of the pricing spectrum have been hard pressed to find too much innovation. Samsung is stepping in to help fill this void with the Notebook Flash. This is a great looking notebook for this price segment, and offers some features not found in many other laptops in this class.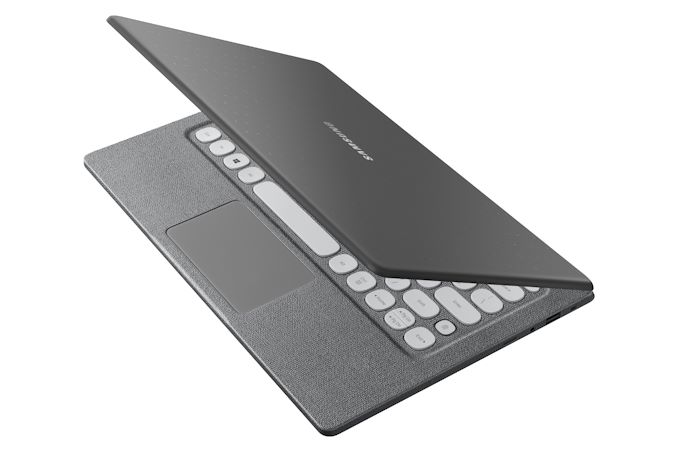 The charcoal exterior is plastic, but has a modern look to it with a textured chassis that should really help to knock down the smudges. The 13.3-inch display is a 1920x1080 panel as well, which likely means it's an IPS and not the TN variants we still sometimes see at this end of the price range. We've reached out to Samsung to clarify. The display bezels aren't quite as thin as some of the more premium designs, but again, not unexpected for the price. There's even a fingerprint reader available.
Samsung powers the Notebook Flash with either the Intel Celeron N4000, which is a dual-core Gemini Lake SoC, with a 1.1-2.6 GHz frequency range. For $50 more, buyers would be well served to step up to the optional Intel Pentium Silver N5000, which is still Gemini Lake and therefore Atom based, but with four cores and a 1.1-2.7 GHz range.
Samsung offers the Notebook Flash with 64 GB of eMMC, which is enough for light work, and there's a microSD / UFS slot as well if more space is required. The laptop only offers 4 GB of RAM, but thanks to Gemini Lake this will be LPDDR4, and the 39 Wh battery is rated for up to 10 hours. There's two USB-C ports, one USB 3.0 Type-A, and one USB 2.0 Type-A, along with HDMI. Wireless is the same as the 9 Pro, which is a 2x2 Giga rated, so likely the Intel 9265.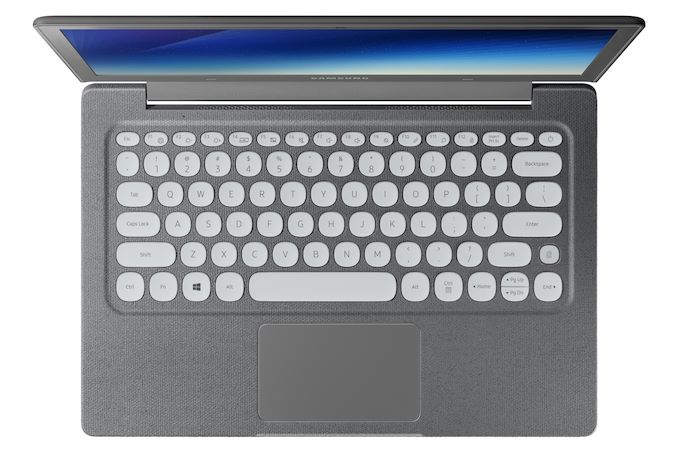 The Notebook Flash will be available on January 15th, with the N4000 model priced at $349.99, and the N5000 for $399.99.
Samsung Notebook
Notebook 9 Pro
Notebook Flash
CPU
Intel Core i7-8565U
4C/8T 1.8-4.6 GHz
15W TDP
Intel Celeron N4000
2C/2T 1.1-2.6 GHz
Gemini Lake

Intel Pentium Silver N5000
4C/4T 1.1-2.7 GHz
Gemini Lake
RAM
8 GB LPDDR3
4 GB LPDDR4
Storage
256 GB NVMe
64 GB eMMC
Display
13.3-inch 1920x1080
350 nits
6.7 mm bezel
13.3-inch 1920x1080 anti-glare
Battery
55 Wh, Fash Charging
39 Wh
Ports
2 x USB Type-C Thunderbolt 3
1 x USB Type-C
Headet
microSD
2 x USB Type-C
1 x USB 3.0 Type-A
1 x USB 2.0 Type-A
HDMI
UFS / microSD Combo
Headset
Dimensions
12.1 x 8.1 x 0.55 inches
12.69 x 8.64 x 0.67 inches
Weight
2.84 lbs
3.02 lbs
Material
Aluminum
Textured plastic
Windows Hello
Fingerprint
Fingerprint
Networking
802.11ac 2x2 Wide Channel
802.11ac 2x2 Wide Channel
Availability
Early 2019
January 15
$349.99 N4000
$399.99 N5000
Source: Samsung