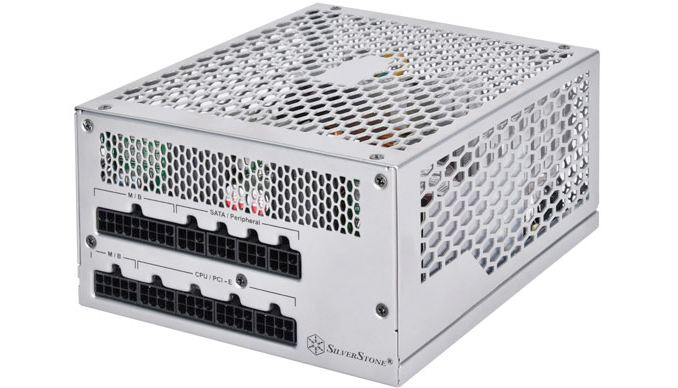 SilverStone has introduced its latest fanless power supply. The NightJar NJ600 PSU is the company's most powerful silent PSU yet. Furthermore, the unit is rated for 80 Plus Titanium, meaning that the product is also very efficient.
The SilverStone NightJar NJ600 is ATX12V V2.4-compliant PSU that is rated for a 600 W total output and complies with the the 80 Plus Titanium requirements, which indicates that it is at least 94% efficient under a 20%, 50% and 100% load as well as at least 90% efficient under a 10% load. Getting the 80 Plus Titanium badge is a big deal for a relatively high-wattage fanless PSU as this enables to take advantage of energy efficiency of modern PC hardware while staying completely slient.
SilverStone NightJar NJ600 Output Specifications
SST-NJ600
Rated
Combined
+3.3V
20 A
66 W
+5V
20 A
100 W
+12V
50 A
600 W
-12V
0.3 A
3.6 W
+5Vsb
2.5A
15 W
Total Power
600 W
In line with expectations, the SilverStone NightJar NJ600 features a modular design and is outfitted with two EPS12V connectors that make it compatible with high-end desktop motherboards (AMD Threadripper, Intel Core X) as well as 2P server/workstations platforms. Other connectors include four 6/8-pin PCIe auxiliary power connectors for graphics cards, six SATA power plugs, five Molex power outputs, and one FDD connector. All the cables are flat for greater flexibility.
SilverStone NightJar NJ600 Connectivity Specifications
Connector type
SST-NJ600
ATX 24 Pin
1
EPS 4+4 Pin
2
PCIe 6+2 Pin
4
SATA
6
4P Molex
5
Floppy
1
When it comes to operating temperatures, the NightJar NJ600 can work at up to 40℃ and is rated for 100,000 hours MTBF. To ensure safety and reliability, the PSU also supports over current, over power, over/under voltage, over temperature, and short circuit protection technologies.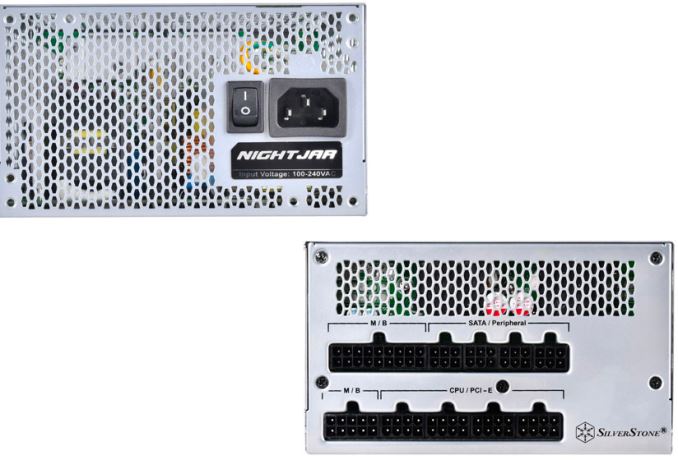 The SilverStone NightJar NJ600 (SST-NJ600) is already listed at the manufacturer's website, but at present is not yet available from retailers. Considering the fact that the NJ600 is silent and highly-efficient, expect it to feature a premium MSRP, but its exact price is yet to be named.
Related Reading:
Source: SilverStone