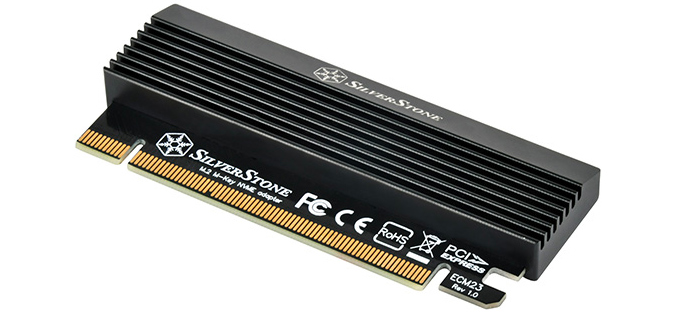 SilverStone has introduced its new PCIe x16 riser card for M.2 SSDs. The SST-ECM23 risers are aimed at those who want to maximize the efficiency of their SSD cooling, or just install more SSDs into spare PCIe x16 slots.
As SSDs have transitioned from 2.5-inch drives to M.2 sticks, cooling high-end drives has been a sometimes uneasy prospect. The M.2 form factor along with NAND die stacking allows for a rather dense collection of electronics, and as high-end SSD controllers get more sophisticated, their heat dissipation has been increasing as well. To that end a number of companies (including ADATA, Cryorig, EKWB, and SilverStone, just to name a few) have released heat spreaders and even active cooling systems for M.2 drives over the past few quarters, and now SilverStone is ready with a yet another solution that promises to be more efficient than usual passive coolers for modular SSDs.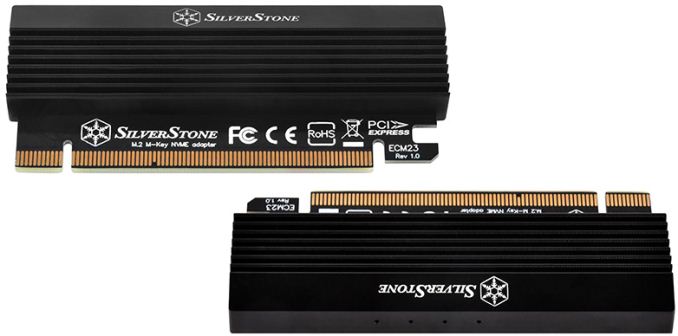 SilverStone's SST-ECM23 riser card can house a single PCIe M.2- 2230, 2242, 2260, or 2280 drive. The adapter come with two heat spreaders, a thermal pad, and is outfitted with two LEDs to monitor activity of an installed SSD. It is noteworthy that PCB design of the adapter is optimized for heat dissipation, as it has an additional copper mesh just to transfer heat form the back of an SSD to the rear heat spreader. As for specified thermal conductivity, SilverStone says it is around 1.5 W/mK.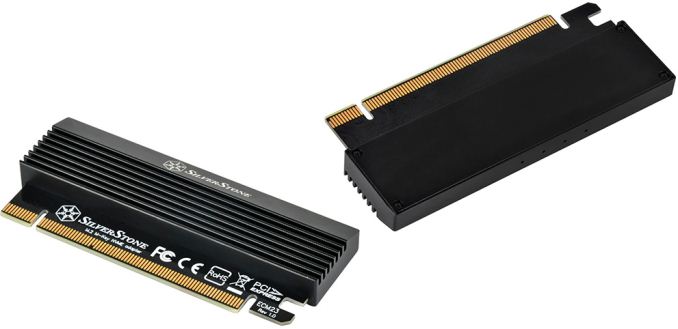 An added benefit of SilverStone's ECM23 riser card for owners of AMD X399 and Intel X299-based HEDT platforms is ability to install a larger number of M.2 SSDs into their systems. For those who need a high-capacity high-performance storage subsystem, such adapters may make a great sense.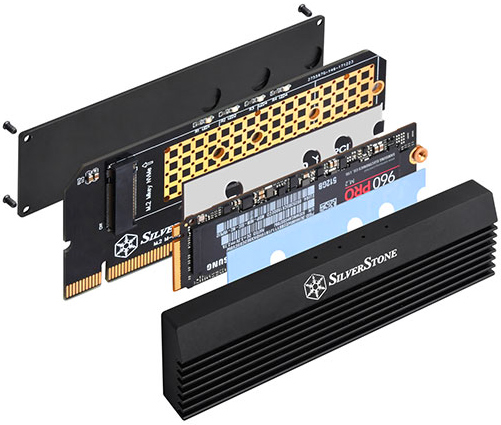 Finally, it's worth pointing out that since the SST-ECM23 adapter is designed for PCIe x16 slots, it can only be used with AHCI or NVMe SSDs that use a PCIe bus, as it doesn't offer a means to support SATA M.2 drives.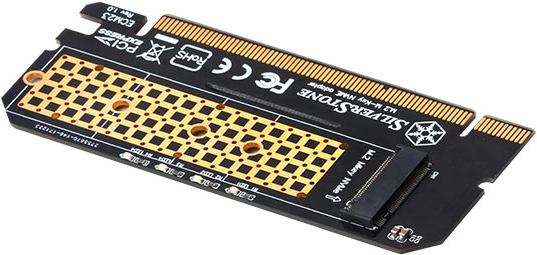 SilverStone did not announce ETA and MSRP of the upcoming SST-ECM23 riser card.
Related Reading:
Source: SilverStone