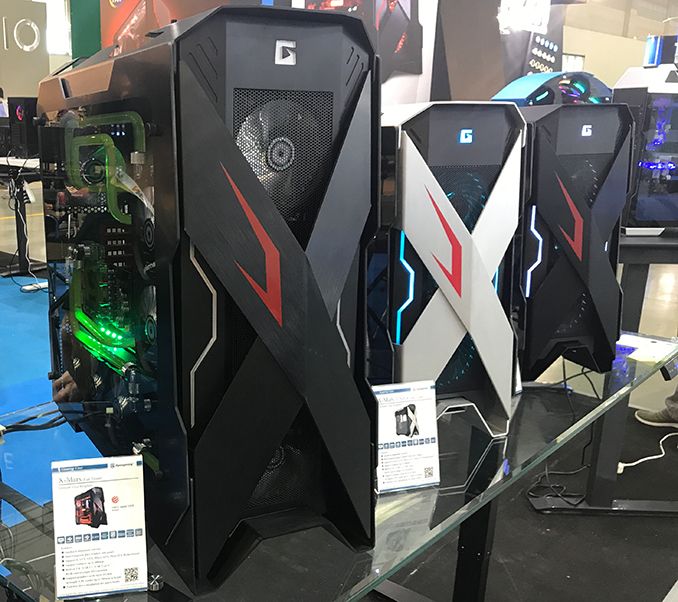 Apexgaming — a joint venture between Apextechusa and Solytech Cooperation — is a relatively new kid on the gaming block. The two aforementioned companies created the brand to address the expanding market of PC cases, PSUs, and various accessories aimed at gamers. For Apexgaming, this was the first Computex and it brought a number of rather interesting products to the show.
The key eyecatcher at Apexgaming's booth was the X-Mars full-tower E-ATX case, which was made of aluminum and capable of supporting pretty much everything that is possible. The chassis can accommodate an E-ATX motherboard (so, up to two sockets), a CPU cooler that is up to 200 mm high, a graphics card that is up to 432 mm long (such graphics cards are sold to OEMs that almost never hit the market), almost any custom liquid cooling system, eight single-wide add-on cards, 14 3.5-inch/2.5-inch drives, and up to 14 120-mm fans. Obviously, it has USB-C, USB-A, and HDMI ports on the front panel to connect peripherals and VR gear, everything but the kitchen sink.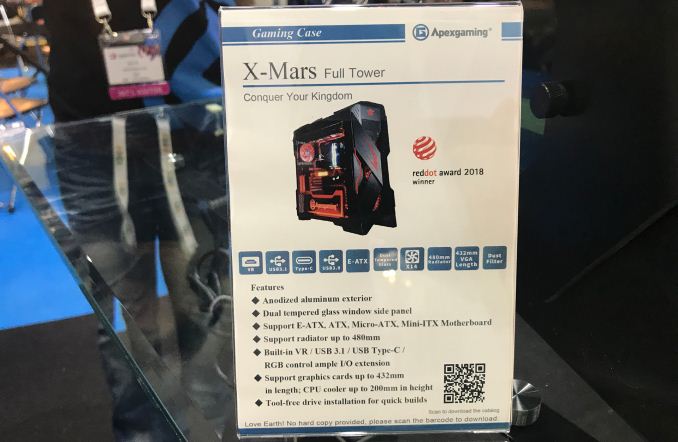 When you read about it, everything sounds impressive. But when you meet it in person, this case looks no less monumental than Corsair's Obsidian 1000D, which is actually a bit larger. The X-Mars from Apexgaming has a front grille, so it can suck in cool air using four 120-mm fans, essentially eliminating need for a sophisticated liquid cooling system if you do not overclock your system heavily. Unfortunately, it was not possible to evaluate the sound of 14 fans spinning at a low speed during the trade show, but do not expect such a system to be whisper quiet. Add several hard drives and you will get the sound of a server right next to you when your X-Mars starts. In the meantime, such a system will essentially "auto clean" itself from dust because of opulent airflow inside.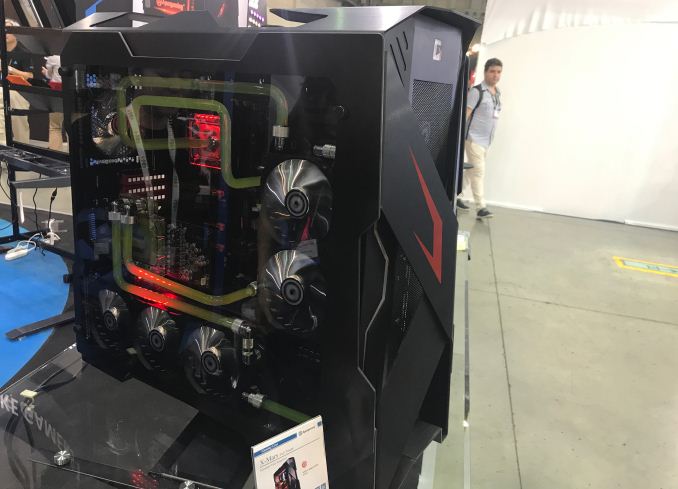 The X-Mars features RGB lights on the front, whereas fans for enthusiasts already feature addressable RGB lighting nowadays, so customization of its look should be rather easy if you are familiar how to operate appropriate software from makers of motherboards. In fact, the case has an eight-port RGB controller that connects to mainboard.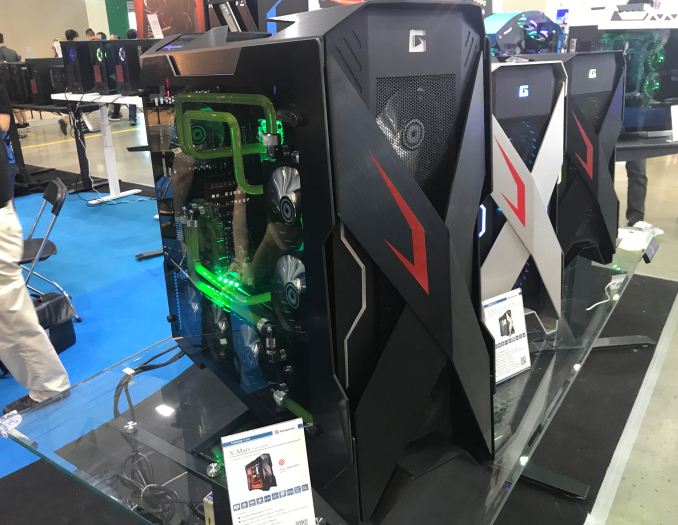 While the X-Mars was demonstrated at the show, only a few units of this chassis exist. Officially, the Apexgaming X-Mars will cost $999, which is more than two times higher when compared to the Obsidian 1000D. Meanwhile, due to price and limited market opportunities, the X-Mars may never hit the mass market and will remain a limited edition product, one of the reps told me at the booth. Instead, Apexgaming will focus on the X-Mars Junior that is considerably smaller, yet can accommodate an E-ATX motherboard, five 2.5-inch/3.5-inch SSDs/HDDs, seven 120-mm fans, and so on. The X-Mars is expected to be available for $190 later this summer.
Want to keep up to date with all of our Computex 2018 Coverage?

Laptops

Hardware

Chips
Follow AnandTech's breaking news here!