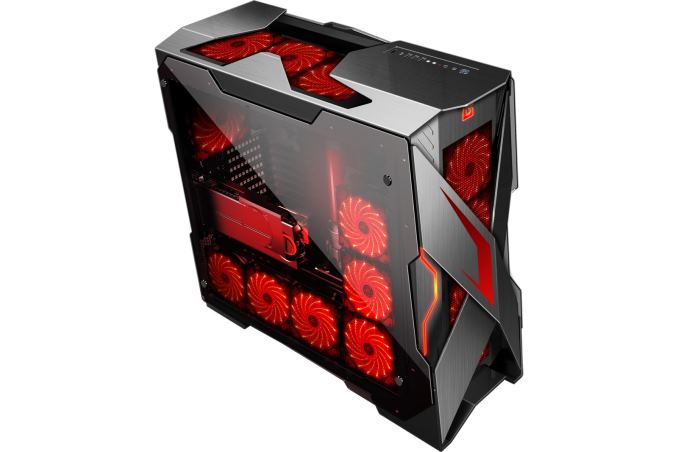 Apexgaming, known for manufacturing gaming cases, power supplies, and other computer peripherals, recently announced two reddot design award winners in the X-Mars full-tower E-ATX gaming chassis and the mid-tower Hermes case. The Hermes cases are slated to provide gamers with flexibility in assembling the case to their preference with the two front panels able to be separated for a unique look for each user along with panels made from various materials and colors available for building. The X-Mars full-tower E-ATX chassis has a really unique exterior design and made from steel, brushed aluminum, and tempered glass. The Hermes E-ATX mid-tower chassis will be available by the end of June with an MSRP of 59.90 to$69.90 while the X-Mars E-ATX full-tower chassis availability will be announced while the MSRP is a wallet-crushing $999.
X-Mars
The X-Mars chassis is a standout case with its unique appearance. The X-shaped brushed aluminum pieces across the front provide an aggressive look head-on, while the full-window 4mm tempered glass design allows users to display and show off their system build. The case has fourteen RGB lights to illuminate the chassis. Controlling the RGB LEDs is an 8 port built in RGB controller that is able to connect with RGB capable motherboard to synchronize the light/color modes with the strips in the front panel.
Front panel connectivity consists of a USB 3.1 Type-C and Type-A ports, two USB 3.0 ports, an HDMI port for VR gaming, as well as power/reset buttons, two 3.5mm audio jacks, and a button for RGB LED control.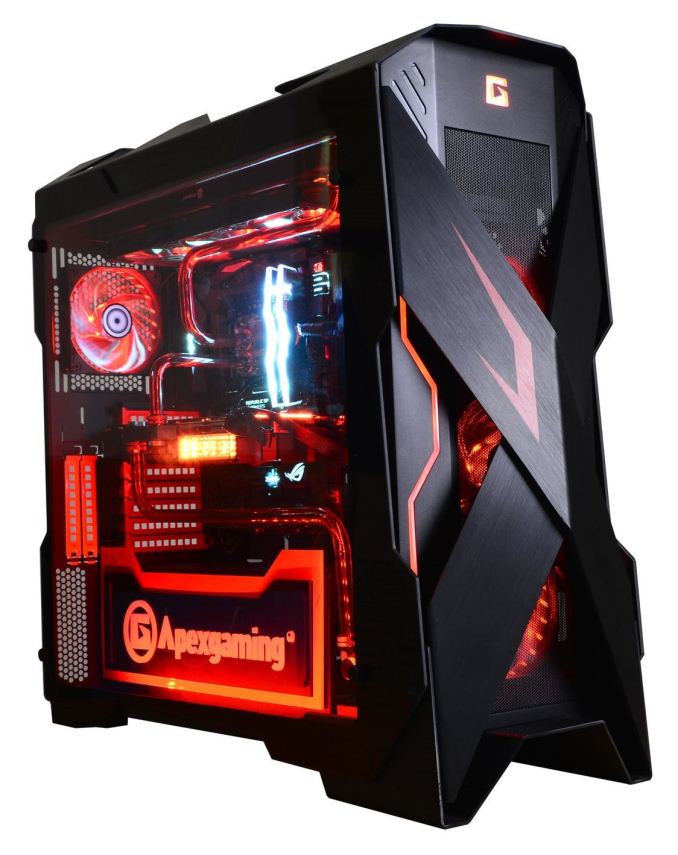 Inside, the X-Mars supports a vertical graphics card mount with a maximum length of the video card u to 432mm and support for E-ATX motherboards up to 12" x 13". The chassis has space for up to 14 120mm fans. With this the X-Mars is able to accommodate a single 480mm radiator up front, up to a 360mm radiator on top and 120mm on the rear. Drive mount points include capacity for up to 11 3.5-inch drives or 14 2.5-inch drives. Users are able to adjust the capacity arrangement according to needs.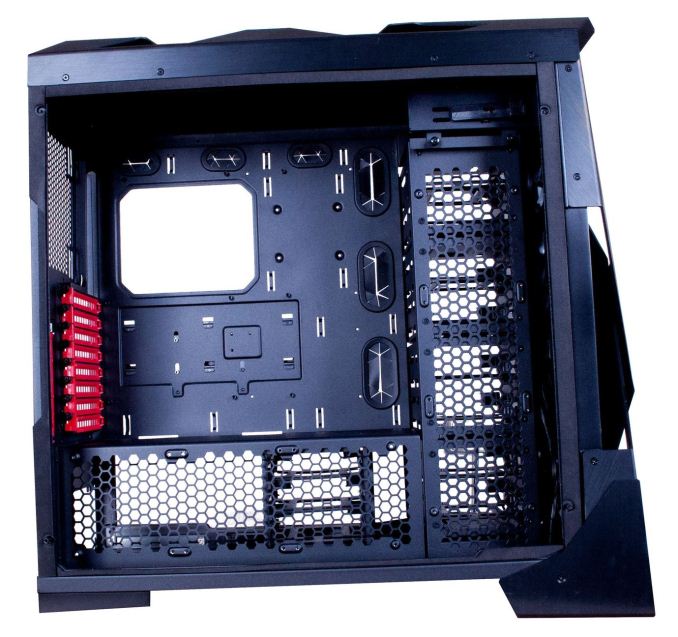 The Apexgaming X-Mars E-ATX full-tower chassis availability will be announced with pricing suggested at $999 which is quite high for a chassis that isn't fully customizable. A similar, smaller case, the X-Mars Junior, will be available by the end of June and retails for a much more palatable $189.90.
EDITOR'S NOTE: Apexgaming reached out shared with us that the X-Mars Full-Tower Case is a Limited Edition chassis and the reason for the price.
Apexgaming X-Mars
Model
X-Mars
Case Type
Full-Tower
Dimensions (WxHxD)
10.31" x 24.41" x 25.04"
Color
Black
Material
Steel / Aluminum / Tempered Glass
Net Weight
N/A
External Drive Bays
None
HDD/SSD Bays
14 (11 x 3.5" + 3 x 2.5")
Expansion Slots
7
Motherboard Type
Mini-ITX, MicroATX, ATX, E-ATX
System Fan
Front: 3x 120 or 2x 140mm
Top: 3x 120mm or 2x 140mm
Rear: 1x 120mm
Bottom: 3x 120mm
I/O Ports
1x USB 3.1 Type-C
1x USB 3.1 Type-A
2x USB3.0
2x 3.5mm jacks
Power and Reset buttons
RGB Lighting button
VGA Card Support
(L)432mm
CPU Cooling Support
(H)200mm
PSU Support
ATX PSU
Radiator Support
Top: 1x 240/280/360mm
Front: 1x 240/280/360/480mm
Left: 1 x 240/280/360mm
Rear: 1x 120mm
Hermes
The Hermes cases are designed to be versatile both inside and out giving users front panel options to customize the appearance. Users are able to select different top and bottom front panels in order to create a unique style of gaming case. The case comes with a full-window tempered glass design for gamers/builders to display and show of their system inside. Front panel connectivity on the top of the cases consists of two USB 3.0 ports, power and reset buttons, two 3.5mm jacks for audio, as well as HDD activity and power on LEDs – No USB 3.1 support is found here, but isn't really expected at its lower price point either.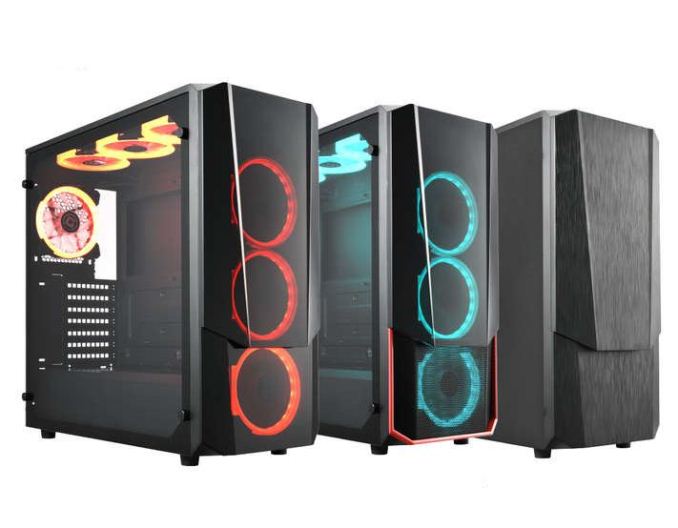 Inside the Hermes cases are able to support video cards up to 432mm in length, and CPU coolers up to 172mm so fitment of large graphics cards and CPU heatsinks will have ample room (always look and measure!). The chassis can support motherboards from Mini-ITX up to E-ATX and like the X-Mars has a fair amount of room behind the motherboard tray for cable routing.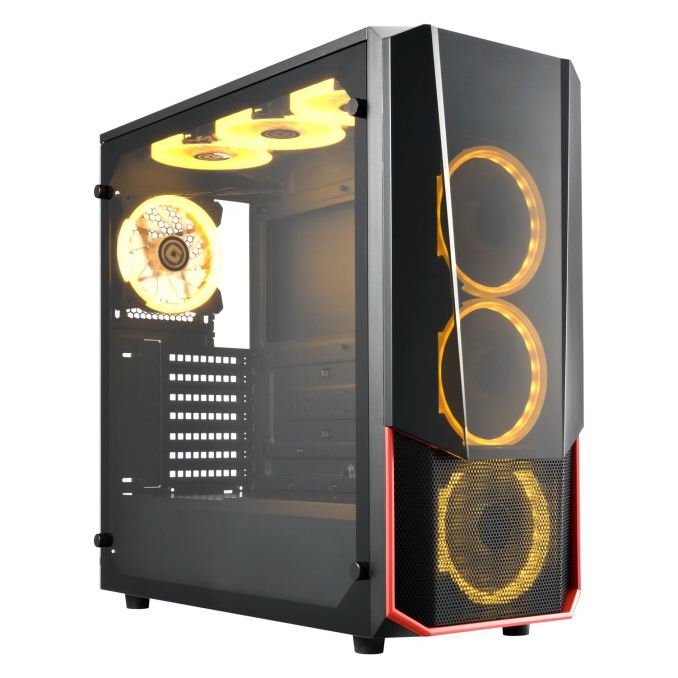 As far as cooling, the Apex supports up to seven 120mm fan mounts while radiator support in the front and top are up to 360mm and 120mm space on the rear. Storage capacity is up to five 2.5-inch SSD tool-free drives as well as two 3.5-inch locations for HDD.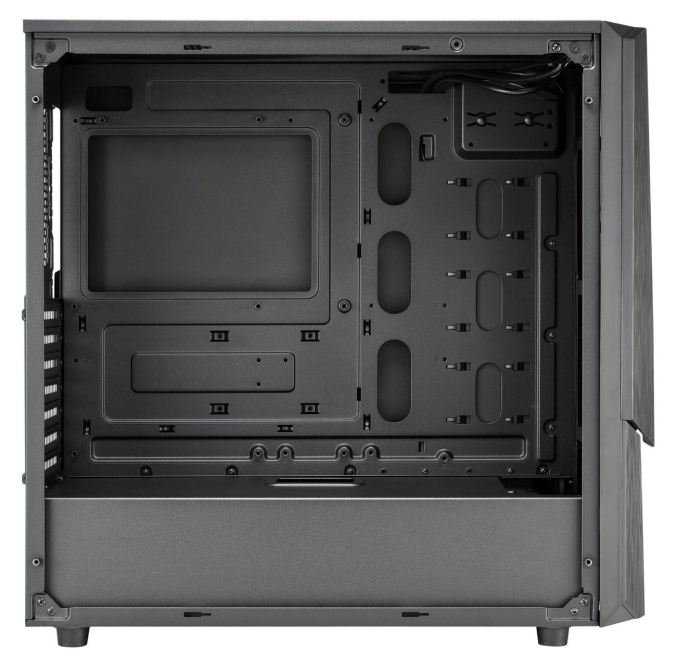 The Hermes E-ATX mid-tower chassis will be available by the end of June with an MSRP of $59.90 to $69.90.
Apexgaming Hermes
Model
Hermes (C1, C2, S1)
Case Type
Mid-Tower

Dimensions (WxHxD)

8.27" x 18.78" x 18.7"

Color
Black
Material
Steel / Aluminum / Tempered Glass
Net Weight
N/A
External Drive Bays
None
HDD/SSD Bays
7 (2 x 3.5" + 5 x 2.5")
Expansion Slots
7
Motherboard Type

Mini-ITX, MicroATX, ATX, E-ATX

System Fan

Front: 3x 120 or 2x 140mm




Top: 3x 120mm or 2x 140mm




Rear: 1x 120mm

I/O Ports
2x USB 3.0
2x 3.5mm jacks
Power and Reset Buttons
VGA Card Support
(L)432mm
CPU Cooling Support
(H)172mm
PSU Support
ATX PSU
Radiator Support

Top: 1x 240/280/360mm




Front: 1x 240/280/360mm




Rear: 1x 120mm
Related Reading: