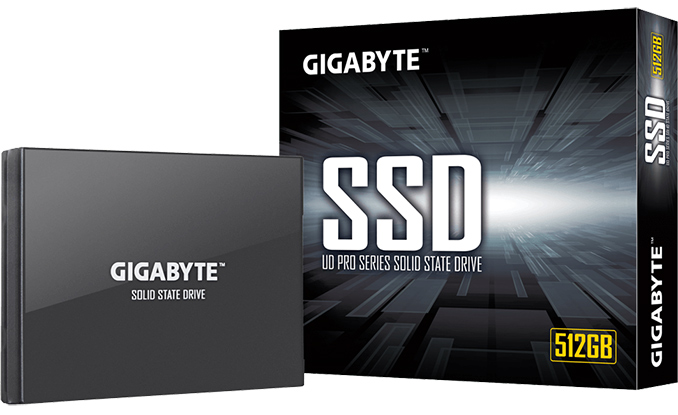 Despite growing demand for SSDs in the recent years, the four leading makers of motherboards have largely stayed out of this market, despite the significant leverage they normally have with commodity products. However after all of this time, GIGABYTE has decided to try its luck and added two SSDs to its lineup of products. The UD PRO-series drives are aimed at entry-level gaming systems, which continues to be the fastest growing segment of the SSD market.
For its first SSDs, GIGABYTE decided to go with a turnkey solution by Phison and Toshiba. The UD PRO-series drives are based on Phison's PS3110 S10 controller as well as Toshiba's BICS3 3D TLC NAND memory, a combination introduced by Phison late last year. GIGABYTE's UD PRO lineup consists of only two models featuring 256 GB and 512 GB configurations (no, GIGABYTE does not offer gigabyte SSDs just now) as well as a SATA 6 Gb/s interface. From performance point of view, GIGABYTE's UD PRO lineup does not offer anything special. The manufacturer declares up to 530 MB/s sequential read speed and up to 500 MB/s sequential write speed. Meanwhile random performance is up to 80K read IOPS and up to 75K write IOPS.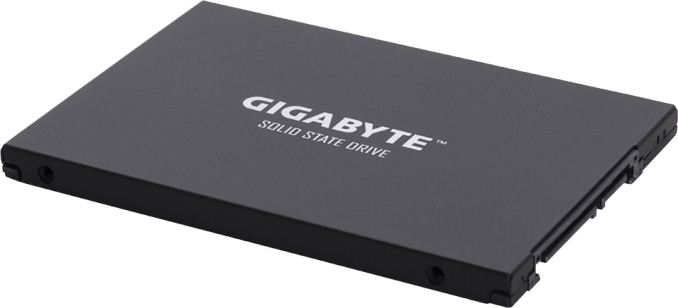 Phison's PS3110 S10 controller was originally designed for 2D MLC- and 2D TLC-based SSDs with first drives emerging in Q4 2014 – Q1 2015. The controller features four processing cores as well as eight NAND channels and 32 CE targets, so potentially it can offer a very decent performance level when paired with appropriate memory. Meanwhile, the chip supports 120bit/2KB BCH-based ECC algorithm that is almost never used for 3D TLC-powered drives (such SSDs rely on LDPC-based ECC technologies). Nonetheless, Phison and Toshiba have certified the S10 to work with 3D TLC memory, enabling SSD makers to build very cost-efficient SSDs using proven controllers. Keep in mind that turnkey solutions by Phison and Toshiba usually include a controller, NAND memory, a reference design, and firmware. At times, Phison may even offer assembly services, essentially selling actual drives to its customers. Therefore, retrofitting the PS3110 S10 for 3D TLC essentially saves Phison a lot of R&D money.
From reliability point of view, the UD PRO SSDs from GIGABYTE are speced for 100 TBW (256 GB SKU) and 200 TBW (512 GB SKU), which is 33% below other entry-level drives based on 3D TLC memory, a direct consequence of BCH-based ECC and insufficient overprovisioning. The drives are rated for 1.8 million hours MTBF (again, a bit lower than competing products) and are covered with a three-year warranty (vs. five years in case of other drives).
GIGABYTE UD PRO Specifications
Capacity
256 GB
512 GB
Model Number
UD PRO 256 GB
UD PRO 512 GB
Controller
Phison PS3110 S10
NAND Flash
Toshiba BICS3 3D TLC NAND
Form-Factor, Interface
2.5-inch/7-mm, SATA 6 Gbps
Sequential Read
530 MB/s
Sequential Write
500 MB/s
Random Read IOPS
70K IOPS
80K IOPS
Random Write IOPS
40K IOPS
75K IOPS
Pseudo-SLC Caching
Supported
DRAM Buffer
Yes, capacity unknown
TCG Opal Encryption
No
Power Consumption
Active
Read
1.93 W
2.24 W
Write
2.43 W
2.61 W
Idle
170 mW
Warranty
3 years
MTBF
1,800,000 hours
TBW
100 TB
200 TB
Price
$69
$120
Although not published on their website, GIGABYTE has announced that they are pricing the drives at $68.99 and $119.99 for the 256GB and 512GB models respectively. This works out to a bit over $0.23/GB for storage, and makes it comparable in price to market leaders such as Crucial's MX500. In the meantime, the company expects the new drives to start showing up at retailers next week.
Finally, GIGABYTE's announcement for the UD PRO series also confirms that the company will be releasing additional drives in the future, including NVMe-based M.2 drives and a PCIe card. Both of these drives will be under the AORUS brand, and presumably will be focused at a higher performance segment of the market.
Related Reading:
Source: GIGABYTE