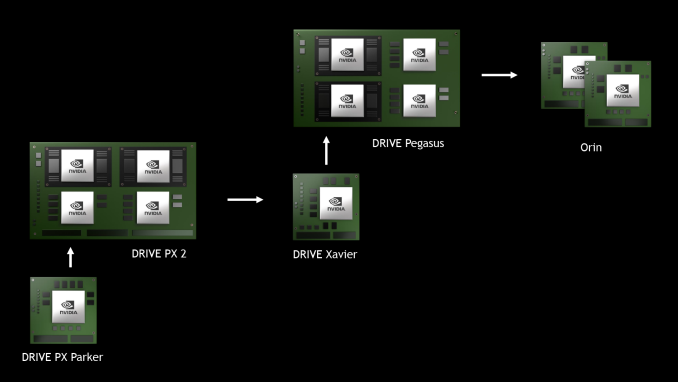 As part of this week's GTC 2018 keynote address, NVIDIA CEO Jen-Hsun Huang quickly touched upon the future of NVIDIA's ARM SoC lineup. While the company no longer publicly advertises or sells new ARM-based SoCs – the last SoC branded Tegra was the Tegra X1 – they have continued development for private uses. Chief among these of course being their DRIVE systems, where the Xavier SoC is at the heart of both the single-SoC Xavier module, as well as the larger and more powerful muti-processor Pegasus module for level 5 vehicles.
While Xavier itself is just now sampling to partners, NVIDIA already has their eye on what's next. And that is Orin.
Unlike even the Xavier tease in 2016, NVIDIA is saying very little about Orin other than the fact that it's the next generation of NVIDIA SoCs. Like Xavier, it's a single-chip solution. But otherwise we don't know anything about the planned architecture or features.
NVIDIA ARM SoC Specification Comparison
Orin
Xavier
Parker
CPU Cores
?
8x NVIDIA Custom ARM "Carmel"
2x NVIDIA Denver +
4x ARM Cortex-A57
GPU Cores
?
Xavier Volta iGPU
(512 CUDA Cores)
Parker Pascal iGPU
(256 CUDA Cores)
DL TOPS
[A Ton]
30 TOPS
N/A
FP32 TFLOPS
?
1.3 TFLOPs
0.7 TFLOPs
Manufacturing Process
7nm?
TSMC 12nm FFN
TSMC 16nm FinFET
TDP
?
30W
15W
With respect to performance, NVIDIA isn't giving hard figures there either, but they are saying that they want to replace a Pegasus module with a couple of Orins. Pegasus, as a reminder, is a pair of Xaviers each with an unnamed, post-Volta discrete GPU attached, with a total power consumption of 500W. So to replace that with a couple of single-chip SoCs would be a significant accomplishment – and presumably a massive bump in energy efficiency.
But finally, let's talk about the real question on everyone's mind: which superhero is this new SoC named after? After a run in the Marvel universe, it looks like NVIDIA is back to favoring DC. A brief search shows that Orin is another name for Aquaman. Which certainly isn't as high-profile as the likes of Kal-El, Wayne, or Xavier, but perhaps Jen-Hsun Huang is a big fan of Jason Momoa? (ed: and indeed, who doesn't find Aquaman outrageous?)