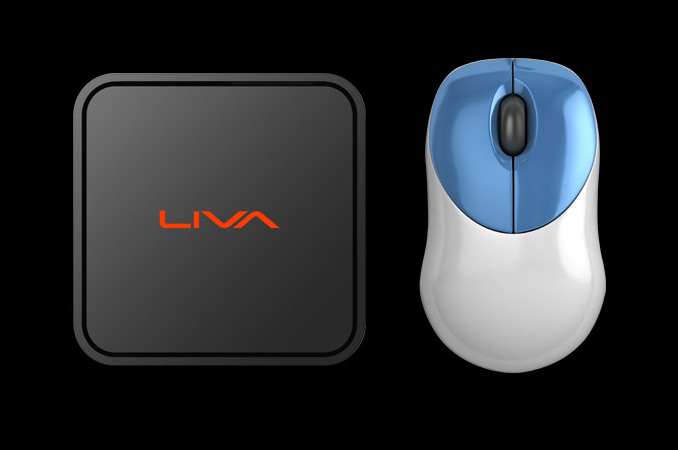 ECS has expanded its family of ultra-compact LIVA-branded PCs for consumers with a new model called the LIVA Q, which is smaller than some mice. The new system is an upgraded and rebranded version of the company's PB01CF launched earlier this year. Both nettops are based on Intel's Apollo Lake platform, but have different positioning: the PB01CF is aimed at digital signage and similar applications, whereas the LIVA Q is meant for consumers and SOHO.
The ECS LIVA Q is based on either quad-core Pentium N4200 or dual-core Celeron N3350 and therefore its more advanced version offers higher general purpose and graphics performance than the PB01CF. The new system also offers up to 4 GB of LPDDR4 memory and up to 64 GB of eMMC storage, neither of the options are available on the product released earlier this year. As for connectivity, the LIVA Q has an 802.11ac Wi-Fi + Bluetooth 4.1 wireless module (the PB01CF seems to have BT disabled), a GbE connector, two USB Type-A ports, a microSD card reader, as well as an HDMI 2.0 display output (implemented using a bridge chip) capable of 4Kp60 (vs. HDMI 1.4 on the PB01CF) and supporting the HDMI-CEC function for remotes. The LIVA Q system does not have any analog connectors for audio or video, which may be considered as a limitation by some consumers.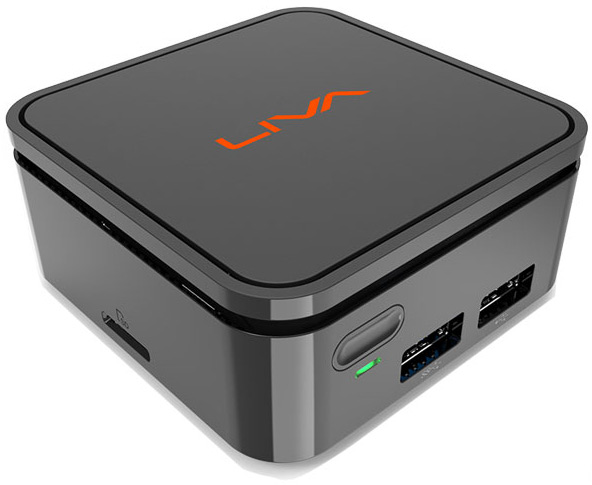 The ECS PB01CF is one of the smallest contemporary desktop computers these days and given the ongoing trend towards miniaturization of desktops, it was very plausible for the manufacturer to bring its 0.15-liter nettop that measures 7×7×3.1 cm to the consumer space. Since the original unit was architected rather precisely for digital signage and very basic computing, ECS introduced some performance and connectivity upgrades to the consumer model. The enhancements clearly make the LIVA Q more consumer-friendly than the PB01CF is, but the system is still somewhat behind the LIVA Z in terms of features and performance, so there will be no competition in the LIVA lineup.
Brief Specifications of ECS' 5 Oz Nettops
LIVA Q
Performance
LIVA Q
Value
PB01CF
CPU
Pentium N4200
4C/4T
1.1 – 2.5 GHz
2 MB cache
6 W
Celeron N3350
2C/2T
1.1 – 2.4 GHz
2 MB cache
6 W
PCH
integrated
Graphics
Intel HD Graphics 505
18 EUs
Intel HD Graphics 500
12 EUs
Memory
2 GB or 4 GB LPDDR4
2 GB LPDDR4
Storage
32 GB or 64 GB eMMC
32 GB eMMC
Wi-Fi
IEEE 802.11ac with an Intel controller
Bluetooth
4.1
not listed
Ethernet
Gigabit Ethernet with RJ45 connector
Display Outputs
1 × HDMI 2.0
up to 4Kp60
(may not be available on all SKUs)
1 × HDMI 1.4
up to 4Kp30
Audio
via HDMI
USB
1 × USB 3.0 Type-A (5 Gbps)
1 × USB 2.0 Type-A (480 Mbps)
Card Reader
microSD card reader
Dimensions
70 mm × 70 mm × 31 mm (0.15 liters, 5 ounces)
PSU
External
External 24 W
VESA Mounts
75 mm/100 mm
OS Support
Microsoft Windows 10 64-bit
Ubuntu 16.04 LTS
Microsoft Windows 10 Home 64-bit
ECS has not touched upon ETA and MSRP for the LIVA Q. Given that the nettop can feature various configurations, its price will vary as well. Just in case you are curious, the bigger Apollo Lake-based LIVA Z costs from $170 to $250 in the U.S.
Related Reading:
Source: ECS