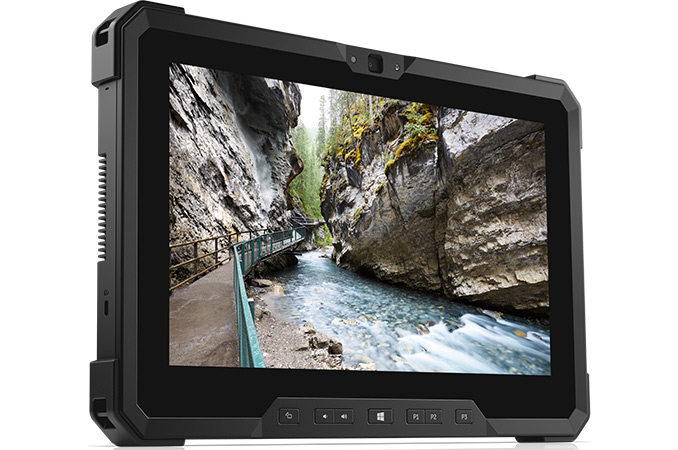 Dell has updated its rugged Latitude 12 tablet designed to operate in extreme conditions. The new Latitude 12 model 7212 is getting faster CPUs featuring the Skylake and Kaby Lake microarchitecture, a new 11.6" FHD display with an improved cover glass, a USB-C connector, a higher-capacity SSD option, and other improvements.
Dell launched its original Latitude 12 model 7202 rugged extreme tablet back in 2015. The unit was based on Intel's Core M (Broadwell-Y) SoC and a set of mobile PC components capable of working in extreme conditions, but its main features were reinforced chassis, security technologies, vast communication capabilities as well as compatibility with various strengthened peripherals and special-purpose equipment. The new Latitude 12 model 7212 inherits virtually everything from the predecessor, but swaps internal hardware, changes the display and adds a couple of other things.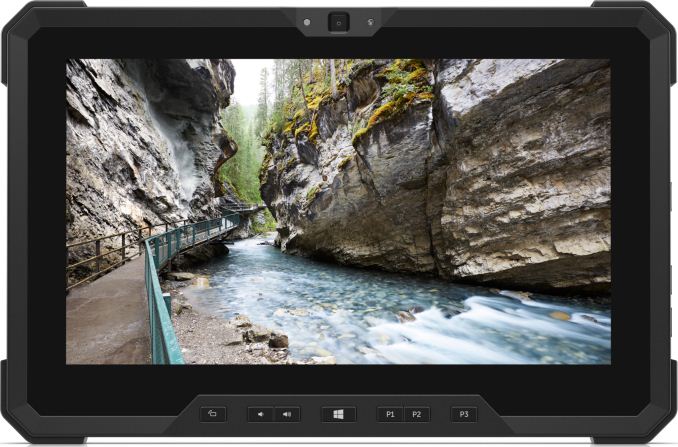 The Dell Latitude 12 tablet comes in the MIL-STD-810G-certified 24-mm thick enclosure made to withstand operating drops, thermal extremes, dust, sand, humidity, blowing rain, vibration, functional shock and all other kinds of physical impact. The slate has operating thermal range from -29°C to 63°C (20°F to 145°F), it can work in hazardous locations and withstand electromagnetic interference (MIL-STD-461F certified). In short, the Latitude 12 can work safely almost everywhere and in almost any circumstances — from a construction site, to a drilling site in the desert, to a battlefield.
Obviously, the rugged tablet is rather heavy (but not that heavy): the new Latitude 12 model 7212 weighs 1.27 kilograms with a 2-cell battery, like a full-fledged laptop. Dell says that the weight of the model 7212 is 27% lower compared to the original model 7202, but does not say how it managed to reduce the weight. Visually, the systems are similar and the new model is compatible with all of its predecessor's accessories. Yet, the Latitude 12 7202 and the Latitude 12 7212 are not completely identical: the new model has a new rigid handle option, it comes with new handles and straps that are easier to install and has a number of other advantages over the previous-gen model. Meanwhile, the optional RGB-backlit keyboard cover with kickstand for the Latitude 12 (also rugged, sealed and made for extremes) will further add weight and cost, if used.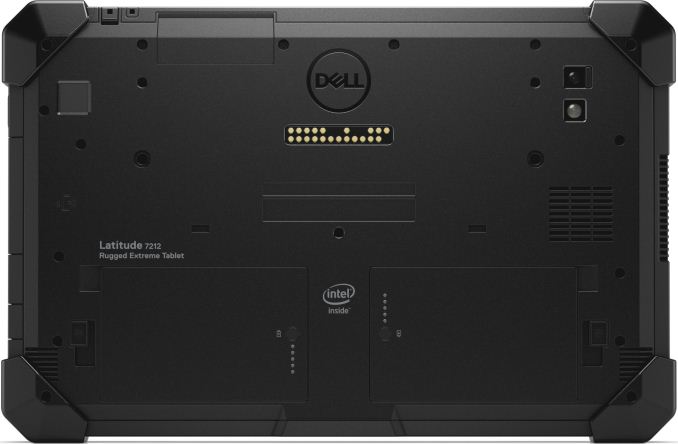 As mentioned above, the Dell Latitude 12 model 7212 is based on Intel's latest CPUs featuring their Skylake and Kaby Lake microarchitectures. In fact, Dell decided to use dual-core Core i-series Skylake-U and Kaby Lake-U SoCs instead of low-power Broadwell-Y to offer higher performance. Depending on exact SKU, the Latitude 12 7212 will come with 8 GB or 16 GB of LPDDR3 memory, Class 20 or 40 SSDs with 128 GB, 256 GB, 512 GB or 1 TB capacity, optional encryption capabilities,, as well as a 34 Wh internal battery. All new systems are equipped with 11.6" FHD displays featuring gloved multi-touch, AG/AR/AS/polarizer and etched Gorilla Glass.
Meanwhile the communication capabilities of the Latitude 12 model 7212 are vast. By default, the rugged tablet has an Intel 8265 802.11ac Wi-Fi controller with Bluetooth 4.2, a Qualcomm Snapdragon X7 LTE modem as well as NFC capability. Optionally, the slates can be equipped with a GPS card, Bluetooth 4.2 can be removed and a different LTE modem installed.
Wired I/O features of the Latitude 7212 rugged extreme tablet include USB 3.1 Type-C connector that can be used for charging and external display connectivity, a USB 3.0 Type-A connector, an optional micro RS-232 port, a universal audio jack and so on. The system is also equipped with optional rear and front cameras, a contactless smart card reader as well as a touch fingerprint sensor. For backwards compatibility, the model 7212 also has a regular 4.5-mm power connector. Finally, an optional dock station adds batteries, GbE, two USB 3.0 Type-A ports, an HDMI connector, a D-Sub output, as well as two more RS-232 ports.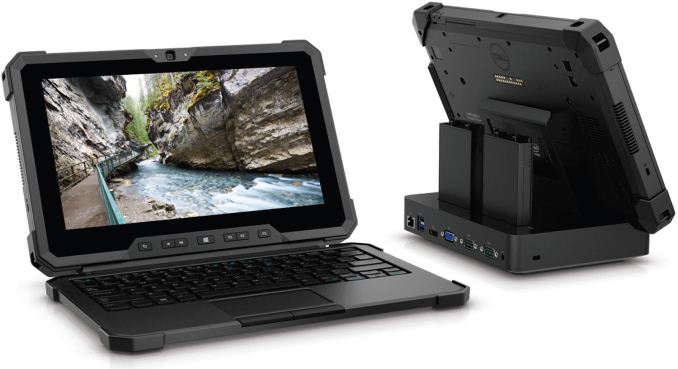 When it comes to security, Dell seems to have everything covered too. The system features a fingerprint reader, Dell's ControlVault advanced authentication, Intel vPro remote management, a TPM 2.0 module, optional SED option for SSDs, NIST SP800-147 secure platform and so on.
Specifications of the Dell Latitude 12 Rugged Extreme Tablet
Latitude 12 7212
LCD
Diagonal
11.6"
Resolution
1920×1080
Features
Outdoor-readable display with gloved multi-touch AG/AR/AS/Polarizer and Gorilla Glass
CPU
Dual-Core 7th Gen Intel Core i5 CPUs (Skylake-U)
Dual-Core 7th Gen Intel Core i3/i5/i7 CPUs (Kaby Lake-U)
Graphics
Intel HD Graphics 520/620 (24 EUs)
RAM
8 GB or 16 GB LPDDR3
Storage
128 GB SATA Class 20 SSD
256 GB SATA Class 20 SSD Opal 2.0 SED
256 GB SATA Class 20 SSD
256 GB PCIe NVMe Class 40 SSD Opal 2.0 SED
512 GB SATA Class 20 SSD Opal 2.0 SED
512 GB SATA Class 20 SSD
512 GB PCIe NVMe Class 40 SSD
1 TB SATA Class 20 SSD
1 TB PCIe NVMe Class 40 SSD
Wireless
Wi-Fi, Bluetooth options
Wireless LAN Options:
Intel Dual Band Wireless-AC 8265 with Bluetooth 4.2 + vPro Mobile broadband
Intel Dual Band Wireless-AC 8265 + No Bluetooth 4.2 Wireless Card
Qualcomm QCA61x4A 802.11ac Dual Band (2x2) Wireless Adapter+ Bluetooth 4.1
Mobile Broadband
(optional)
Qualcomm Snapdragon X7 LTE-A for Win 10 (DW5811e Gobi5000) for Worldwide (Windows 7 and 10 options)
Qualcomm Snapdragon X7 LTE-A for Win 10 (DW5811e Gobi5000) for AT&T (Windows 7 and 10 options)
Qualcomm Snapdragon X7 LTE-A for Win 10 (DW5811e Gobi5000) for Verizon (Windows 7 and 10 options)
Qualcomm Snapdragon X7 LTE-A for Win 10 (DW5811e Gobi5000) for Sprint (Windows 7 and 10 options)
Dell Wireless 5816e multi-mode Gobi 5000 4G LTE WAN Card (Japan/ANZ only)
GPS
Dedicated u-blox NEO-M8 GPS card
Additional
Dual RF-passthough (Wi-Fi and mobile broadband), Near field communication (NFC)
USB
3.1
1 × USB Type-C Gen 1
3.0
1

× USB 3.0 Type-A

Cameras
Front
Front-facing camera
Back
Rear-facing camera with flash LED
Security
TPM 2.0, ControlVault™ advanced authentication, Dell Security Tools, Dell Data Protection | Encryption,
Contactless SmartCard reader, optional fingerprint reader and SmartCard reader
Other I/O
TRRS audio jack, micro RS-232 (optional), POGO, etc.
Battery
34 Wh Primary battery
Dimensions
Width
312 mm | 12.3"
Depth
203 mm | 8"
Thickness
24 mm | 0.96"
Weight
1270 grams (tablet)
Operating System
Microsoft Windows 10 Pro 64 Bit
Microsoft Windows 10 Pro with Windows 7 Professional Downgrade (64 bit) - Skylake CPU required
Regulatory and Environmental Compliance
MIL-STD-810G
Transit drop (48"/1.22m; single unit; 26 drops), operating drop (36"/0.91m), blowing
rain, blowing dust, blowing sand, vibration, functional shock, humidity, salt fog, altitude, explosive atmosphere,
thermal extremes, thermal shock, freeze/thaw, tactical standby to operational.
Operating thermal range
-20°F to 145°F (-29°C to 63°C); Non-operating: -60°F to 160°F (-51°C to 71°C).
IEC 60529 ingress protection
IP-65 (dust-tight, protected against pressurized water)
Hazardous locations
ANSI/ISA.12.12.01 certification capable (Class I, Division 2, Groups A, B, C,D),
CAN/CSA C22.2
Electromagnetic interference
MIL-STD-461F certified
Optional Accessories
Dell Desktop Dock for the Rugged Tablet,
Dell Dock WD15,
Dell Power Companions,
Kickstand and Rugged RGB Backlit Keyboard cover,
Shoulder Strap,
Soft and Rigid Handle options,
Chest Harness,
Cross Strap, Active Pen,
Backpack Modules,
Dell 24" & 27" Monitors,
Dell Wireless Keyboard and Mouse
Price
Starting at $1899
Dell's Latitude 12 7212 will be available shortly starting at $1,899. Rugged tablet dock, keyboard cover with kickstand as well as rugged battery charger will be available separately.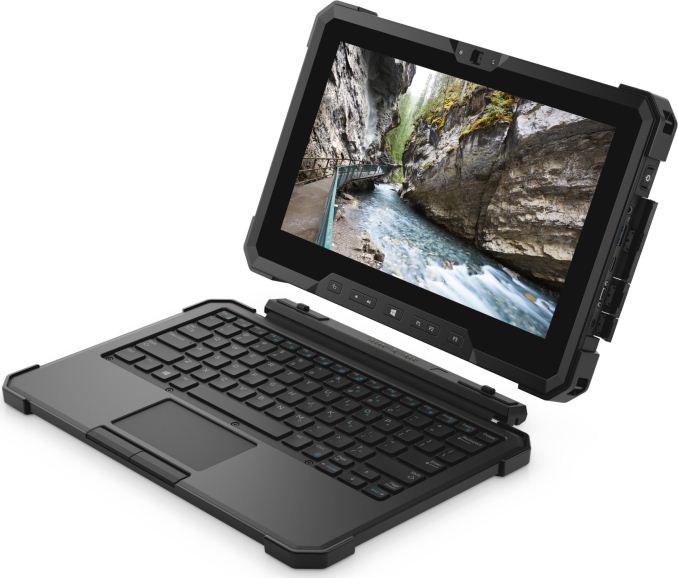 Related Reading:
Source: Dell