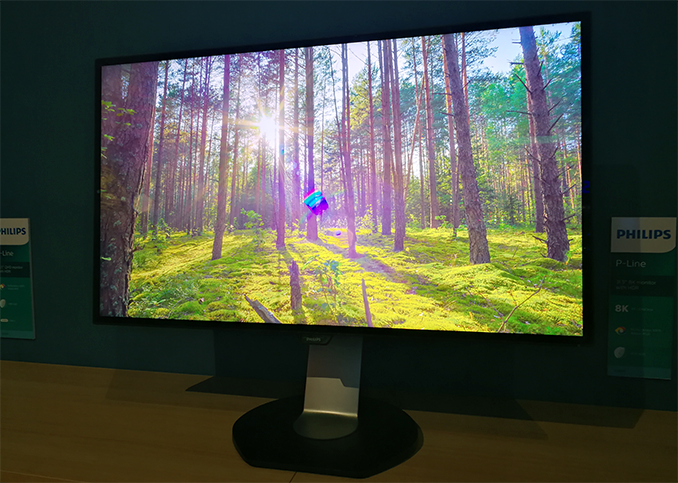 TPV Technology is demonstrating a preliminary version of its upcoming 8K ultra-high-definition display at IFA trade show in Germany. The Philips 328P8K monitor will be a part of the company's professional lineup and will hit the market sometimes next year.
Philips is the second mass-market brand to announce an 8K monitor after Dell, which has been selling its UltraSharp UP3218K for about half of a year now. The primary target audiences for the 328P8K and the UP3218K are designers, engineers, photographers and other professionals looking for maximum resolution and accurate colors. Essentially, Dell's 8K LCD is going to get a rival supporting the same resolution.
At present, TPV reveals only basic specifications of its Philips 328P8K display — 31.5" IPS panel with a 7680x4320 resolution, a 400 nits brightness (which it calls HDR 400) and presumably a 60 Hz refresh rate. When it comes to color spaces, TPV confirms that the 328P8K supports 100% of the AdobeRGB, which emphasizes that the company positions the product primarily for graphics professionals. When it comes to connectivity, everything seems to be similar to Dell's 8K monitor: the Philips 8K display will use two DP 1.3 cables in order to avoid using DP 1.4 with Display Stream Compression 1.2 and ensure a flawless and accurate image quality.
It is noteworthy that the final version of the 328P8K will be equipped with a webcam (something the current model lacks), two 3W speakers as well as USB-A and at least one USB-C port "allowing USB-C docking and simultaneous notebook charging". In order to support USB-C docking with this 8K monitor, the laptop has to support DP 1.4 alternate mode over USB-C and at present, this tech is not supported by shipping PCs. In the meantime, since in the future USB-C may be used a display output more widely, the USB-C input in the Philips 328P8K seems like a valuable future-proof feature (assuming, of course, it fully supports DP 1.4 alt mode over USB-C).
Preliminary Specifications
Philips 328P8K 32 Ultra HD 8K
Panel
31.5" IPS
Resolution
7680 × 4320
Brightness
400 cd/m²
Contrast Ratio
1300:1 (?)
Refresh Rate
60 Hz
Viewing Angles
178°/178° horizontal/vertical
Color Saturation
100% Adobe RGB
100% sRGB
Display Colors
1.07 billion (?)
Inputs
2 × DisplayPort 1.3
Audio
2 × 3W speakers
USB Hub
USB-A and USB-C ports
Philips does not disclose whose panel it uses for the monitor, but given that the specs of the Philips 328P8K are similar to those of the UP3218K, it is highly likely that both models use the same panel from LG Display (with whom TPV has a joint venture in China). Meanwhile, Dell's UP3218K ended up supporting 98% of the DCI-P3 color gamut (in addition to 100% of the AdobeRGB and 100% of the sRGB color spaces), hence, if the panels are the same, the Philips 328P8K may well support DCI-P3 as well. In fact, the company has published a marketing rendering of the 328P8K that displays the Adobe Photoshop CC working under macOS. Apple has been gradually transiting its own devices to P3-supporting displays for some time now and therefore offering Apple customers a non-P3 monitor in 2018 does not seem like a bright idea. So I'd be surprised if we don't see DCI support in the final version.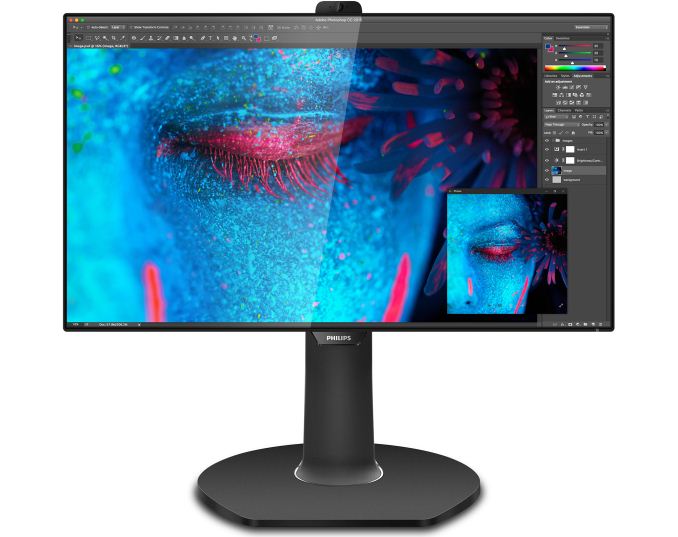 TPV intends to ship its Philips 328P8K sometimes in Q1 or Q2 next year, but the company has not made any decisions regarding the final timeframe. High-end products require a lot of tweaking, so do not expect TPV to rush the 8K monitor to the market. As for pricing of the Philips 328P8K, it is hard to make guesses without knowing market situation, availability of the panels and competition. For example, Dell has cut the price of its UltraSharp UP3218K by 22% since the launch in late March to $3,899 despite the lack of any rivals. In any case, since the Philips 328P8K is aimed primarily at professionals, do not expect it to be affordable from a consumer point of view.
Related Reading:
Source: Philips/TPV