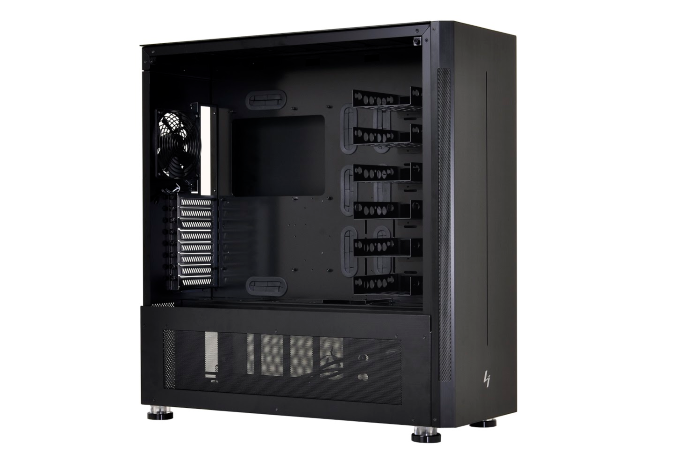 Lian-Li has been rather busy over the past couple of months announcing and releasing new or updated computer chassis. Cases like the diminutive Mini-ITX tower in the PC-Q39, the PC-T70 open air test bench, PC-01 Mid-Tower, all the way up to their Motorized Adjustable PC Desk in the DK-05, have been made public over that time. Continuing not to rest on their laurels, Lian-Li announced their latest product in the full-tower PC-V3000.
First spotted in late 2016, the PC-V3000 is a continuation of their flagship line of full-tower PC cases, with the goal of "being the ultimate Aluminum and tempered glass full-tower PC." Internally, the case is constructed of high-quality steel that's said to improve the case's structural rigidity, durability, and acoustic performance. The external panels are made of Lian-Li's signature brushed aluminum and use their rivet locking mechanism for easy removal or installation. The angled sides of the front fascia are where air comes into the top two compartments. The tempered glass panel is on the left side of the case allowing owners to show off the hardware inside in the first chamber.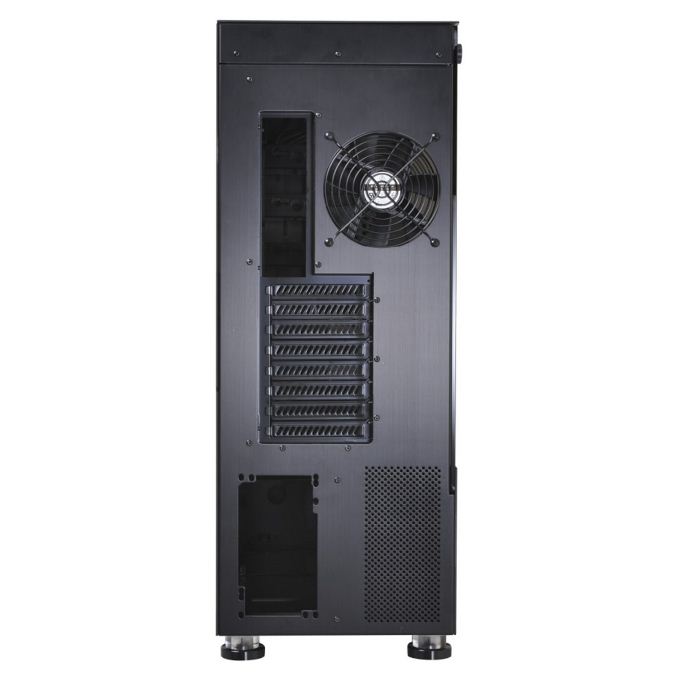 The full-tower chassis was designed for "massive liquid cooling radiators" and is Lian-Li's first case capable of holding four radiators. A 480mm radiator can fit at the bottom of the case, while the top is able to house up to a 420mm radiator. The front panel supports up to either a 360 or 280mm radiator, with a final 120mm radiator at the rear. There is quite a bit of cooling power available if users stuff this case full of radiators.
Inside the case, all nine 3.5" drive bays are removable, with six in the main chamber, and three in the bottom chamber. Two additional 2.5" drives can be mounted on the rear of the motherboard tray, for a total of ten 2.5" (when only 2.5" are used). Those mount positions can be used for "flexible mounting" of up to four pump/reservoir mounts. Lian-Li also includes two individual supports to prevent GPU bending on long and heavy cards. The case supports ATX PSUs up to 300mm long, GPUs up to 170mm tall and 360mm long, and CPU coolers can be up to 170mm in height as well. Pretty spacious, but always check the specifications for compatibility.
The case integrates subtle RGB lighting with an included front panel LED strip running vertically in the brushed aluminum panel (the line you see above the Lian-Li symbol). There are dials to control them hidden behind the front panel. The I/O panel, located on the top, has a single USB 3.1 Type-C connector, two USB3.0 ports, and an HDMI port (good for VR systems). Additionally, there are front panel audio jacks for a microphone and headphones rounding out I/O connectivity.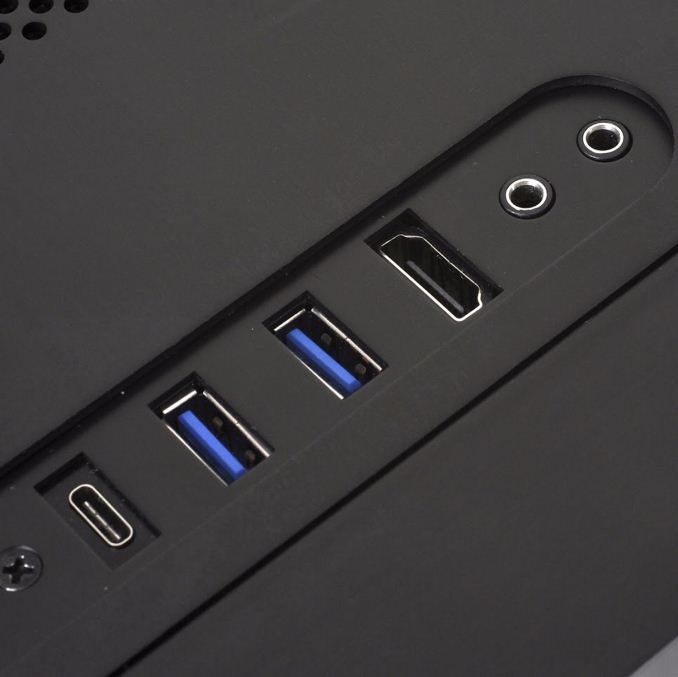 Below is listed the full specifications from the Lian-Li website:
Lian-Li PC-V3000 Full-Tower Chassis
Model
PC-V3000
Case Type
Full Tower Chassis
Dimensions
(W)245mm x(H)625mm x(D)605mm
Color
Black
Front/Side Panel
Aluminum / (L) Tempered Glass, (R) Aluminum
Body Material
SECC
Net Weight
12kg
External Drive Bays
None
HDD/SSD Bays
9x 3.5" or 10x 2.5"
Expansion Slots
8
Motherboard Type
E-ATX
System Fan (Optional)
3x 120mm(front), 1x 120mm (rear)
(4x 120mm or 3x 140mm (top and bottom)
I/O Ports
2x USB3.0, 1x USB3.1 Type-C, HDMI, HD Audio
VGA Card Support
(L)360mm x (D)170mm
CPU Cooling Support
(H)170mm
PSU Support
ATX PSU,(L)300mm
Radiator Support
Top: 360mm x 120mm or 420mm x 120mm
Front: 360mm x 120mm or 280mm x140mm
Bottom: 480mm x120mm or 420mm x140mm
We can expect to see these on store shelves and websites in the US around the middle of September. The case is priced at $449.99.
Related Reading: