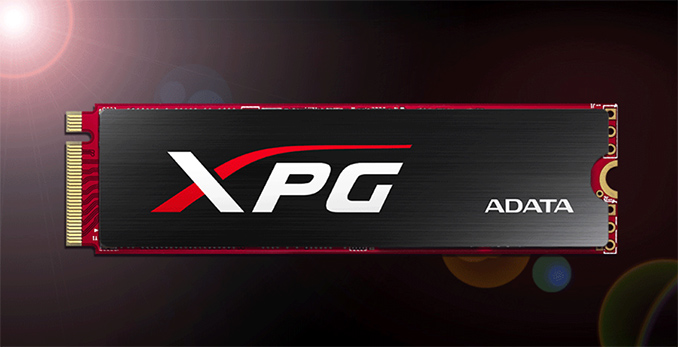 ADATA has announced its new SSD aimed at the very high end of the market. The new flagship XPG SX9000 drives are based on the Marvell 88SS1093 BTB2 controller and are paired with Toshiba's 2D MLC NAND flash memory. Later on, the company plans to switch to Toshiba's 3D MLC NAND for a product that will succeed the SX9000 SSD series.
The ADATA XPG SX9000 SSDs use the Marvell 88SS1093 BTB2 controller, which sports three processor cores and 8 NAND channels, with 4 banks per channel for 32 targets in total. The IC is an improved version of the 88SS1093 with higher frequencies and performance to boost speeds of higher-end SSDs. The 88SS1093 BTB2 supports a Marvell's third-generation ECC technology based on the LDPC algorithm and uses PCIe 3.0 x4 interface.

The new XPG SX9000 drives are to be available in 256 GB, 512 GB, and 1 TB configurations in the M.2-2280 form-factor. The SSDs use DRAM buffers for additional performance, and come with a very basic heat spreader to further prop up performance in systems that provide adequate cooling. Speaking of performance, ADATA promises up to 2.8 GB/s sequential read speed as well as up to 1.45 GB/s sequential write speed for the top-of-the-range 1 TB model. As for random read/write performance, ADATA lists 310K/240K IOPS for the most advanced model.
Reliability is another thing that ADATA is taking serious when it comes to the XPG SX9000. The drives are rated for up to 1 PBW (terabytes to be written) and two million hours MTBF, which in turn is coupled with a five-year warranty.
ADATA XPG SX9000 Specifications
Capacity
256 GB
512 GB
1 TB
Model Number
ASX9000NP-256GM-C
ASX9000NP-512GM-C
ASX9000NP-1TM-C
Controller
Marvell 88SS1093 BTB2
NAND Flash
2D MLC NAND
Form-Factor, Interface
M.2-2280, PCIe 3.0 x4, NVMe 1.2
Sequential Read
2700 MB/s
2800 MB/s
Sequential Write
990 MB/s
1450 MB/s
Random Read IOPS
200K IOPS
300K IOPS
310K IOPS
Random Write IOPS
220K IOPS
220K IOPS
240K IOPS
Pseudo-SLC Caching
Supported
DRAM Buffer
Yes, capacity unknown
TCG Opal Encryption
No
Power Management
DevSleep, Slumber
Warranty
5 years
MTBF
2,000,000 hours
TBW
250 TB
500 TB
1000 TB
ADATA has not set recommended prices of the XPG SX9000 series just yet. What we do know is that the drives are hitting the shelves in the coming weeks and expect their prices to be competitive against the obvious rivals — the Samsung 960 Pro and the Samsung 960 Evo families of SSDs.
Otherwise, as previously stated, ADATA is also looking at releasing 3D NAND versions of the drive farther down the line. 3D NAND has a number of advantages over 2D NAND, but it's not ideal for all possible applications at the moment, particularly due to its high density, which conflicts with the need for multiple NAND packages to maximize parallelism and performance on high-end SSDs. All things considered, this is why ADATA decided to go with a new Marvell controller as well as Toshiba's 2D MLC NAND for the XPG SX9000 SSD. Eventually, the company promises to use the same controller for a high-end 3D NAND-powered drive, but that is something that is going to happen towards the end of the year at best.
Related Reading:
Source: ADATA