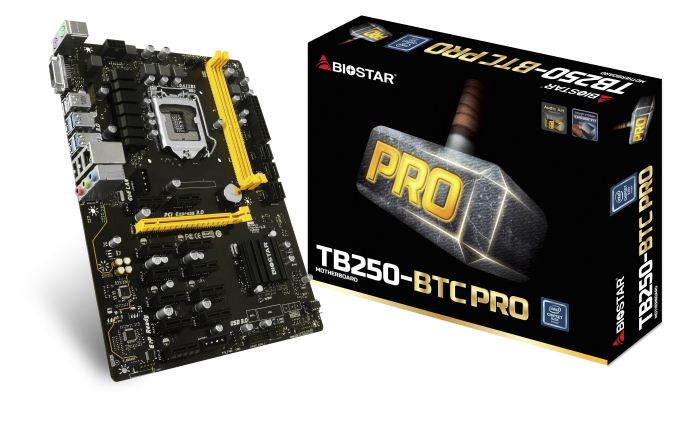 With cryptocurrency mining specific motherboards and even graphics cards becoming the new normal for certain manufacturers in their offerings, Biostar has thrown two new products into the ring: the TB250-BTC PRO motherboard and VA47D5RV42 (Mining) graphics card. Announced with a formal press release, the TB250-BTC PRO is actually an upgrade to the TB250-BTC that was first seen at Computex 2017. Meanwhile, the US product page for the VA47D5RV42 (Mining) card was quietly posted a couple months ago, interestingly detailing the AMD Radeon RX 470D as its GPU.
Biostar TB250-BTC PRO
In the context of the recently announced AM4-based cryptomining TA320-BTC and TB350-BTC, the TB250-BTC PRO is a different addition to Biostar's mining motherboard lineup. As the headliner, Biostar emphasizes the TB250-BTC PRO's capability to handle 12 GPUs at once with 12 native PCIe slots, just below ASRock's literally one-upping 13 PCIe slot H110 Pro BTC+. However, it's important to note that thanks to the B250 chipset the TB250-BTC PRO's slots are all native PCIe 3.0, while the H110 Pro BTC+ additional 12 PCIe slots are some combination of PCIe 1.0 and PCIe 2.0. Biostar makes sure to explicitly highlight that advantage over the H110 chipset, citing benefits to mining stability and compatibility in having native slots. This is despite the fact that most OSes have trouble with so many cards, but both companies have stated that this is for 'future proofing'.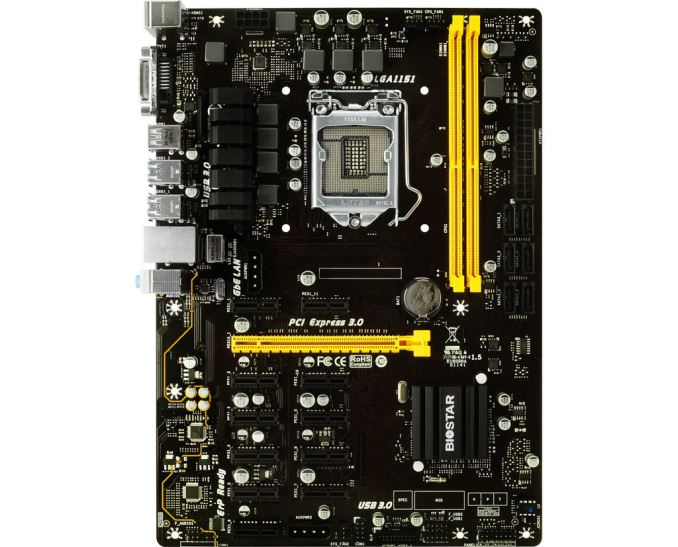 Biostar TB250-BTC Cryptomining Motherboards
TB250-BTC PRO
TB250-BTC
CPU Support
Intel Core i7/i5/i3/Pentium/Celeron
LGA 1151
95W TDP max
Chipset
Intel B250
Expansion Slots
1 x PCIe x16 3.0
11 x PCIe x1 3.0
1 x PCIe x16 3.0
5 x PCIe x1 3.0
Memory
2 x DDR4 DIMM slots
Ethernet
Realtek RTL8111H
Display Outputs
1 x DVI-D
Storage
6 × SATA3
6 × SATA3
1 × M.2 (PCIe 3.0 x4 or SATA)
Audio
Realtek ALC887
8 channel HD audio
I/O
1 x PS/2 Mouse
1 x PS/2 Keyboard
4 x USB 3.0 Port
2 x USB 2.0 Port
2 x USB 2.0 Port (5V, up to 1.5A)
1 x DVI-D Connector
1 x RJ-45 Port
3 x Audio Connector
Form-Factor
ATX
Price
TBA
$95
The slots themselves are arranged to accommodate PCIe to USB risers and the different arrangement is claimed by Biostar to avoid potential short circuits. The board comes with two Molex and two PCIe 12V 4pin power connectors on the motherboard to deal with the power draw. And if Biostar wasn't obvious in firing a shot across the ASRock bow earlier, they certainly are here: the below image from Biostar's website shows an even arrangement of occupied PCIe slots, and is compared to the H110 Pro BTC+'s arrangement.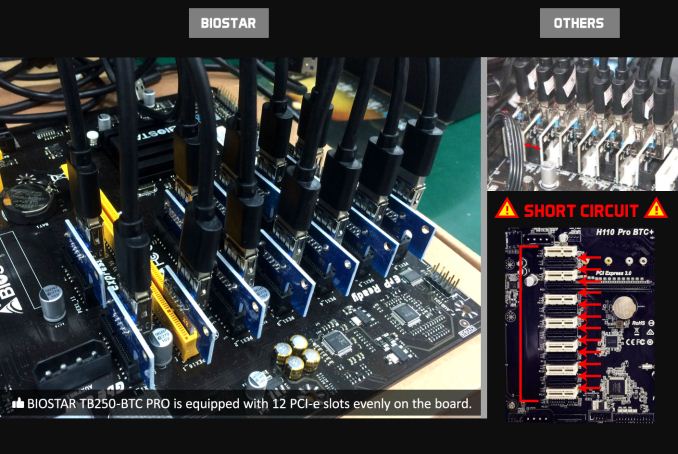 Compared to the standard TB250-BTC, Biostar advertises the sheer advantage in additional graphics cards capability (6 vs. 12) as saving a total of $200 in initial cost compared to using two TB250-BTC systems. The motherboard also has what Biostar calls 'Hybrid Mining' technology that "supports multiple AMD and NVIDIA cards simultaneously," but details thereof are very light aside from just putting them in and letting the drivers manage. In this case, the vagueness is unhelpful since most mining software is already capable of handling mixed AMD/NVIDIA setups.
Biostar
VA47D5RV42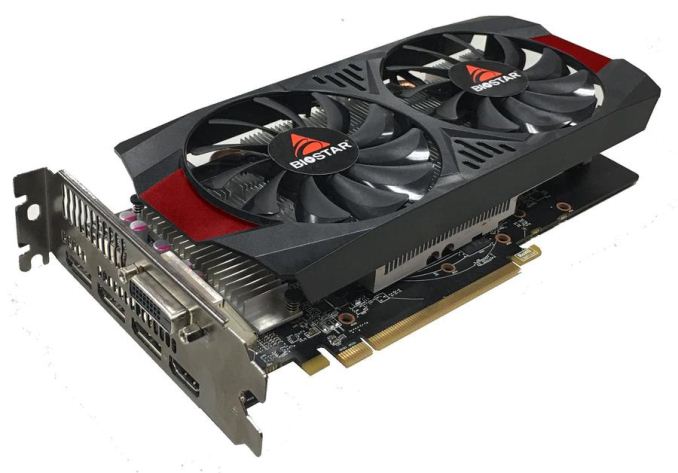 As for the cryptomining card, Biostar has intriguingly based the VA47D5RV42 (Mining) off the AMD Radeon RX 470D GPU. As a product for the Chinese market only, the original RX 470D was quietly launched last year without any official announcement outside of China. To describe briefly, the RX 470D is a further cut-down configuration of Polaris 10, having 1792 stream processors as opposed to RX 470's 2048. In terms of non-Chinese documentation, this is the first time the RX 470D has officially shown up.
It is unclear how much of a mining-specific SKU Biostar's card is, as the product page states it supports the all usual display outputs (1x DVI, 3x DP, 1x HDMI). The custom cooler equipped VA47D5RV42 (Mining) card appears to be custom clocked as well, with its 4 GB of VRAM clocked at 7000 MHz. Unlike ASUS and Sapphire's cryptocurrency cards, the VA47D5RV42 (Mining) has not surfaced in any online retailer catalogues in any form, making it hard to state that Biostar has released the card in the traditional sense. If anything, listing the RX 470D mining card on the US product pages suggests that the RX 470D may eventually semi-officially show up outside China, an odd conclusion given that AMD had ostensibly produced the RX 470D for the specific channel needs and consumer demands of the Chinese market.
For the TB250-BTC PRO, Biostar has not revealed pricing or availability dates.
Source: Biostar