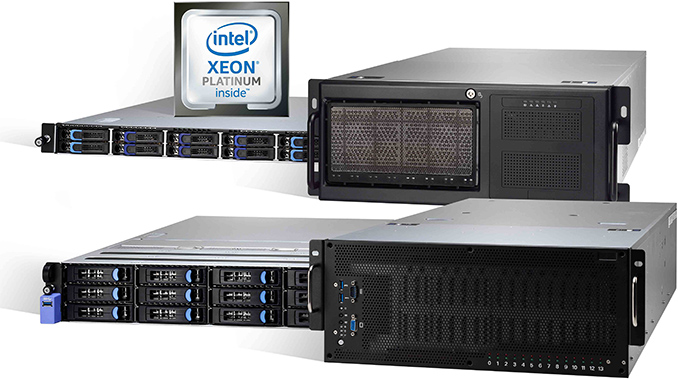 At ISC 17 this sweek, TYAN has demonstrated two new HPC servers based on the latest Intel Xeon processors for high-performance computing and deep learning workloads. The new HPC machines can integrate four or eight Intel Xeon Phi co-processors or the same number of NVIDIA Tesla compute cards, as well as over 10 storage devices.
The new TYAN FT77D-B7109 and FT48B-B7100 are 4U dual-processor machines are compatible with Intel's latest Xeon processors featuring the Skylake-SP (LGA3647) microarchitecture. Since Intel has not yet formally launched the aforementioned CPUs, TYAN has not yet opened up the servers, and little is known about their internal architecture.
The higher-end TYAN FT77D-B7109 server uses a dual PCIe root complex topology (enabled by PLX PCIe switches) to support up to eight Intel Xeon Phi coprocessor modules or up to eight NVIDIA Tesla accelerators, depending on customer needs. Since the machine is positioned for HPC, AI, machine learning, and oil & gas exploration, expect them to have tens of DIMM slots for terabytes of DDR4 memory. The server can also fit 14 hot-swappable 2.5" storage devices with SATA 6 Gbps or U.2/NVMe interfaces (only four bays support U.2) that work in RAID 0, 1, 5 or 10 modes. As for connectivity, the FT77D-B7109 has two 10 GbE ports and a GbE port for IPMI.
The TYAN FT48B-B7100 is a slightly different 4U/2P design that supports up to four Intel Xeon Phi or NVIDIA Tesla compute cards, as well as up to 10 hot-swappable 2.5" SAS/SATA storage devices operating in various RAID modes. TYAN is positioning the server as a cost-effective solution for research institutions, industrial automation and video capture applications, which is why it has seven PCIe x16 slots in general to fit additional cards for various I/O needs. The machine only has two GbE connections used for both networking and IPMI.
In addition to HPC machines, TYAN also showcased two Intel Xeon Processor Scalable Family-based dual-socket cloud platforms. The smaller GT75B-B7102 is a 1U machine with up to 10 hot-swap 2.5" storage devices (including four U.2 drives). The larger TN76-B7102 is a 2U server supporting 12 hot-swap 2.5" SSDs or HDDs with a SATA or SAS interface.
TYAN has not announced when exactly it plans to start selling the new servers, but expect the company to start rolling out its new units after Intel makes the new CPUs available later this summer.
Related Reading:
Source: TYAN