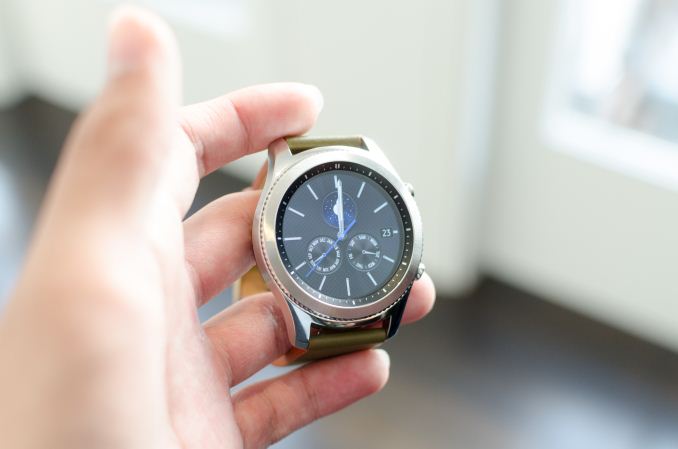 For a while now the smartwatch market has been developing in fits and starts. One of the more interesting developments in this space isn't Android Wear and watchOS, but Tizen and webOS as both Samsung and LG have turned to their own homegrown OSes in cases where Android Wear wasn't necessarily the best fit. It seems that OEMs have increasingly decided that it is necessary to control both hardware and software to better differentiate their offerings. In the case of LG we saw the Urbane LTE which necessitated webOS to enable cellular functionality, while Samsung in most cases has been pushing hard on Tizen in just about every case for their smartwatches rather than Android Wear.
Samsung Gear S3 Classic
Samsung Gear S3 Frontier
SoC
Exynos 7270 (2x ? @ 1.0GHz)
RAM/NAND
768MB RAM, 4GB NAND
Display
1.3" Circular 360x360 SAMOLED (278ppi)
Dimensions
46 x 49 x 12.9mm (57g)
46 x 49 x 12.9mm (62g)
Battery
380 mAh (1.46 WHr)
OS
Tizen Wearable Platform 2.3.2
Sensors
Accelerometer, Gyroscope, Heart Rate, Ambient Light, Barometer
Connectivity
802.11/b/g/n + BT 4.2, NFC, MST, GPS,GLONASS, A-GPS (LTE Only)
With the Gear S3, Samsung is continuing to push ahead with their Tizen smartwatches, and this time the Gear S3 is intended as a sort of companion to the Gear S2 as the Gear S2 is closer to 40 or 42mm in size while the Gear S3 is a 46mm watch with a 360x360 circular AMOLED display which makes for 278 PPI. The display itself is covered by Gorrilla Glass SR+ which is said to improve scratch resistance although sand is probably still going to scratch the cover lens. The big jump in size basically rules out this watch for roughly half of the population, but the jump in size comes with a fairly significant bump in battery. Like the Gear S2, this is IP68 rated but I wouldn't actually try to use the device in a pool or shower as water damage isn't covered and the IP68 rating is basically only for distilled still water for a depth beyond 1m for at least 30 minutes, which really isn't enough to do much other than washing your hands with the watch still on your wrist.
There are also extra features like a speaker, and the Frontier model offers an LTE variant. While the Gear S2 has an Exynos 3250, the Gear S3 also gets a bump up to the Exynos 7270 but both US and Korean PR on-site were unable to answer what differentiated the two as both are 28nm SoCs with dual core 1 GHz CPUs. I would guess that the 7270 gets a bump to Cortex A35 or A53 but is still built on 28nm planar HKMG as it seems that it is difficult to justify the increased costs associated with either 28FDS or 14LPP/14LPC when volumes are not necessarily guaranteed in the same way that a smartphone is. Battery life with 28nm planar is said to be somewhere in the 3-4 day range for this watch, so I'm not sure people will really care all that much anyways. This battery life claim is with the always-on display feature, which is an innovation carried over from the Galaxy S7 and Note7.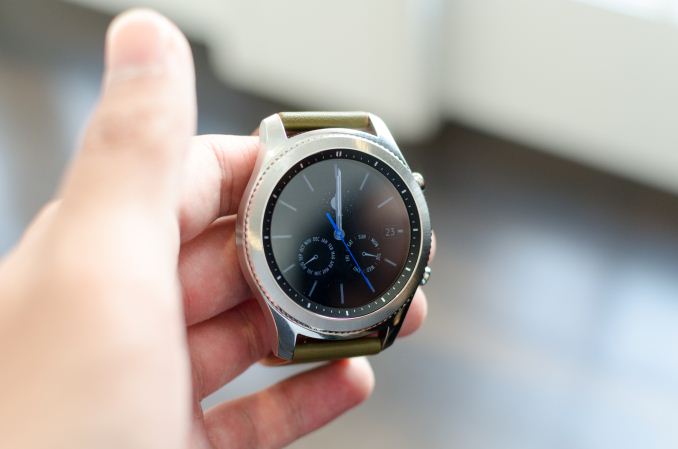 In addition to the SoC, size, speaker, and other changes, the Gear S3 adds the ability to use Samsung Pay via either MST or NFC. In both cases it was noted that the phone itself much generate the token, so if you lose connection to a paired phone Samsung Pay will only work for one transaction on the watch. Authentication is done by entering a PIN when you first put on the watch and Samsung Pay is automatically disabled if the watch is removed similar to how Apple Pay works on the Apple Watch. Charging is still wireless. WiFi support is going to be limited by the nature of the device but 802.11b/g/n are supported as well as Bluetooth 4.2.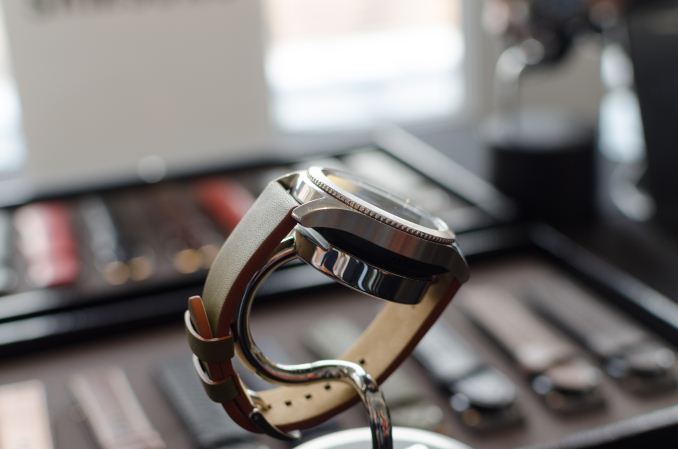 If you already know how the Gear S watches work there's not much else to talk about, but this is actually my first encounter with the Gear S line of watches in any serious capacity. The Gear S3 in person is large, and basically is the same size as the Moto 360 in its first generation which was fairly large, but those with larger arms won't have any issues. I haven't really used a watch that big since then so wearing one again was a bit of a shock for me. The Gear S3 as a result feels a bit awkward and ungainly in size relative to the smaller Gear S2, but if your arms are larger than mine it should fit without issue. The design of the watch itself is impressive though, with delicate detailing that makes both the Frontier and Classic variants of the watch fit in with existing analog watch designs.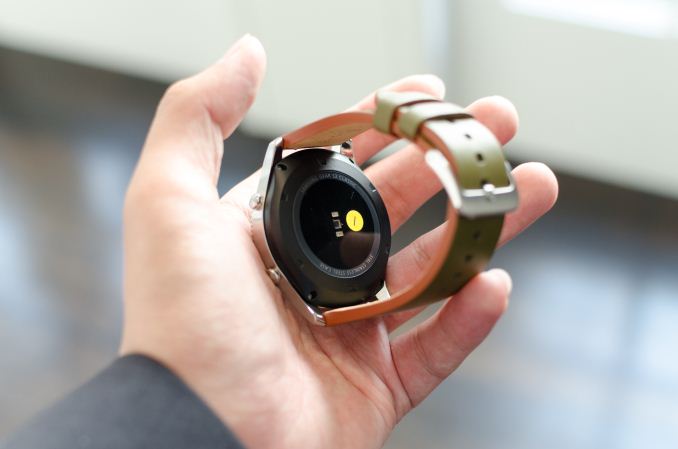 Other than this size issue the thickness of the watch is fairly respectable. The sheer size of the watch allows for the circular display to display a reasonable amount of information, and the rotating bezel remains a great way of navigating through the UI with a solid click between each detent. The side home and back buttons are a bit of a mystery when you first use them, but after pressing them once or twice you're probably going to remember which is which. The watch is also fairly performant compared to something like the Apple Watch which is just slow by any measure. The Gear S3 also includes GPS and GLONASS support which is useful for things like turn by turn navigation and services like Uber. Where the Gear S3 allows for precise location setting and map zoom using the bezel, the Apple Watch version of this application is basically just a button with no real way to know what the pickup point is. I did notice some frame drops here and there but it's hard to say if this was really the case without much closer examination and it's likely that this isn't final software.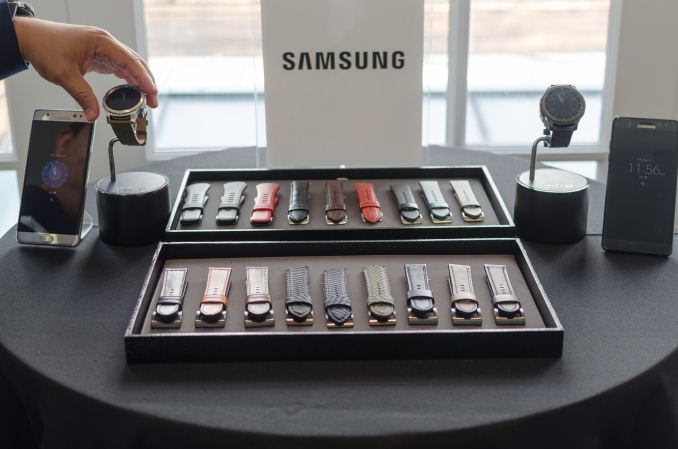 Other than this, the only thing I was really cognizant of was the band design. Generally speaking these are generic 22mm bands, but Samsung by default seems to favor very thick bands for demonstration purposes, and due to the traditional band mechanisms I found the band to be somewhat uncomfortable compared to something like the Milanese Loop bands seen in the Apple Watch. Of course, due to the standardized 22mm design anything is possible for band design, but generally speaking this is something that OEMs should really be taking care of.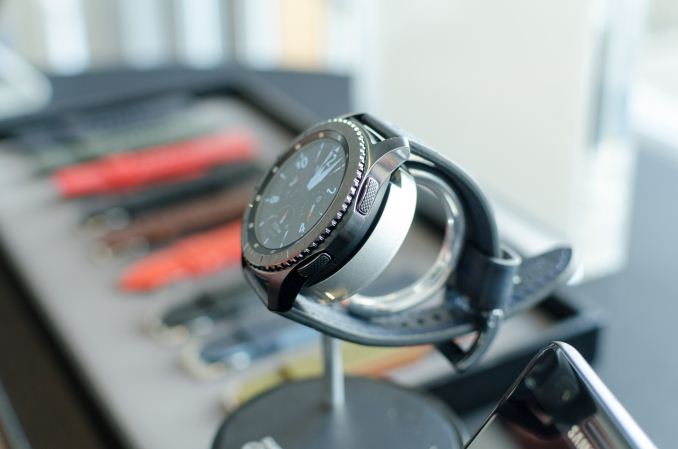 The Gear S3 comes in two designs, known as the Classic and Frontier, and of the two designs the Frontier will be the only one that will come with a cellular variant. Both will come with a Bluetooth variant designed to be paired to a phone. LTE variants will only be available through operators, which are currently AT&T, T-Mobile USA, and Verizon.