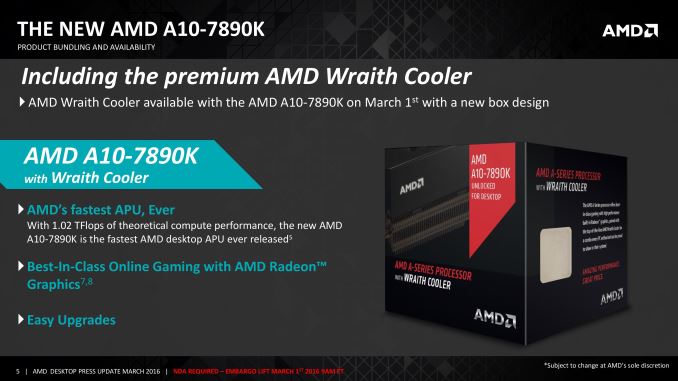 In what seems to be a common theme every month, AMD's recent APU release schedule has been to introduce one or two models each news cycle. For the most part, the new elements so far this year have been increases in frequency and efficiency, either replacing previous units or expanding the product stack. This is usually due to adjustments in binning the silicon as it gets produced, or minor improvements in the back-end of production that gives efficiency benefits.
So far this year we have seen the A10-7860K and the A6-7470K, both adjustments to the stack, but using some of AMD's new 65W/95W CPU coolers. We also saw the announcement of the Athlon X4 845 which was interesting as it stands to be the single processor from AMD that is based on Excavator for the FM2+ platform. Today AMD is announcing two new processors which sit on the top of their FM2+ stacks respectively – the A10-7890K is an APU with increased frequencies, while the Athlon X4 880K is similar without the integrated graphics.
AMD A10 and Athlon X4 Kaveri Lineup
A10-
7890K
A10-
7870K
A10-
7860K
X4
880K
X4
860K
X4
845
Modules
2
2
2
2
2
2
Threads
4
4
4
4
4
4
Core Freq. (GHz)
4.1-4.3
3.9-4.1
3.6-4.0
4.0-4.2
3.7-4.0
3.5-3.8
Compute Units
4+8
4+8
4+8
4+0
4+0
4+0
Streaming
Processors
512
512
512
N/A
N/A
N/A
IGP Freq. (MHz)
866
866
754
N/A
N/A
N/A
TDP
95W
95W
65W
95W
95W
65W
Cooler
Wraith
125W
NS
125W
NS
125W
NS
95W
NS
95W
NS
DRAM
Frequency
2133
2133
2133
2133
1866
2133
L2 Cache
2x2MB
2x2MB
2x2MB
2x2MB
2x2MB
2x1MB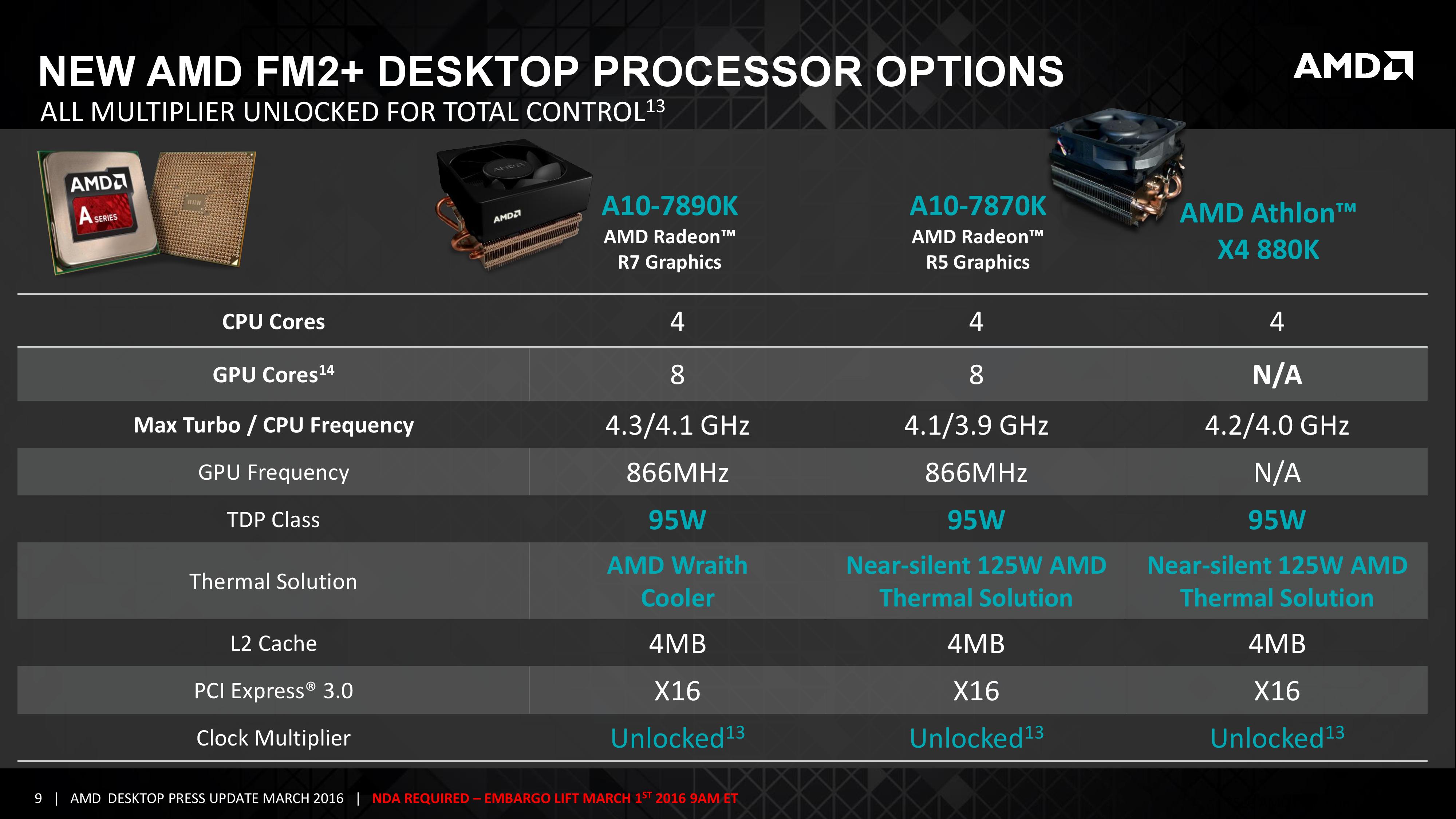 The A10-7890K will use a 4.1 GHz base frequency, moving up to 4.3 GHz on turbo, with 8 graphics compute units (512 streaming processors total) at 866 MHz. This is all within the 95W thermal envelope, and the A10-7890K will be the second processor from AMD bundled with their new Wraith cooler, rated at 125W with a shroud and LEDs. The Athlon X4 880K will have similar specifications at 100 MHz less, but without the integrated graphics. It is also rated at 95W, but instead gets AMD's new 125W 'near-silent' thermal solution, which is essentially the Wraith cooler without the shroud (which apparently adds a couple dB due to vibration).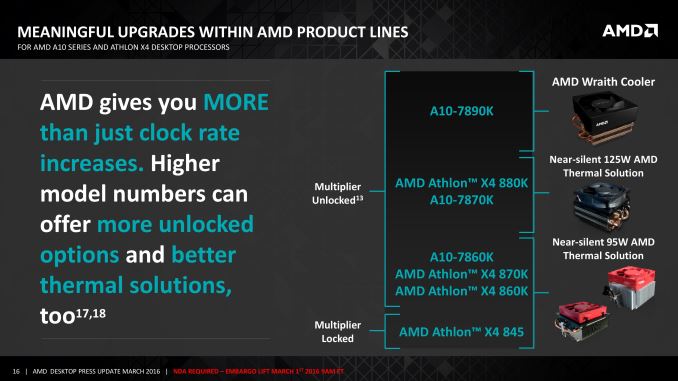 Both the X4 880K and the now second highest APU, the A10-7870K, will get this new 125W 'near-silent' thermal solution. The other A10 and X4-800 series members will get the new 95W thermal solution, which is a modified version of the high end cooler we normally associate with AMD. AMD has stated that parts that get the new coolers will not be sold for more than their current suggested retail pricing, except the FX-8370 previously announced.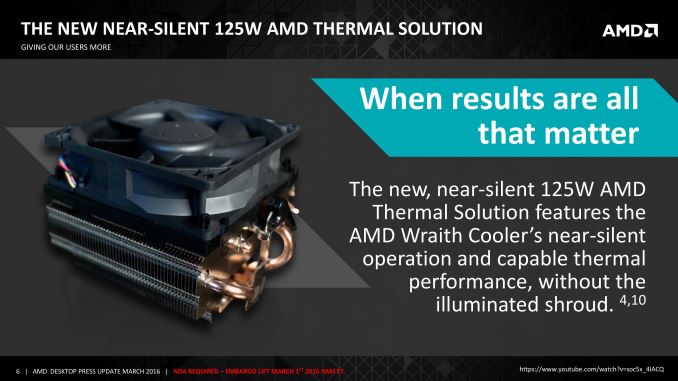 These parts are being made available to the channel and distributors today, although it may take up to a month to hit the shelves for end-users to purchase (there's no specific date set). Pricing for all the new parts are listed as follows:
AMD FX™ 8370 Wraith - $199.99 USD
AMD FX™ 8370 - $189.99 USD
AMD A10-7890K – $164.99 USD
AMD A10-7870K – $139.99 USD
AMD A10-7860K - $117.99 USD
AMD A8-7670K - $105.99 USD
AMD A8-7650K - $95.99 USD
AMD Athlon™ X4 880K – $94.99 USD
AMD Athlon™ X4 870K - $89.99 USD
AMD Athlon™ X4 860K - $79.99 USD
AMD Athlon™ X4 845 - $69.99 USD
We have samples inbound, and I have plans to revisit our APU data to update the parts with our most up-to-date benchmark suite. Keep an eye out for that in the next couple of months.
Source: AMD