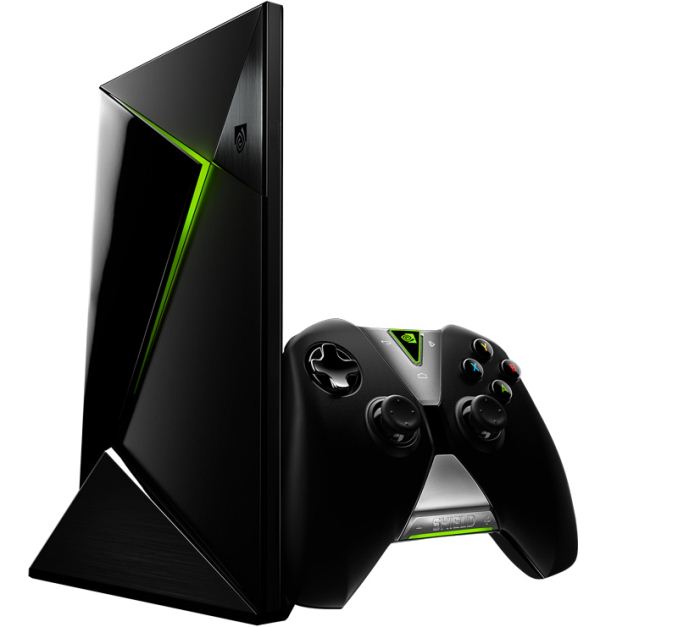 Today NVIDIA has announced their latest addition to the SHIELD product family, the SHIELD Console. Launching in May at $199, the SHIELD Console is a combination microconsole and Android TV box, offering Android TV functionality along with two forms of gaming. The first form being Android gaming backed by the console's Tegra X1 SoC, and the second form via access to NVIDIA's GRID game streaming service.
Like NVIDIA's previous SHIELD devices, the SHIELD Console is perhaps first and foremost their showcase device for their Tegra SoC. Having already built a gaming handheld (SHIELD Portable) for Tegra 4 and an 8" tablet (SHIELD Tablet) for Tegra K1, NVIDIA has moved on to the microconsole/set-top box market with the SHIELD Console. In doing so the company is forging a slightly different direction, skipping the mobility plays that were the previous devices and instead focusing on the TV and fixed-position gaming with the SHIELD Console.
NVIDIA SHIELD Family
NVIDIA SHIELD Tablet
NVIDIA SHIELD Console
SoC

Tegra K1 (2.2 GHz 4x Cortex A15r3, Kepler 1 SMX GPU)

Tegra X1 (4x Cortex A57, Maxwell 2 SMM GPU)

RAM/NAND

2 GB DDR3L-1866, 16/32GB NAND + microSD

3 GB RAM, 16GB NAND + microSD + USB

Display
8" 1920x1200 IPS LCD
N/A, HDMI 2.0 4Kp60 Output
Dimensions

221 x 126 x 9.2mm, 390 grams

210 x 130 x 25mm, 654 grams

Camera

5MP rear camera, 1.4 µm pixels, 1/4" CMOS size. 5MP FFC

N/A
Battery

5197 mAh, 3.8V chemistry (19.75 Whr)

N/A, 40W Power Adapter
OS
Android 4.4.2
Android TV
Connectivity
2x2 802.11a/b/g/n + BT 4.0, USB2.0, GPS/GLONASS, mini HDMI 1.4a
2x2 802.11a/b/g/n/ac + BT 4.1/BLE, USB 3.0 + 2.0, HDMI 2.0, IR Receiver, Gigabit Ethernet
Launch Price
$299 (16GB/WiFi) + $59 (optional controller)
$199, Includes 1 SHIELD Controller
From a hardware perspective the SHIELD Console itself is built somewhere in between a microconsole and a full-blown console. The underlying SoC and the use of Android TV make it closer to a microconsole, while in terms of physical size and NVIDIA's performance ambitions are closer to a console. In any case, anchored by the Tegra X1 SoC, the console also packs in 3GB of RAM, 16GB of NAND, 2x2 802.11ac wireless, and a large I/O collection, including USB 3.0, Gigabit Ethernet, and an HDMI 2.0 port.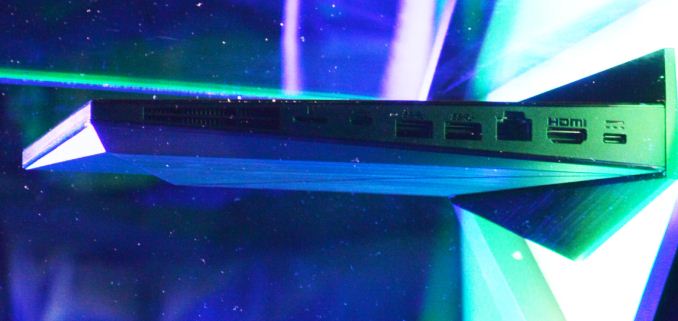 On the software side, the SHIELD Console is running Android TV, Google's TV-centric branch of the Android operating system. The use of Android TV gives the device the OS's accompanying 10ft UI along with suitable access to media through the Google Play Store, giving NVIDIA the kind of wide access to media they need to help drive adoption of the console. For more local tastes, local media playback will also be supported through the included PLEX application. Meanwhile because of its Tegra X1 backing, the console will be the first Android TV device to support 4K playback, capable of decoding and displaying 4Kp60 content, including up-and-coming HEVC content.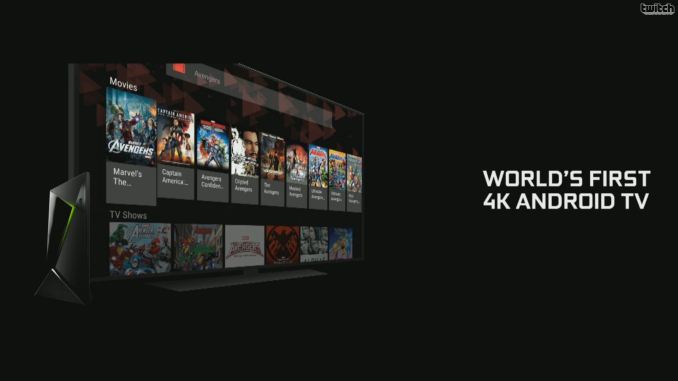 NVIDIA's second pillar for the device – and arguably the device's primary purpose – is local gameplay through the console's ability to run Android games. Games will be sold through a SHIELD Store, similar to how SHIELD Portable/Tablet users can currently buy Android games through NVIDIA's application. Meanwhile the powerful Maxwell GPU backing the Tegra X1 should prove to be very capable at driving these games.
From a performance perspective NVIDIA is targeting performance ahead of the Xbox 360, while many of the console's marquee games are from that console generation. With Xbox 360 turning 10 this year, this is roughly in-line with the tendency for SoC/mobile devices to trail PCs (and high performance consoles) in performance by about a decade.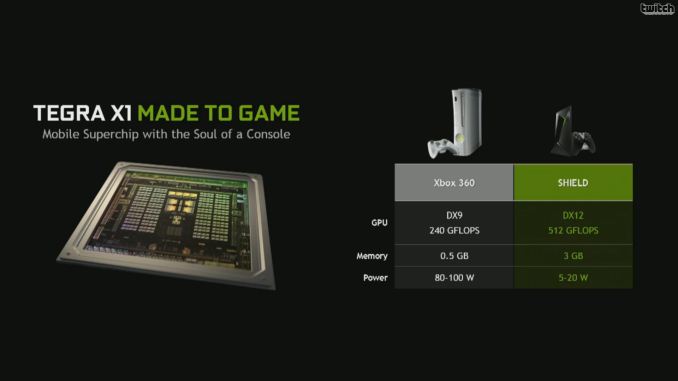 The games we've seen in the store so far are frequently ports of last-generation (or older) console games, with NVIDIA including a mix of existing ports along with partnering for new ones. Upcoming ports include the releases of games such as Borderlands: The Pre-Sequel and Crysis 3 (yes, Crysis) for SHIELD. Right now NVIDIA is very keen to show off the SHIELD console's ability to perform similarly to the last-gen consoles, given that they were very popular devices with similarly long shelf lives.
Given NVIDIA's hardware background and the capabilities of the Tegra X1 SoC, this makes a lot of sense for the company in the short run. However in the long run it will be interesting to see whether the service sees very many "new" or recent AAA games, as game development for the last-gen consoles winds down. Meanwhile original Android games are also on the store, though from NVIDIA's standpoint these must be difficult to count on as Android native games rarely push the envelope graphically and have a high tendency to be free-to-play games, the antithesis to the AAA console game market NVIDIA is chasing down.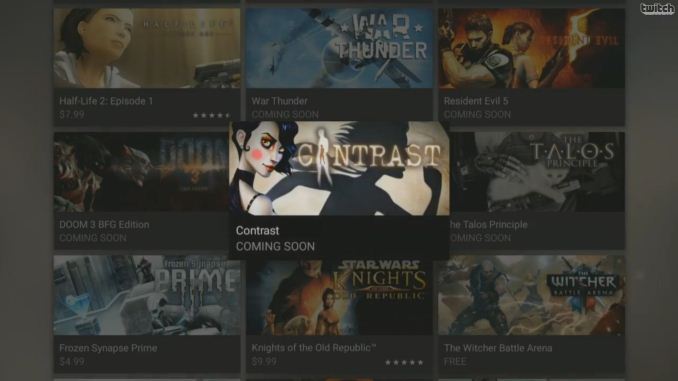 Ultimately however NVIDIA can't rely on native Android games and ports of older games alone to move their console, and for that reason the final pillar of the device is based around the GRID game streaming service. Currently in beta for NVIDIA's existing SHIELD devices and scheduled to go commercial alongside the release of the SHIELD console, the GRID streaming service will plug the remaining game gap by giving SHIELD console owners access to newer PC games that are streamed to the console rather than run locally.
The GRID service has and continues to be ambitious; NVIDIA's GRID server cards actually make the execution model pretty simple, however whether consumers are willing to put up with the latency and reduced image quality is a question that hasn't been adequately answered so far. NVIDIA's GRID service has seen quite a bit of activity with its current beta, though that is for a free service. The addition of a price tag – either for subscriptions for older games or buying the newest games individually at full price – may change this dynamic. However the alternative of not having the ability to run recent AAA PC games at all would have made the SHIELD Console a much harder sale.
For their part, NVIDIA has laid down the groundwork for the service in developing the technology and ramping up servers, and now they are working on bringing developers on-board. Essentially any game that can work on a PC with a game controller can in theory be offered via GRID, though so far the game selection has been very Steam-centric. For the console's launch, Capcom, Konami, and CD Projekt Red were all brought on stage to showcase some of their games running via GRID. NVIDIA ultimately expects to have 50+ titles available on the service by the time it and the SHIELD Console launch in May.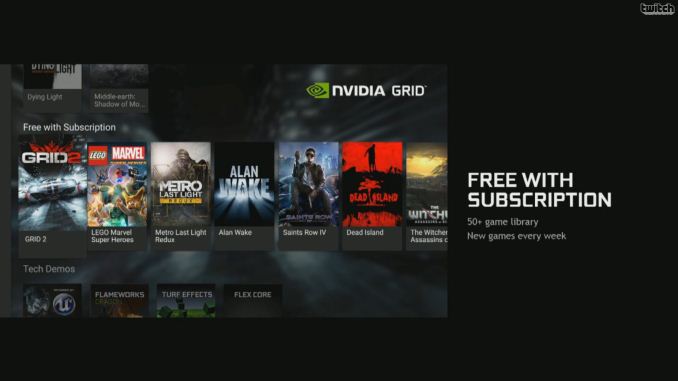 As for users looking for game streaming on a more local level, NVIDIA has confirmed that the SHIELD Console will also support the company's GameStream technology, which allows for games to be streamed from a suitably equipped GeForce PC. Also present in the specification sheets is "NVIDIA Share", which is NVIDIA's name for their ability to broadcast gameplay via Twitch.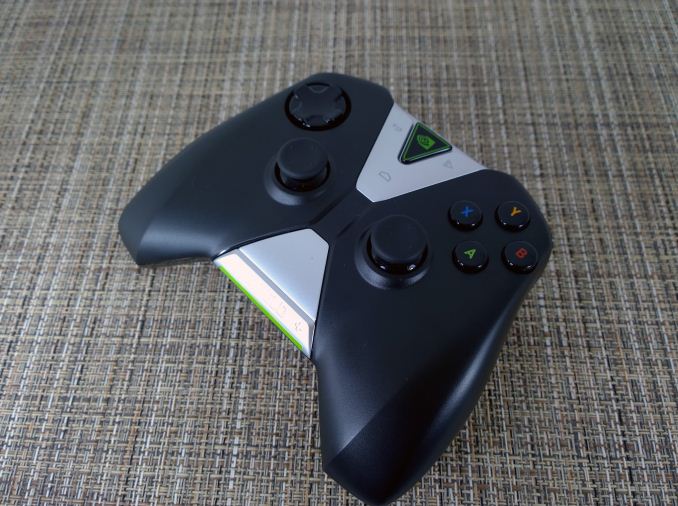 Moving on, the base package will come with the console and a SHIELD Controller for $199. NVIDIA previously launched the SHIELD Controller for the SHIELD Tablet last year, and thankfully unlike the tablet the controller is a standard part of the package for the console. However NVIDIA has also put together a second controller for the console that will be sold as an accessory, and that is the SHIELD Remote. Unlike the Controller, the Remote is geared towards taking advantage of the console's media capabilities, particularly Google's voice search capabilities. The remote itself contains only a few buttons, with voice intended to be its primary means of control. The remote also contains a headphone jack for local audio playback, and though not announced by NVIDIA at the time, as a Bluetooth device it will also work with the SHIELD Tablet and SHIELD Portable.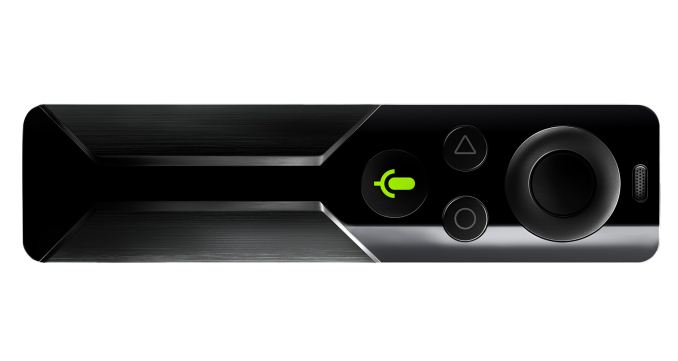 Wrapping things up, while we had been expecting a microconsole from NVIDIA going into their GDC presentation, the fact that they are so heavily backing it has come as a bit of a surprise. The microconsole market has been fairly treacherous so far – one only needs to look at the Tegra 3 based Ouya to see that first-hand – which makes NVIDIA's "premium" positioning so unusual. Microconsoles have typically been sub-$100 devices, whereas at $199 this is more than half-way to a full console.
For the moment at least from a hardware perspective NVIDIA has put together a solid piece of kit, something that has been a recent strength for the company. As far as Tegra launch vehicles go the SHIELD products have always been flashy and powerful, and the SHIELD Console is no exception. What remains to be seen then is whether the market is ready to embrace NVIDIA's vision of 4K media, game ports, and game streaming on a $199 console.