The CPUs
Apple keeps things simple across the 2013 MacBook Air lineup by configuring both 11 and 13-inch models with the same base CPU: a Core i5-4250U.
To understand Apple's CPU choice, you have to understand that Apple is primarily concerned about improving battery life this generation. The line between MacBook Air and MacBook Pro has to be well defined. The Air is about portability, while the Pro is about performance. When faced with a power/performance tradeoff, it's clear on which side of the fence Apple will fall whenever the MacBook Air is concerned.
Apple 2013 MacBook Air CPU Comparison
1.3GHz dual-core
1.7GHz dual-core
Standard On
11 & 13-inch MBA
Optional on Both
Intel Model
Core i5-4250U
Core i7-4650U
Base Clock Speed
1.3GHz
1.7GHz
Max SC Turbo
2.6GHz
3.3GHz
Max DC Turbo
2.3GHz
2.9GHz
L3 Cache
3MB
4MB
TSX-NI
No
Yes
TXT
No
Yes
AES-NI
Yes
Yes
VT-x/VT-x EPT
Yes
Yes
VT-d
Yes
Yes
TDP
15W
15W
Processor Graphics
Intel HD 5000
Intel HD 5000
GPU Clock (Base/Max)
200/1000MHz
200/1100MHz
The lower base clock alone shouldn't mean much, but the max TDP of the CPUs in the new MacBook Air falls as well - from 17W down to 15W. The thermal limit is even more dramatic since with Haswell ULT, the 15W includes the CPU/GPU as well as the on-package PCH. In Ivy Bridge the PCH was off package and wasn't included in the 17W TDP.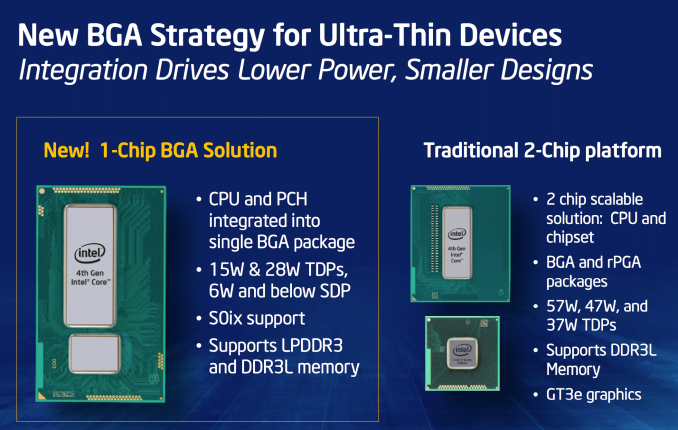 Max turbo clocks are identical between the Haswell ULT CPUs Apple picked this round and the Ivy Bridge models before, but with a lower TDP it'll be harder to always sustain the same frequencies given the right workload.
Haswell does feature a not insignificant gain in IPC compared to Ivy Bridge, which should help offset the power constraints that could otherwise force a larger regression in performance.
Both 2013 MBAs ship with the same CPU by default, and both can be upgraded to the same higher end SKU: a Core i7-4650U. The 4650U retains the same 15W TDP as the i5-4250U, but it increases its base clock speed to 1.7GHz and max turbo to 3.3GHz. The L3 cache also grows from 3MB to 4MB. All in all, this should be a very healthy upgrade in performance. Intel likely maintains the same TDP by binning for power; the i7-4650U is probably capable of running at higher frequencies without any appreciable increase in voltage. The max GPU clock also goes up by 10%.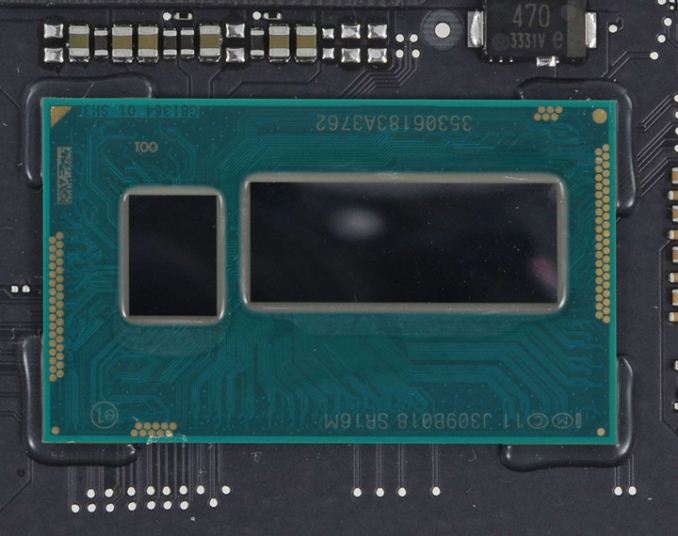 Haswell ULT, Courtesy iFixit
What's arguably coolest about the i7-4650U is it enables Haswell's Transactional Synchronization Extensions (TSX-NI), a feature which is unfortunately disabled on the i5-4250U. I don't suspect this will matter much for most MBA users, but anyone looking to play around with Haswell's TSX instructions will want to opt for the higher end SKU. The upgrade costs $150 regardless of base model. Intel charges $454 for the i7-4650U and $342 for the i5-4250U, a difference of $112; Apple is adding another $38 onto the 1KU pricing, which isn't unreasonable.
Many have asked me what the impact of the i7 will be on battery life. I'm hoping to get my hands on an i7 based machine when I return from the UK in a week, but for those of you making immediate decisions I'll offer the following. Sustained operation at higher frequencies will likely draw more power, and negatively impact battery life. Light to medium workloads will enjoy a mix of race to sleep benefits as well as higher power consumption under load. Idle power should be roughly similar between the parts however. For most workloads I'd expect a modest impact to battery life, but it won't be enough to regress to 2012 levels of battery life. All of this is said without knowing key details like operating voltage for most 4650Us. I plan on addressing that shortly.