Introduction
The build process and thermal performance of a fanless Ivy Bridge HTPC was covered in detail last month. I had indicated that the piece would be the first of a three-part HTPC series. Today, we are looking at the second part of the series. My original intention was to present the HTPC oriented benchmarks and aspects of the PC as it was built in the first part.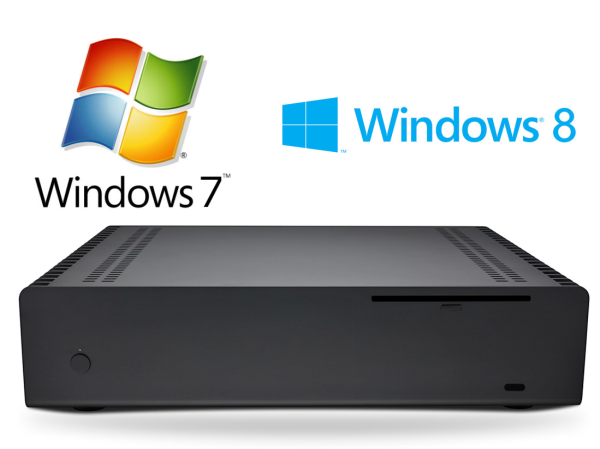 After a few experiments, we had to do some updates to the build in terms of both hardware and software (OS). The first hint of trouble came when I was unable to reproduce the performance of the i7-3770K Ivy Bridge HTPC with respect to madVR despite having DRAM running at 1600 MHz instead of 1333 MHz. The second was more of a decision to test out what Windows 8 offers to HTPC users. As you will see in later sections, Windows 8 offers a host of advantages to the HTPC user while also presenting some roadblocks.
In our initial build, we had avoided filling up the second DRAM slot because the DRAM heat sink ended up scraping against the capacitors in the Nano150 PSU. Unfortunately, this meant that we had halved the memory bandwidth available to the processor. madVR, in particular, is very sensitive to bandwidth constraints. We fixed this by deciding to allow the heat sink to touch the capacitors and ended up increasing the installed memory from 4 GB to 8 GB. In order to install Windows 8, we added another SSD to the system and set the unit up in a dual boot configuration with both Windows 7 and Windows 8. We were able to perform sensible power consumption comparisons between the two operating systems in this scenario (same hardware and software configuration except for the OS itself).
In the rest of the piece, we will be looking at the general performance metrics, network streaming performance (Netflix and YouTube), refresh rate handling, HTPC decoding and rendering benchmarks for various combinations of decoders and renderers and revisit the power consumption and thermal profile of the system. Before proceeding further, the table below summarizes the hardware and software configuration of the unit under consideration.
Ivy Bridge Passive HTPC Configuration
Processor
Intel Ivy Bridge Core i3-3225
(2 x 3.30 GHz, 22nm, 3MB L2, 55W)
Motherboard
Asus P8Z77-I Deluxe
Memory
2 x 4GB DDR3-1600 [ G-Skill Ares F3-2133C9Q-16GAB ]
Graphics
Intel HD Graphics 4000
650 MHz / 1.15 GHz (Turbo)
Disk Drive(s)
Corsair F120 120 GB SSD
OCZ Vertex 2 128 GB SSD
Optical Drive
Blu-ray/DVDRW Combo (Philips Lite-On DL-4ETS)
Networking
Gigabit Ethernet
802.11b/g/n (5GHz/2.4GHz Dual-Band access) / Bluetooth 4.0 (2T2R Broadcom BCM43228 in AzureWave AW-NB111H)
Audio
Microphone and headphone/speaker jacks
Capable of 5.1/7.1 digital output with HD audio bitstreaming (optical SPDIF/HDMI)
Operating Systems
Windows 7 Ultimate x64
Windows 8 Professional x64