While AMD's official Radeon HD 7990 (New Zealand) continues to be missing in action, we've known for some time now that PowerColor has been working on their own custom dual-GPU Tahiti card. This week that card has finally received an official announcement and a name: the PowerColor Devil13 HD7990.
At its most fundamental level, the Devil13 HD7990 is a single-card 7970CF solution, following in the grand tradition of exotic dual-GPU cards. These cards represent a step beyond AMD and NVIDIA's official dual-GPU cards, which shy away from single-GPU flagship performance due to power, size, and noise reasons. With exotic cards PowerColor and other partners can disregard those concerns completely, instead focusing solely on performance and bragging rights.
| | | | |
| --- | --- | --- | --- |
| | Radeon HD 7970 | Devil13 HD7990 | Devil13 HD7990 - Factory OC |
| Stream Processors | 2048 | 2 x 2048 | 2 x 2048 |
| Texture Units | 128 | 2 x 128 | 2 x 128 |
| ROPs | 32 | 2 x 32 | 2 x 32 |
| Core Clock | 925MHz | 925MHz | 1000MHz |
| Memory Clock | 5.5GHz GDDR5 | 5.5GHz GDDR5 | 5.5GHz GDDR5 |
| Memory Bus Width | 384-bit | 2 x 384-bit | 2 x 384-bit |
| VRAM | 3GB | 2 x 3GB | 2 x 3GB |
| TDP | 250W | A Lot | Even More |
| Transistor Count | 4.31B | 2 x 4.31B | 2 x 4.31B |
| Manufacturing Process | TSMC 28nm | TSMC 28nm | TSMC 28nm |
To that end, PowerColor has built a true behemoth in all respects. On the performance side of things the card is indeed a pair of 7970s on a single card, with two Tahiti GPUs mounted on a single PCB and clocked identically to the 7970 (925MHz), each with 3GB of GDDR clocked at 5.5GHz. As is typical for these exotic cards, the Devil13 also offers a further factory overclocked configuration that when activated pushes the GPUs to 1GHz each, some 75Mhz (8%) over the 7970. This in turn would push the performance of the card closer to that of the 7970GE in CrossFire, which has a similar 1GHz base clock.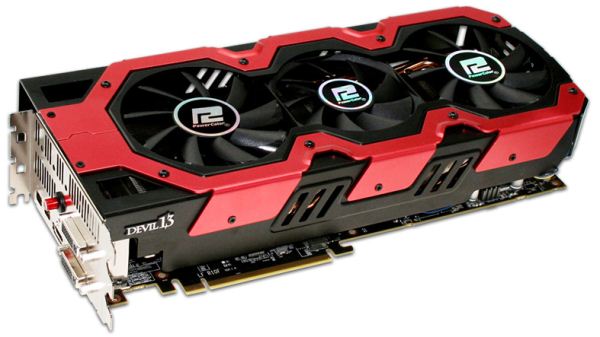 Of course that much performance requires quite a bit of power. PowerColor doesn't specify a TDP, but the card is equipped with 3 8pin PCIe power sockets, which would allow it to stay within spec while pulling up to a massive 525W. That kind of heat dissipation requires an equally overpowered cooler, which PowerColor provides in the form of a very large triple-slot triple-fan cooler, hooked up to a hereto unknown heatpipe/heatsink assembly. We've seen similarly large coolers pull off some amazing feats before so there's little question it's up to the task, making it more a matter of just how quietly such a cooler can operate under the circumstances.
But like all exotic cards, that kind of performance won't come for cheap. PowerColor has not announced a price on the Devil13 HD7990, however in previous years we've seen similar cards go for $1200 or more. It goes without saying that once the Devil13 HD7990 does start shipping, it's unquestionably going to be ultra-expensive and ultra-rare.
Source: PowerColor