Small Form Factor (SFF) PCs are becoming quite popular as the processors become more and more power efficient. Over the last few years, we have had a slew of budget SFF PCs. We have a number of powerful units targeting the mid-range and high-end markets such as the CoreHT and the Vision 3D series from ASRock. However, the sales volume lies in the budget lineups. Companies like Asus, ASRock, Sapphire and Zotac have been playing in this segment of the market. The trend started with pure Atom based nettops. The ION-based nettops brought HD video decoding and limited gaming capabilities to the budget lineups. AMD joined the game late with their AMD Fusion-based Brazos offerings early last year. Almost all of these offerings come to the consumer in the form of mini-ITX boards.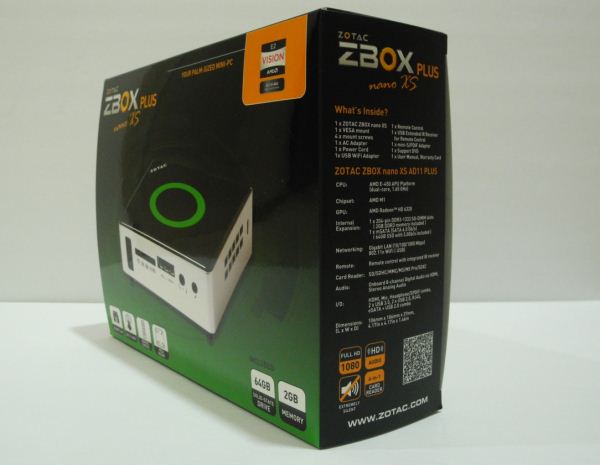 Today, Zotac is launching their AMD E-450 based custom sized solution, the ZBOX Nano XS AD11 Plus. The motherboard of the unit measures 10 cm x 10 cm, which is smaller than the nano-ITX (12 cm x 12 cm) and just slightly bigger than the pico-ITX form factor (10 cm x 7.2 cm). The system comes in at 10.6 cm x 10.6 cm x 3.7 cm, and is definitely one of the smallest machines we have reviewed. One of the biggest impediments to the miniaturization of PCs is the presence of a 2.5" drive in the system. The advent of mSATA and the increasing number of mSATA SSDs in the market provides an opportunity for system builders to drive down the size and volume of their PCs. Zotac has indeed done this with the ZBOX Nano XS AD11 Plus. Instead of a 2.5" hard drive common in other budget SFF PCs, the unit comes with a 64 GB mSATA SSD.
The picture below shows the size of the ZBOX when compared with an ASRock Vision 3D mini-ITX motherboard based PC. The PC is indeed quite small and it even fits in one's palms
The table below summarizes the specifications of the ZBOX Nano XS AD11 Plus.
Zotac ZBOX Nano XS AD11 Plus Specifications
Processor
AMD E-450
(2 x 1.65 GHz Bobcat cores, 1 MB L2, 40nm, 18 W)
Chipset
AMD A50M (Hudson-M1)
Memory
1 x 2 GB SO-DIMM Samsung DDR3-1333 (Maximum 1 x 4 GB) (1.6 GB Available to CPU)
Graphics
AMD Radeon HD 6320
(80 Stream Processors, 508 MHz core clock (Turbo to 600 MHz), 384 MB Available to GPU)
Primary Drive(s)
Kingston SSDNow mS100 SMS100S2/64G mSATA 64GB SATA II SSD
Networking
150 Mbps Realtek RTL8188CU Wireless LAN 802.11n USB 2.0 Network Adapter (Bundled)
Realtek PCIe Gigabit Ethernet
Audio
Realtek 2-channel HD Audio
Optical SPDIF (with mini-SPDIF Adaptor)
Headphone and mic jacks
Front Side
Power button
IR Receiver
MMC/SD/SDHC/MS/MS Pro/SDXC Card Reader
eSATA / USB 2.0 Combo Port
Headphone / optical SPDIF adaptor and mic jacks
Right Side
Exhaust vent
Kensington lock
Left Side
Exhaust vent
Rear Side
AC Adaptor input
HDMI 1.4a compatible port
2 x USB 3.0
1 x GbE LAN
2 x USB 2.0
Operating System
Barebones (Shipping) / Reviewed with Windows 7 Ultimate 64-bit SP1
Dimensions
106mm x 106mm x 37mm
Pricing
$359.99 MSRP
The unit is also VESA mountable on the back of a LCD TV or monitor. In the rest of the review, I will first talk about the unboxing and setup impressions, followed by general performance metrics. A small PC like the ZBOX Nano XS AD11 Plus could easily find a role as a dedicated media playback HTPC, and we will cover some HTPC aspects before providing our final verdict.