On first inspection, this board's aesthetic blue and black livery is impressive. The big blue heatsinks on the VRM, while looking good with a large surface area, intrude slightly on the socket, potentially resulting in restricting the orientation of high end air coolers.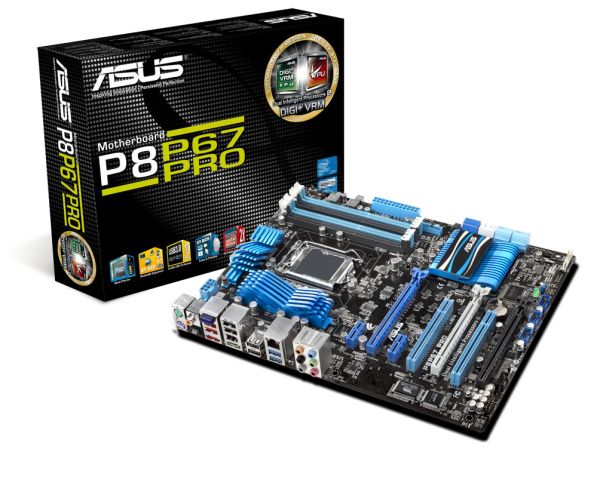 Among the standard features you'd expect on a P67, such as the four dual-channel DDR3 slots, and four SATA 3Gb/s with two SATA 6Gb/s supported by the chipset, there is another two SATA ports, but it is unclear if these are for the RAID, 3Gb/s or 6Gb/s, or how they are powered, as they are not labelled and the chipset heatsink covers quite a bit. Two NEC controllers give two USB 3.0 ports on the back panel, and the possibility for another two via a header on the board connectable to the case, or to an ASUS USB 3.0 port box (as shown in the P67 Deluxe images). The Sandy Bridge platform on P67 relies on discrete graphics only, and as such there are no video out connectors on the back panel, but two PCIe x8 slots on the board itself (or one PCIe x16 if only one card is used). There is another PCIe slot available, presumably x4, for non-GPU duties.
The back panel itself is fairly standard – dual PS/2 ports for keyboard and mouse, S/PDIF out, six USB 2.0 ports, two USB 3.0 ports, two eSATA connectors, firewire, 5.1 audio and gigabit Ethernet. Also of note is the Bluetooth receiver, which is a nice addition, but the lack of a second gigabit Ethernet port, which by now we feel should be a staple on all high end boards and any board with the 'Pro' moniker, isn't too pleasing.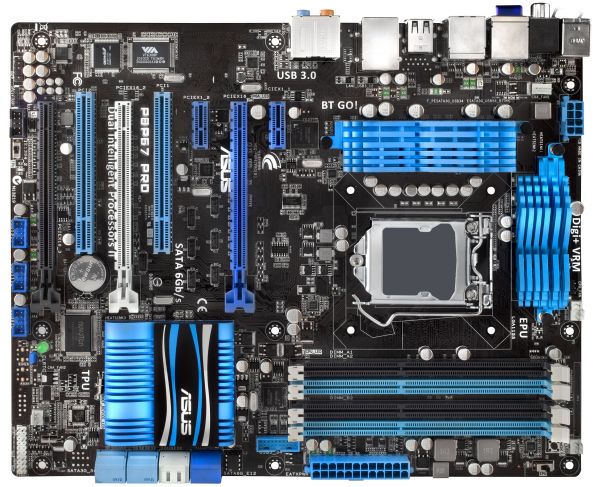 On the board, we see two switches for TPU (TurboV Processing Unit) and EPU (Energy Processing Unit). The TPU is designed to monitor FET thermal temperatures, while the EPU will moderate power appropriately across the VRMs. Both can be turned on and off by the onboard switches, and presumably in the BIOS as well.
Speaking of switches, we're disappointed that ASUS have not put easy-to-use power and reset switches on the Pro. Sure, not everyone needs them, but they are a nice addition rather than having to short two front panel pins with a screwdriver (when slightly tired, it's never a good idea to accidentally short the wrong pins, unless you want to see some sparks).