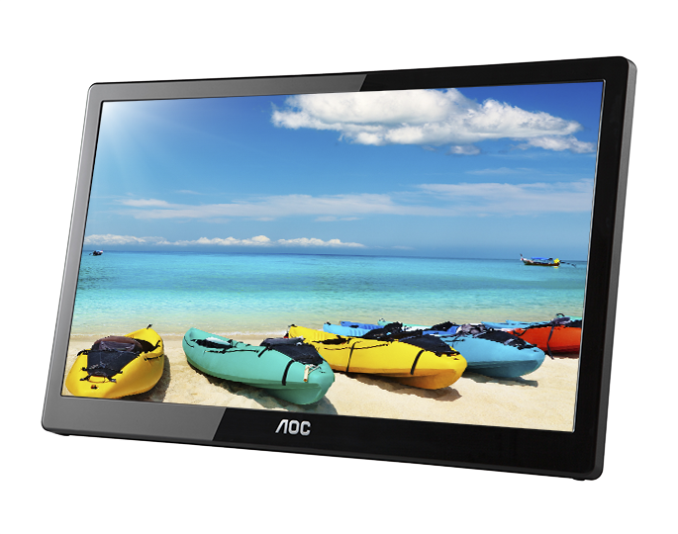 AOC have just introduced a new high definition 15.6-inch portable USB monitor for those who need more screen real estate than their laptop can provide without worrying too much about having the right display connector. USB monitors are popular for users when giving presentations, or for multi-window work.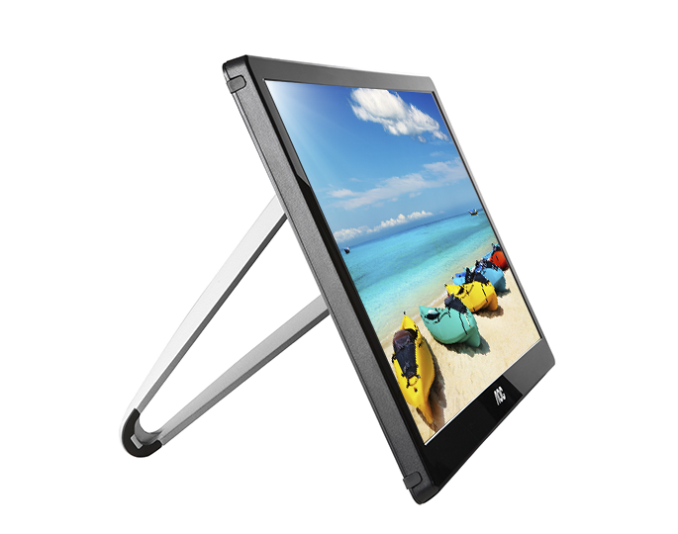 Labelled as the I1659FWUX, this 15.6-inch display has a resolution of 1920 x 1080 with a conventional refresh rate of 60Hz. It features an IPS panel with a matte anti-glare coating, a brightness of 220 cd/m2, a contrast ratio of 700:1, and a 25ms response time. The viewing angles are listed as 160° (CR>10) horizontal and 160° (CR>10) vertical. The "CR>10" part means that you can view 160° of the screen while retaining a contrast ratio of at least 10:1. Those viewing angles don't sound great for an IPS display, but given the specific metric that AOC is using it's hard to accurately judge it compared to other monitors.
The entire enclosure is made of a glossy piano black plastic (which may attract fingerprints), while the panel itself is framed by a half-inch bezel on all sides. Integrated into the enclosure is a foldable silver stand that can rotate the display into either portrait or landscape mode and there is an auto-rotation feature built-in. While the monitor is portable in the literal sense, the I1659FWUX is 35.5mm (1.4-inch) thick and weighs 1.2 kg, so it is no compact featherweight product. Thankfully, a protective carrying case is included, so that will help when it to comes to travelling with the display. You're essentially carrying another laptop, in other words.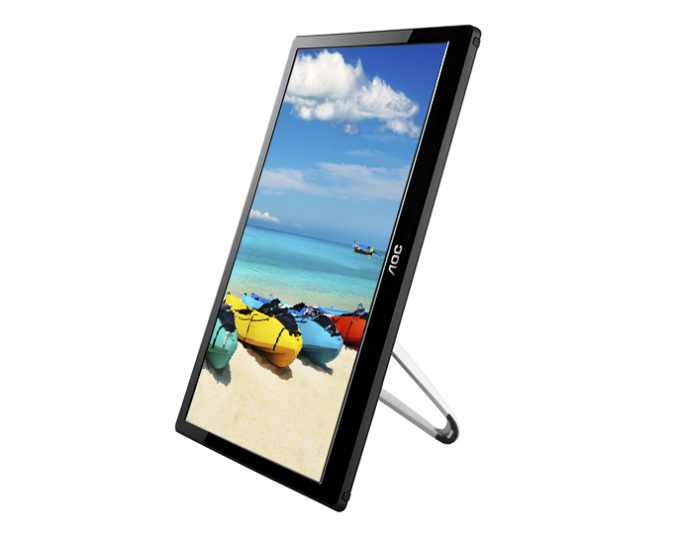 One of the key selling points of this monitor - portability aside - is that it receives both data and power via a single USB 3.0 cable, which means no additional bulky power adapter to carry. Power consumption is listed at 0.5W standby and 8W typical, so probably you won't be able to power it with just a single USB 3.0 port - most can't deliver more than 4.5W - but the included Y cable splits the load across two USB ports. Once the cable is plugged in, installation requires drivers and DisplayLink software that is compatible with both macOS and Windows.
AOC I1659FWUX
Product Page
Link
Panel
15.6" IPS
Native Resolution
1920 × 1080 (16:9)
Maximum Refresh Rate
60 Hz
Response Time
25 ms
Brightness
220 cd/m²
Contrast
700:1
Viewing Angles
160° (CR>10) / 160° (CR>10)
horizontal/vertical
Pixel Density
141 pixels per inch
Display Colors
292K
Stand
Tilt (15° to 30°)
Auto Pivot
Inputs
1 × USB 3.0
Audio
None
Dimensions
371.9mm x 232.7mm x 35.5mm (WxHxD)
Weight
1.20 kg
Price
$149.90
It should be noted that while AOC already has a similar product with a very similar model name (E1659FWUX). This previous model features a TN panel which is brighter and has a lower response time, but worse contrast and viewing angles than this newer IPS version.
The AOC I1659FWUX is available for pre-order on Amazon.com for $149.90 USD with a stated in-stock date of May 13th.
Related Reading
Source: AOC