When dealing with motherboards it is a rarity that one finds a model manufactured or designed in the USA. With the exception of Supermicro and a few smaller companies, most motherboards are produced and designed in Taiwan. It is sort of like farming, in that as a farmer you wouldn't want to plant your crops in an area with poor soil, the same principle applies to the manufacturing and designing of motherboards. The desire, need, and ability to manufacture/design motherboards as well as other Printed Circuit Boards (PCB's) is very high in Taiwan since just about 80% of the industry happens to be located there.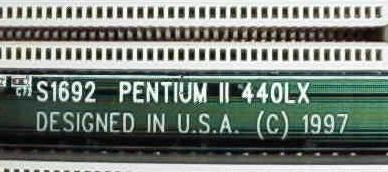 Does this mean that motherboards designed of manufactured in the US are inherently poor in quality, performance or any other aspect for that matter? Absolutely not. When looking at Tyan's Tiger ATX - a LX based Pentium II motherboard you immediately notice Tyan's use of the prominent "Designed in USA" text between two PCI slots, a very rare occurrence in motherboards today. It looks like Tyan isn't ashamed of this accomplishment, actually there is no reason for them to feel ashamed, the Tyan Tiger ATX is one of the best Pentium II motherboards available today...AND...it doesn't feature any easy to use jumperless setup, doesn't support bus speeds greater than 66MHz, and tops out at a maximum CPU speed of 333MHz. So what makes the Tyan Tiger ATX a knockout? Good, old fashioned, quality.
---
Socket Style:

Slot 1

Chipset:
i82440LX
Cache:
N/A (On Chip)
Form Factor:
ATX
BUS Speeds:
66 MHz
Clock Multipliers:
3.0x / 3.5x / 4.0x / 4.5x / 5.0x
Voltages Supported:
1.5v - 3.5v (Auto Detect)
RAM Slots:
4 168pin DIMM Slots
AGP/PCI/ISA Slots:
1 AGP Slot
5 PCI Slots
2 ISA Slots (1 Shared / 2 Full Length)
BIOS:
AMI WinBIOS
PCI EIDE Controller:
Super I/O
2 EIDE Channels
1 FDD Channel
2 Serial /1 EPP
---
First impressions are usually lasting ones, the Tyan Tiger ATX literally makes one HUGE lasting impression. The large cylindrical monsters that encircle the Slot-1 on the Tiger ATX are not oddly shaped camera batteries, rather 7, oversized, one inch tall, 2200 micro-farad (the farad is the unit to measure electrical capacity, with capacitors, generally, the greater the capacity the more effective the capacitor - see Computer Hardware Info Guide) capacitors. As a main function capacitors perform, these unique tubes store an electrical current, and by using them around critical areas of the motherboard, especially around heavily used Integrated Circuits (IC's) one can increase the overall stability/reliability of a motherboard. Tyan proves to have virtually mastered the reliability aspect of motherboard manufacturing since the Tyan Tiger ATX ran flawlessly in a do-or-die test environment for a few days straight, during this time the test system was constantly under heavy use performing intense mathematical calculations in addition to the normal work load of any user.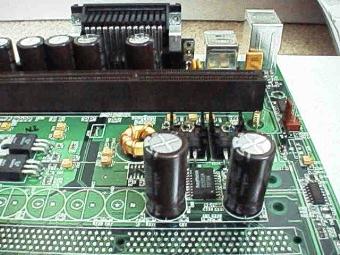 Although the 2 ISA slots may be discouraging to some potential buyers, you must realize that most newly released motherboards will have at most, 3 ISA slots, don't expect many boards produced this year to feature more than 2 ISA slots either. The 5 PCI slots and 1 AGP slot make up for the 2 ISA, and the 4 DIMM slots ensure that one can easily take advantage of the Pentium II's 512MB cacheable memory area.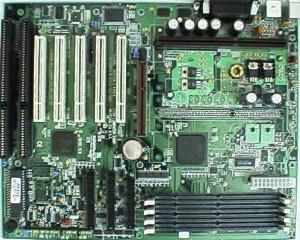 The Tiger ATX does feature a few outstandingly unique qualities. First of all the Voltage Regulator system on-board the S1692 is a real force to be reckoned with, accenting the large capacitors as an explanation for the Tiger's excellent stability (the dual processor Tiger - S1692D(L) features a dual voltage regulator setup). Moreover, the Tiger ATX has an on-board PC Speaker, not sure why, but it can take the place of your case's PC speaker if you feel like that unit is occupying too much room, room which can be more efficiently used as room for another case fan.
Tyan's user's manual is also among the best in the industry, although not as comprehensive as documentation from ABIT and Chaintech, the Tyan S1692 comes complete with more than enough information to get yourself up and running at 110% power, the user's manual even includes a detailed explanation of the Chipset Features setup, something most manuals lack. Since the AMI WinBIOS auto-detects a great deal of settings it is often useless to waste time in the Chipset Features Setup, but there is no stopping a true tweaker from doing so to get the maximum performance out of his/her system.