Testbed Setup and Evaluation Methodology
Evaluation of the DAS enclosure must be done keeping the use-case in mind. This is not the sort of storage system in which one would even attempt to do reads and writes simultaneously. The typical usage scenario involves either writing a lot of data into the member drives in a backup process, or reading the archived data back. In order to get an idea of the performance of the DAS, we fill up the enclosure with 240GB Intel DC S3510 SSDs and first process our AnandTech DAS Suite on the first drive in the array. It is also possible that a use-case attempt to read or write a number of drives simultaneously. That scenario is tested out using IOMeter.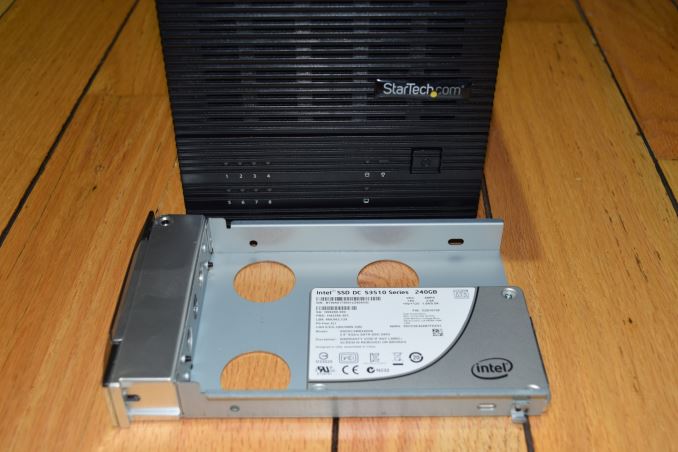 AnandTech DAS Testbed Configuration
Motherboard
Asus Z97-PRO Wi-Fi ac ATX
CPU
Intel Core i7-4790
Memory
Corsair Vengeance Pro CMY32GX3M4A2133C11
32 GB (4x 8GB)
DDR3-2133 @ 11-11-11-27
OS Drive
Seagate 600 Pro 400 GB
Optical Drive
Asus BW-16D1HT 16x Blu-ray Write (w/ M-Disc Support)
Add-on Card
Asus Thunderbolt EX II
Chassis
Corsair Air 540
PSU
Corsair AX760i 760 W
OS
Windows 8.1 Pro
Thanks to Asus and Corsair for the build components
The full details of the reasoning behind choosing the above build components can be found here.
Note that the USB 3.0 port hanging off the PCH of the testbed is indeed capable of UASP (USB-attached SCSI Protocol). The screenshot below shows the information about a SSD in the enclosure, as viewed through the USB 3.0 port. We find that UASP is enabled, and S.M.A.R.T passthrough works.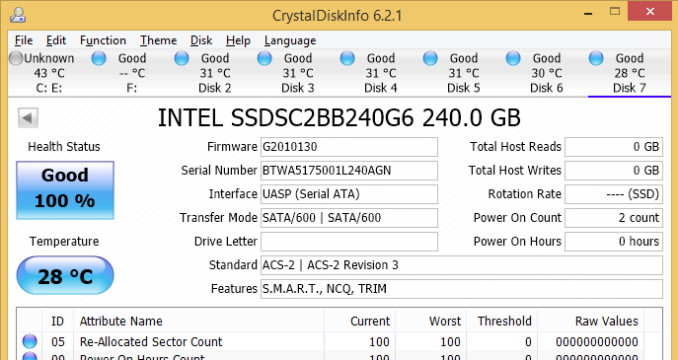 In the eSATA mode, we used the only freely available SATA port in our testbed. It was the one connecting to the Lynx Point PCH through a PCIe 2.0 x1 link (the path with the ASM1184e and the ASM1061 bridge chips in the board layout below). Luckily, it turned out that the ASM1061 does support port multiplication and there was no issue getting the enclosure to work with an eSATA connection.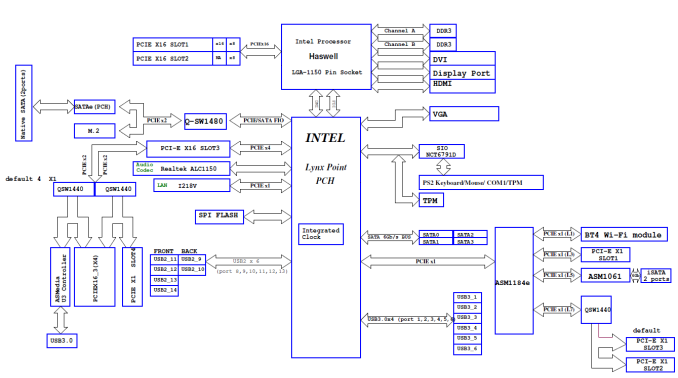 One of the ways to evaluate performance for simultaneous access to multiple disks in the array would be to configure a software RAID volume with the member disks. Unfortunately, the disks are recognized by Windows as 'Removable Disks' and the Disk Management feature doesn't allow software RAID to be configured with the disks present in the enclosure. Hence, we decided to go with IOMeter, and access the eight disks as physical drives without partitions.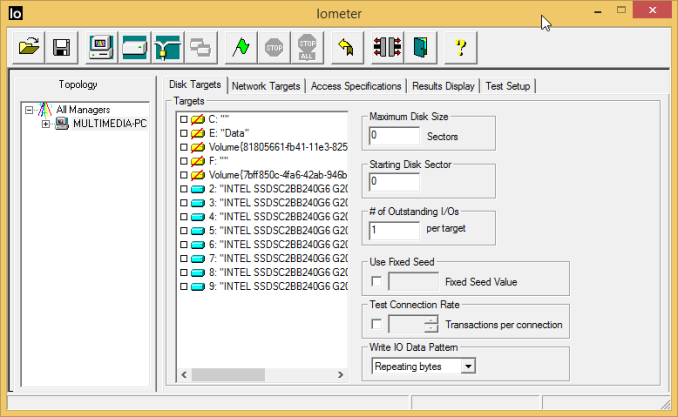 Four IOMeter traces were processed and the transfer rates as well as the average latencies / response times were recorded:
128K sequential writes with a queue depth of 4
128K sequential reads with a queue depth of 4
4K random writes with a queue depth of 32
4K random reads with a queue depth of 32