Managing Storage in Chrome OS
Chrome OS behaves a lot like iOS and Android when it comes to file management. While other computer-level operating systems like Windows and OS X give the user full access to system files, Chrome OS only provides very basic file management options.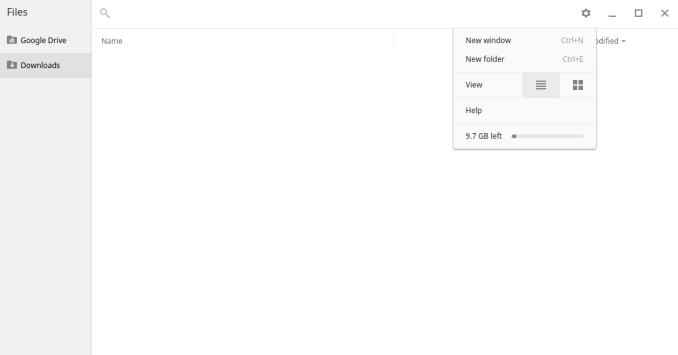 The user access is limited to 'Google Drive' and 'Downloads' folders, and out of these two Downloads is the only truly local folder since Google Drive relies on cloud storage (although it does have offline functionality too). There is no way to create additional folders (or at least I could not find a way), so if you want to store something locally, it must be stored in the Downloads folder.
The 16GB SSD has about 9.7GB left with the operating system installed, so there is certainly not much room for offline storage in the default configuration. With the 256GB SSD installed, the free space increases to about 204GB, although I am not sure where the remaining ~46GB has gone.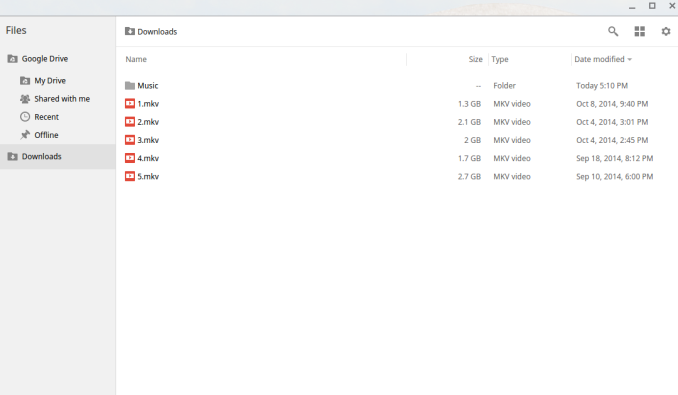 Fortunately, it is possible to create folders inside the Downloads folder, so you can at least have some level of organization for local files. Chrome OS has integrated audio and video playback software (even MKV files are supported!) that can be used to play back local files, but especially the audio player is very limited and does not have support for playlists or other more sophisticated features. It works, but the user experience is much better if you have an Internet connection and use Google's web-based Play Music.
Anyway, there is not much to say about Chrome OS' file management. It is very limited and not user friendly for someone who is used to using Windows or OS X, but if you can work around the limitations it can be usable even with a larger internal drive. As far as performance testing under Chrome OS, there isn't much to be done; the MyDigitalSSD Super Boot Drive feels a bit faster on some tasks, but Chrome OS doesn't tend to hit storage much so the performance benefits aren't the primary reason to upgrade. But let's look at performance with the original and upgrade SSDs using our standard storage tests.