The Pegasus2 M4: Software
Since my only Thunderbolt-enabled system is Windows based, our look at the software is limited to the Windows version, but our original Pegasus R6 review has screenshots from the OS X software.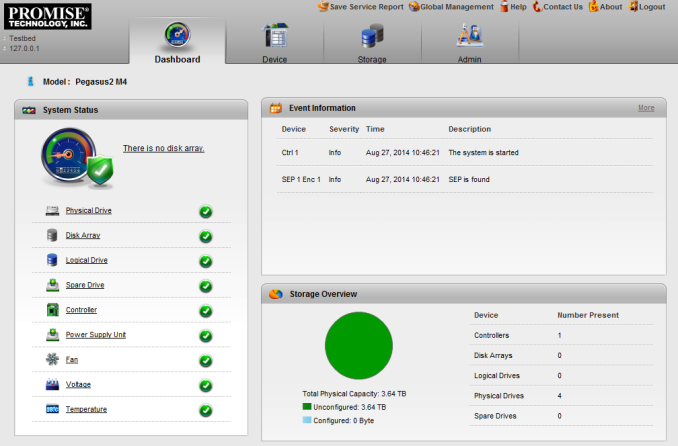 For managing the M4 and other products, Promise offers WebPAM PRO software. It is web-based software that runs in the browser and upon launching it will ask for your Windows user's credentials before you are granted access to WebPAM PRO. The dashboard view just gives a quick overview of the device and its status.
The device tab offers a real-time graphical view of the device and its components. Clicking either the device graphic or the list on the upper right corner will give more details about the enclosure, controller, and physical drives. Below is a gallery with additional screenshots that shows what exactly the WebPAM PRO allows you to monitor.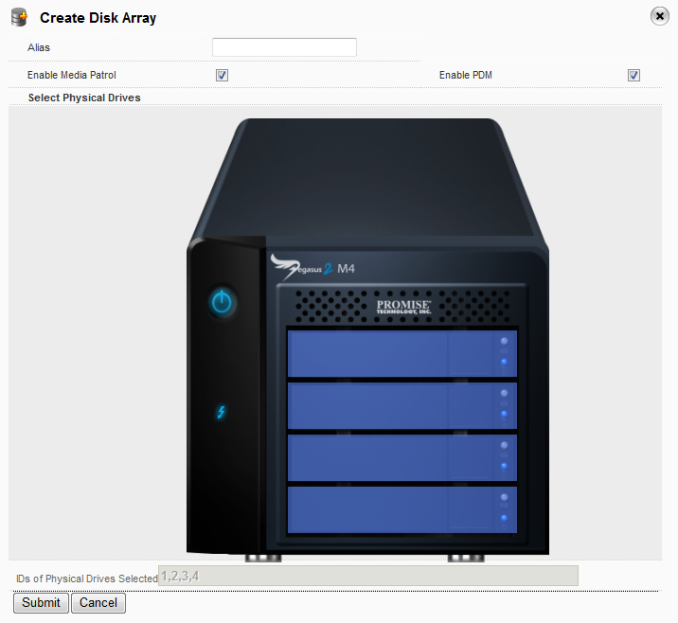 Creating the array can be done under the storage tab and once again you are presented with a real-time graphical view of the device. To select the drives you want in the array, simply click the drive bay and it will turn blue. Once you have selected the bays you want, the submit button will lead you to the next screen.
The final step is to set the RAID level and other specific aspects. RAID 5 is the default RAID level in the M4 as it comes with a hardware RAID controller, but RAID 0 and RAID 10 are supported as well.