Dueling Drivers, A PR Do-Over, & The Test
Coinciding with the launch of the 7970GE, both AMD and NVIDIA have released new drivers this week. For AMD the 7970GE will be launching with the Catalyst 12.7 beta, while NVIDIA has released the 304.48 betas for the entire lineup. For both AMD and NVIDIA these are major performance drivers, with both groups seeing significant performance in a handful of games.
We'll take a look at the full performance spectrum starting with our regular benchmarks on the next page, but first we wanted to quickly break out the performance impact of the driver changes for both the 7970 and the GTX 680 at 2560x1600.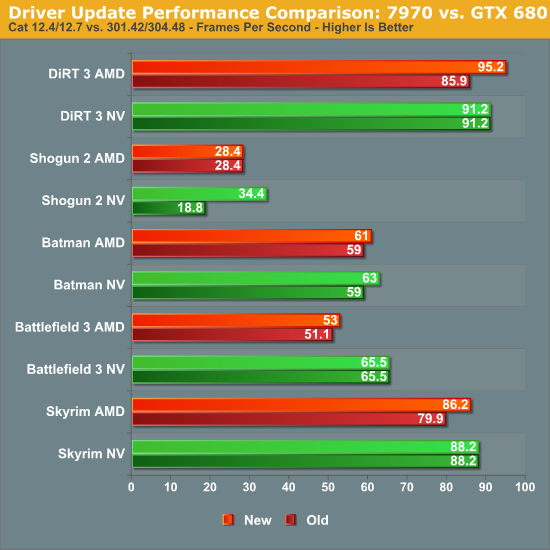 The biggest gains for AMD and NVIDIA are seen in DiRT 3 and Shogun 2 respectively. For reasons we're not fully sure of, AMD has managed to significantly improve their performance on DiRT 3 and turn the tables on what was previously a game favoring NVIDIA. At the same time however NVIDIA has finally fixed the Kepler performance bug that was introduced in the March update for Shogun 2, restoring performance to where it was before the update and pushing NVIDIA ahead of AMD once more.
Meanwhile AMD sees lesser gains in Batman, BF3, and Skyrim, while NVIDIA also gains on Batman but that's about it. Altogether AMD's latest driver update has pushed their average performance ahead slightly more than NVIDIA's, which for the 7970 versus the GTX 680 means that the GTX 680 now leads by about 9% instead of 10%. It's not nearly enough to change any recommendations, but the fact that AMD and NVIDIA have swapped leads in certain games is a reminder of how important drivers can be and how volatile performance leads are.
A PR Do-Over
Because the 7970GE is functionally identical to the 7970 save its higher clocks and PT Boost, we're opting to use our limited time to focus solely on performance. With that said it was interesting to see that AMD is very much treating the 7970GE launch as a do-over for the 7900 series. In their press presentation they spent a fair bit of time focusing on various aspects of the 7900 series and GCN we're already familiar with, such as compute performance, their Leo technology demo, and of course GCN.
None of this has any direct relevance to the performance of the 7970GE, but we thought it was worth mentioning since it gives a bit more insight into how AMD is approaching things. This is all we're going to say on the matter, but we have reproduced a few of the press slides below for any of you that are interested.
The Test
CPU:
Intel Core i7-3960X @ 4.3GHz
Motherboard:
EVGA X79 SLI
Chipset Drivers:
Intel 9.​2.​3.​1022
Power Supply:
Antec True Power Quattro 1200
Hard Disk:
Samsung 470 (256GB)
Memory:
G.Skill Ripjaws DDR3-1867 4 x 4GB (8-10-9-26)
Case:
Thermaltake Spedo Advance
Monitor:
Samsung 305T
Asus PA246Q
Video Cards:
AMD Radeon HD 5870
AMD Radeon HD 6970
AMD Radeon HD 7870
AMD Radeon HD 7950
AMD Radeon HD 7970
AMD Radeon HD 7970 GHz Edition
NVIDIA GeForce GTX 470
NVIDIA GeForce GTX 580
NVIDIA GeForce GTX 670
NVIDIA GeForce GTX 680
Video Drivers:
NVIDIA ForceWare 304.42 Beta
AMD Catalyst 12.7 Beta
OS:
Windows 7 Ultimate 64-bit