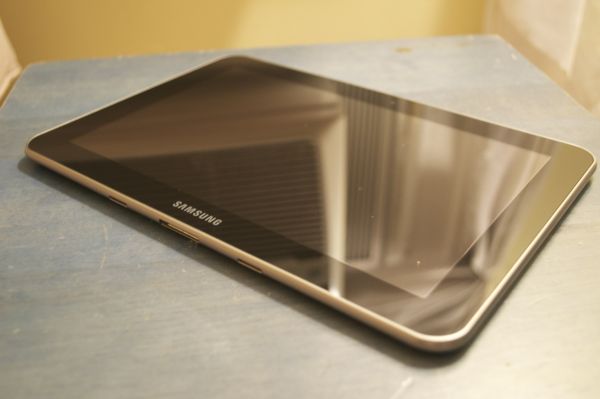 When we
reviewed the Galaxy Tab 10.1
(a
few times
), we made clear that Samsung has spent a lot of time and effort to make these feel solid and well built. We also had kind words to say about the PLS display, and zippy performance from the Tegra 2 SoC and Samsung's software optimizations. All of that still applies to the 8.9, but with the added benefit of a much more comfortable form factor. When in landscape, the 10.1 is narrow for Android tablets of that size, but that doesn't make it any easier to thumb-type on without having to stretch for those G's and H's. Moving to 8.9 inches allows the user to hammer away without ever having to awkwardly change grip in order to get to the middle keys. In addition, this is one of the first Android tablets that feels comfortable to hold in portrait, with just one hand. The increased lightness and the ability to have less of the weight hang out beyond your grip makes this an easy device to use as a reader or media tablet.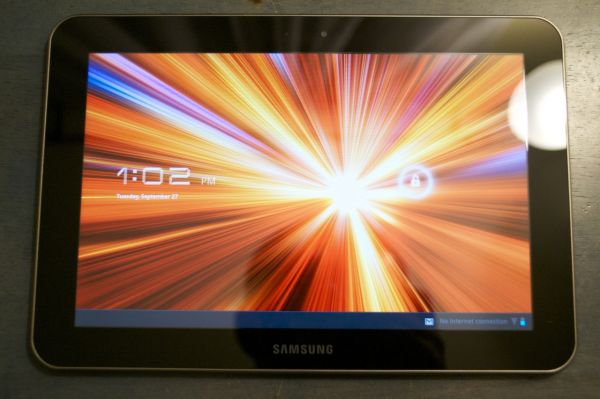 Shrinking the size and maintaining the resolution brings pixel density up to 170 pixels per inch from 150 in the 10.1. Though this is barely more than a 10% increase, it is noticeable, and the superb PLS display Samsung uses produces vibrant colors and excellent viewing angles. With internals that match its larger brother, performance is equivalent, both in benchmarks and in user experience. TouchWiz UX is on hand, along with Android 3.1. Samsung expects to have Android 3.2 within the next few months, and it's expected to launch on the 8.9 and 10.1 simultaneously. That should bring along some performance tweaks, as well as improved compatibility with varying screen sizes.
Samsung 2011 Tablet Comparison
Samsung Galaxy Tab 8.9
Samsung Galaxy Tab 10.1
SoC
NVIDIA Tegra 2 (Dual ARM Cortex A9 @ 1GHz)
NVIDIA Tegra 2 (Dual ARM Cortex A9 @ 1GHz)
GPU
NVIDIA GeForce
NVIDIA GeForce
RAM
1GB
1GB
Display
1280 x 800 PLS
1280 x 800 PLS
NAND
16GB
16GB
Dimensions
230.9 x 157.8 x 8.6mm
256.6 x 172.9 x 8.6mm
Weight
447g
565g
Price
$469
$499

Apple threw down the gauntlet when they made their already svelte iPad even thinner with the iPad 2. At 8.8 mm, it's hard to believe that tablets can get much thinner. Samsung positioned the Tab family to get just a little bit thinner at 8.6 mm, a feat both the 8.9 and 10.1 accomplish. We put the 8.9 alongside some of its contemporaries in the gallery below, suffice it to say, no one does Android tablets as thin as Samsung. Is there value in thinness though? At times these paper thin devices feel awkward to grip, their flatness providing no edge to capture in your hand. In contrast the TouchPad's curvy frame is easy to maintain a solid grip on, and even the Acer Iconia Tab's chunkier metal frame feels easy to grasp. What makes it easy to overcome the thin frame is it's lightness. At just under a pound this easily the lightest Android tablet I've held and the difference between it and even the 10.1 is the difference between something I would feel comfortable reading in bed with, and something I would fear dropping sleepily upon my head.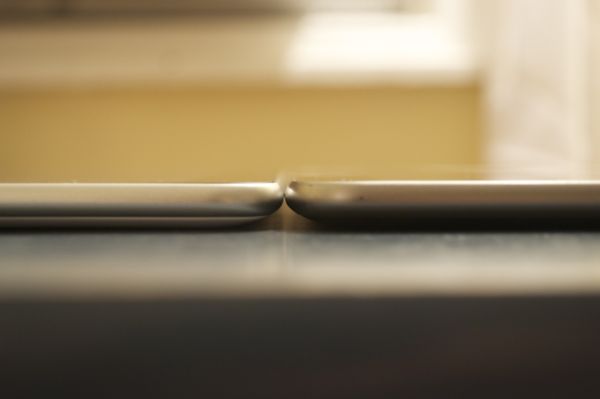 Galaxy Tab 10.1 (left) vs. Galaxy Tab 8.9 (right)
The Galaxy Tab 8.9 is a welcome addition to the swarm of Android tablets being introduced this Fall. Manufacturers now free to stray from the 10.1" form factor will finally be able to differentiate with more than just skins. In the case of Samsung's latest, they took all the best traits from the best Android tablet available today, and shrunk it down to a more comfortable size. Does this make the 8.9 the new best? Stay tuned for Anand's review.