What About 3D Gaming?
I've already spoiled the surprise and stated up front that 3D gaming on this particular system is not going to make the cut. Outside of a few titles, most games have frame rates cut in half by enabling 3D, which means even at low/minimum detail there are plenty of titles that can't break the 30FPS threshold—that's not even highly fluid, but at least most people will consider 30FPS decent. Even with a low resolution 768p display, the GTS 350M is an albatross around 3D Vision's neck, and NVIDIA knows this. If you really want a 3D notebook, my advice would be to get something that's at least twice as fast as the GTS 350M, and three or four times faster would be ideal. You know, something like the GTX 480M (in SLI if you're really shooting for the stars).
In order to get an idea of the 3D Vision Gaming experience, we went to NVIDIA's site and looked at all the 3D Vision Ready titles. These are the games that are built from the ground up to support 3D Vision, which means 3D should just work out of the box without any extra work. Other titles might require you to disable motion blur or certain effects for an optimal 3D experience. So, we rounded up copies of all the games on that list, which is pretty easy since at present there are only seven actual games. We then tested each game at low, medium, and high detail settings at the native 1366x768 LCD resolution, with and without 3D enabled. Yeah, we're gluttons for punishment. Here are the results.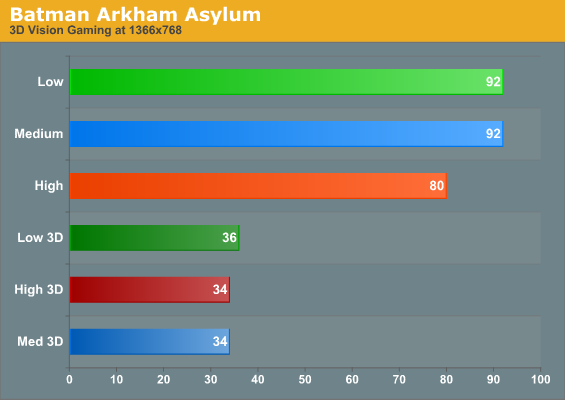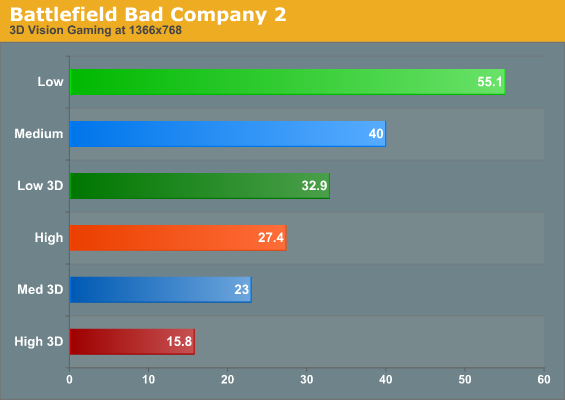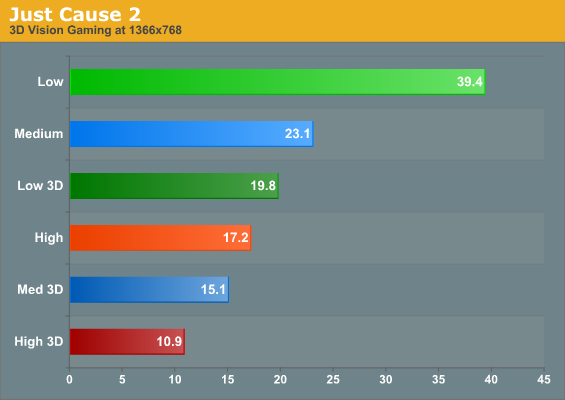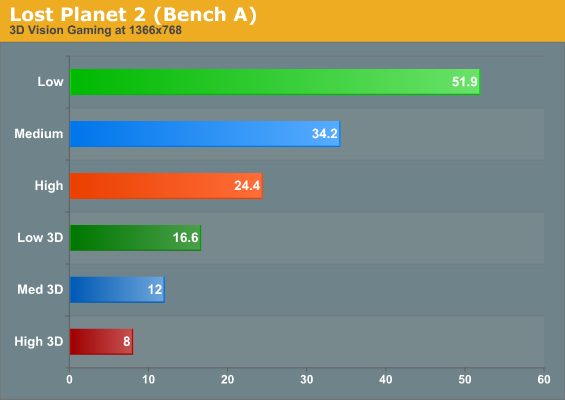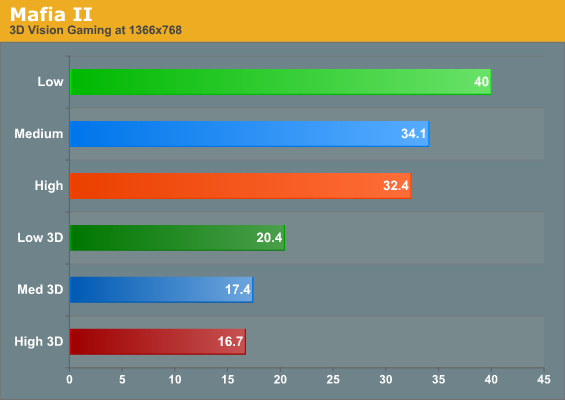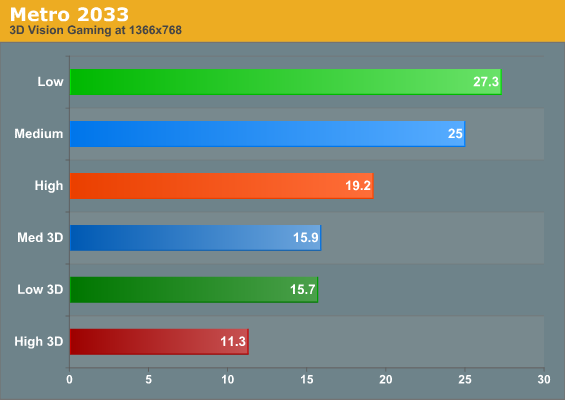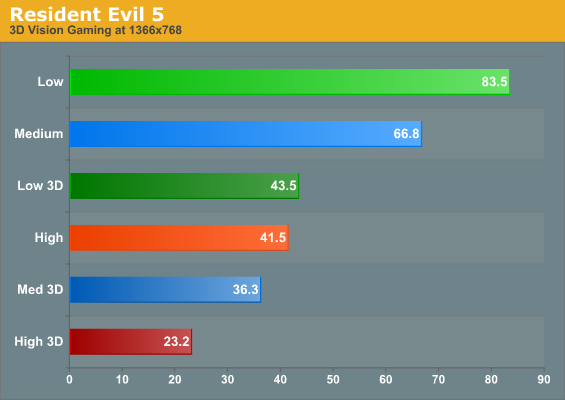 Out of the 3D Vision Ready games, only Batman is able to reach 30FPS at higher detail settings (note that NVIDIA recommends turning off motion blur for 3D Vision). As a game with no crosshair, Batman also lends itself very well to the 3D experience and was the most enjoyable of the titles. Resident Evil 5 also manages to post decent frame rates at medium detail. We should mention that there are still scenes in both of these games where your performance will drop into the teens, so even though the average frame rates are acceptable you may want to use the CTRL+T shortcut to disable 3D Vision at times. BFBC2 also breaks the 30FPS mark at minimum detail, and the 3D effects look good while doing it, but the graphics quality overall takes a pretty sharp dive at "low" compared to "medium". The rest of the games definitely don't reach playable performance with 3D Vision. It's too bad, because after hearing Brian say how cool Metro 2033 was in 3D, I couldn't do much other than watch the 15FPS slide show and wish for a faster GPU. It was a very nice looking slide show, though.
There are a lot more "Excellent" and "Very Good" 3D Vision games on the list, and we obviously didn't test the majority of those. If our pattern holds, you can probably estimate losing half your performance with 3D enabled, which means you'll want to use game setting combinations that can run at over 60FPS normally (and preferably closer to 100FPS). However, there's no guarantee it will only be half. Left 4 Dead 2 (a "Good" game) runs 3.6 times faster at low detail without 3D, and STALKER: Call of Pripyat runs 3.1 times faster (at Low + Object Lighting) without 3D. If you really want a 3D Gaming notebook, I think the GTX 460M is probably the minimum I'd recommend at this point—and that's for a 768p display. If you want 1080p in 3D, you'd better plan on going the full Monty and grabbing a GTX 480M (probably even 480M SLI), or else you'll be turning graphics settings way down to get acceptable performance.