AMD Entry-level PC
With few releases for the entry-level AMD market since our last
Budget Buyer's Guide
, we have a very similar level of components - albeit with a doubling of RAM that should boost performance nicely in Vista. This boosted performance comes in at $100 cheaper than six months ago as well. Although that may not sound like much to an enthusiast gamer that can spend five times as much on a graphics card, for the budget computer users $100 is a 10% reduction in price. For businesses looking at upgrading hundreds or even thousands of computers, that sort of savings is even more significant, making now a great time to purchase AMD hardware.
AMD Entry-level PC
Hardware
Component
Price
Rebates
Processor
AMD Athlon 64 X2 4000+
(2.1GHz 65W Brisbane 2 x 512KB L2)
$66
-
Motherboard
Foxconn A690GM2MA-8KRS2H
AMD 690G mATX
$49
$20
Memory
Crucial Ballistix 2GB (2x1GB) DDR2-800 PC2-6400
$90
$40
Hard Drive
Samsung Spinpoint P Series SP2504C
250GB 7200RPM SATA 3.0GB/s
$63
-
Optical Drive
Samsung 20X DVDRW/DL SH-S202G
$28
-
Case
Athenatech A3602BB.400 mATX w/400W PSU
$35
-
Display
Hanns-G HW-191DPB Black 19" 5ms Widescreen DVI
(1440x900)
$170
-
Speakers
Logitech R-20 12W 2.1
$19
-
Input
Microsoft Optical Desktop 1000 Wireless
$26
-
Operating System
Microsoft Vista Home Premium OEM
$112
-
Bottom Line
$658
$598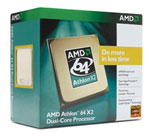 Prices on AMD's dual-core processors are continuing to drop in the face of the continued, aggressive pricing strategy adopted by Intel. With the imminent launch of the desktop Phenom processor line, we should see prices bottom out as AMD tries to clear out their existing inventory of processors. The Athlon X2 4000+ is a great little chip for the price, now at around 1/3 the cost of what many paid for their dual-core Athlon chips 18 months ago. With the Athlon X2 3600+ saving us a total of just $3, there really isn't another low-end dual-core option from AMD worth considering.
If money is still a concern, we could drop the processor down to a single-core Athlon 64 3200+ (2.0GHz Orleans core) at $42.99 - a savings of $23. Another option is the Sempron LE-1100 based around AMD's Sparta core, which runs at 1.9GHz, has a power draw of just 45W, and a price of just $39.99 - great for the most basic of office PCs or for those looking to save on power consumption. However, our recommendation would be to spend a bit more on the CPU and go for a dual-core; there's no doubt that these will be a pre-requisite in the next few years as application demands increase.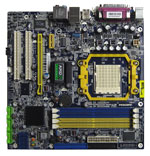 Choosing a motherboard can be one of the hardest decisions to make when building a new system, and is a particular concern when building within the budget/entry-level range. The theory that budget decreases result in compromised quality simply isn't true anymore - or at least it doesn't need to be the case; there are still some cheap, very poor quality motherboards out there. When building for a budget system, features, reliability, and stability should remain high on the list and the situation is continually improving - die shrinks of CPUs, IGPs, and chipsets all help to keep costs low as performance increases.
For the current situation, the AMD 690G with ATI's Radeon X1250 GPU chipset is still our frontrunner when choosing an entry-level AMD motherboard. The good news is that motherboards based on this chipset - and from reputable manufacturers - are available for under $50. Foxconn is one of the largest OEM suppliers in the world, producing everything from EVGA video cards to Apple MacBook/Pro motherboards and Sony PlayStation 3 mainboards. Their quality control has risen over the last few years and the somewhat long-winded A690GM2MA-8KRS2H has all the features you can find in competing motherboards, all at a significantly lower price.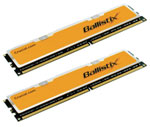 With DDR2 prices at their lowest point, we went for DDR2-800 this time - and managed to score 2GB of Crucial's high-performance Ballistix RAM for the same price as RAM from budget manufacturers. This particular line of RAM costs more than four times as much just six months ago, and presents an attractive alternative while providing a future-proof selection should you wish to ditch the onboard graphics, purchase a video card, and start gaming seriously. Granted, the $50 price involves a mail-in rebate, but for high-quality RAM it might be worth the hassle. If you prefer to avoid MIRs, nearly every major manufacturer has 2GB kits of DDR2-800 going for ~$50 give or take, so there are plenty of options available.
For the remaining items, we went with Samsung's SpinPoint hard drive series this time as availability has increased since our last roundup. The SpinPoint range is renowned for their reliability and silence, without sacrificing performance. Truth be told, while there are differences between hard drives, outside of running benchmarks most people aren't likely to notice the difference in performance. Western Digital, Seagate, and Hitachi are the other major brands, and all are worthy of consideration if the price is right.
The last major component to discuss is the display, and here we have to choose between standard aspect ratio (4:3) and widescreen (16:9). As far as we're concerned, the sooner 4:3 displays die out, the better.
(Ed: Maybe then EA will finally get with the program and include proper WS support!)
Although standard aspect ratio displays have a slightly larger surface area, the quality of budget widescreen displays has risen this past year. With 19" displays regularly selling for under $200 - and usually for no more than a couple of dollars more than 17" displays - this display from Hanns-G represents fantastic value for money.