Plugable
Plugable is introducing two new products at the 2022 CES - the UD-6950PDZ docking station, and the USB4-HUB3A USB4 hub. The docking station is technically the more interesting one, enabling three different 4K display outputs with a choice of either a HDMI connection or DisplayPort one on each. The docking station has a Type-C port for uplink, providing up to 60W for host charging. It is bundled with a 110W power brick. On the downstream side, the UD-6950PDZ has 6 USB 3.2 Gen 1 Type-A ports (four in the rear, and two in front), a combo audio jack in front, and a gigabit Ethernet port. The key differentiating aspect of the product is that the docking station supports multiple display outputs even if the host...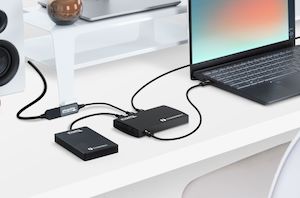 Plugable is introducing its Thunderbolt 4 product lineup today, with the TBT4-HUB3C Thunderbolt 4 Hub leading the pack. Joining it are two Thunderbolt 4 cables - the 2m. long...
21
by Ganesh T S on 9/23/2021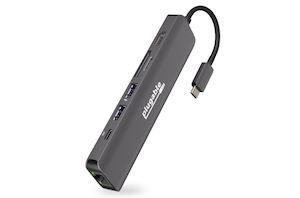 A major issue faced by owners of notebooks and compact SFF PCs such as the NUCs is the paucity of USB ports or even the absence of often-needed functionality...
5
by Ganesh T S on 1/12/2021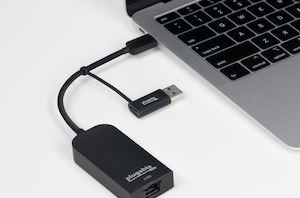 Plugable this week has become the latest peripheral manufacturer to start producing 2.5 Gigabit Ethernet dongles, with the release of their own adapter. Designed to add support for faster...
32
by Anton Shilov on 3/26/2020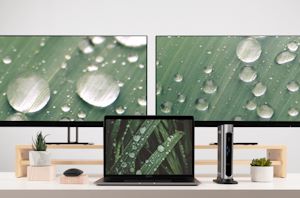 Plugable is introducing three new products at CES 2020, and the most interesting of the three happens to be the Titan Ridge-based TBT3-UDZ Docking Station with a 100W power...
1
by Ganesh T S on 1/7/2020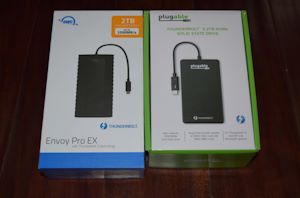 Portable SSDs with NVMe-based internal drives and a Thunderbolt 3 interface are the fastest bus-powered storage devices currently available in the market. We have been following this market since...
20
by Ganesh T S on 11/12/2019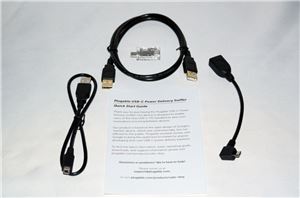 The power consumed by USB peripherals such as flash drives has typically not been much of a concern. However, with OTG support on the rise, mounting external storage via...
20
by Ganesh T S on 3/18/2016